Pop Culture Imports: The Perfect Anime For Superhero Fans, Netflix's First Indian TV Series, A Chinese Romance To Make You Weep, And More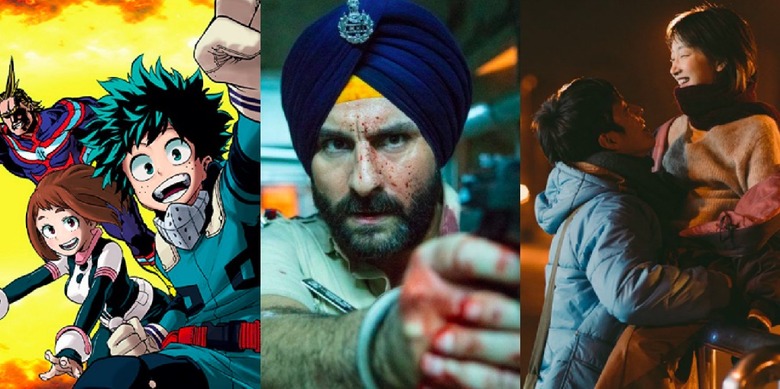 (Welcome to Pop Culture Imports, a column that compiles the best, wackiest, and weirdest foreign-language movies and TV shows streaming right now.)
It's that time of month again: the time when I recommend you a bunch of stuff with subtitles, and we all take refuge indoors from the sweltering heat to watch the best foreign-language TV shows and movies. This week, we have the superhero anime that everyone is raving about, Netflix's bold and brilliant first Indian TV series, an Ecuadorian thriller starring John Leguizamo, a Chinese romantic drama that will reduce you to tears, and an intriguing French mystery miniseries.
Let's fire up those subtitles and watch the best foreign movies and TV shows streaming now.
1. My Hero Academia – Crunchyroll
Country: JapanGenre: AnimeDirector: Kenji NagasakiCast: Daiki Yamashita, Nobuhiko Okamoto, Kenta Miyake, Ayane Sakura, Kaito Ishikawa, Aoi Yuki.My Hero Academia is the perfect gateway anime for superhero comic book readers. Set in a world where superheroes are normalized, My Hero Academia centers on a nerdy boy named Izuku who worships heroes and dreams of becoming one himself. But as part of the 20% of the population born without a superpower, or a "Quirk" as this near-future society calls it, Izuku is constantly bullied for his weakness. But through a miraculous twist of fate, Izuku encounters his idol All Might (whose bulging muscles and stocky design is a clear tribute to Silver Age American superheroes), and is bestowed with a power of his own. But that doesn't mean he's ready to be a full-fledged hero just yet — no, Izuku has to go to school for that. It's X-Men meets Harry Potter, with the nerdy, idealistic hero who is just a few character design tweaks away from calling himself Peter Parker. And that's no coincidence: author Kohei Horikoshi is a self-professed Spider-Man fan who took a few cues from Western comic books to create this massively popular superhero anime.My Hero Academia is a melting pot of influences, blending a Japanese shonen manga narrative (epic battles and devout friendships) with heroes and villains that act as analogs to American comic book heroes. And the best thing is: it's funny as hell.Watch This If You Like: X-Men, Spider-Man, Harry Potter, Naruto, superhero comic books, punches named after various American states.
2. Sacred Games – Netflix
Country: IndiaGenre: Crime thriller seriesDirector:Anurag Kashyap, Vikramaditya MotwaneCast: Saif Ali Khan, Nawazuddin Siddiqui, Radhika Apte.
Stylish, propulsive, and grisly, Netflix's first Indian television series is a promising one. Sacred Games is a tangled web of conspiracies and corruption, following Sartaj Singh (Saif Ali Khan), an honest and underestimated Sikh police officer in Mumbai who is embroiled in a cat-and-mouse game with the mysterious Ganesh Gaitonde (Nawazuddin Siddiqui), a recently resurfaced gangster who claims to be an immortal deity. The series follows the dual narratives of Sartaj in the present and Ganesh in the past — painting a picture of legendary gangster who cut a bloody swath across India. With its fearless depiction of sex and violence, Sacred Games is worlds away from most cinema coming out of Bollywood, though it sometimes buckles under its gritty ambitions.
Watch This If You Like: Narcos, Sons of Anarchy, The Wire, blood, just lots of blood.
3. Crónicas – Amazon Prime
Country: EcuadorGenre: ThrillerDirector: Sebastián CorderoCast: John Leguizamo, Alfred Molina, Leonor Watling, Damián Alcázar, Peki Andino, Amira Bustamante, Carlos Cedeño, Andrés Crespo.Crónicas is a taut gut-punch of a thriller that interrogates the power of the media. A young John Leguizamo stars as an opportunistic reporter Manolo Bonilla who gets a hold of the biggest story of his career after he saves a traveling salesman from a local lynching. The salesman Vinicio Cepeda (Damián Alcázar) had accidentally run over a young boy whose parents were recovering from the loss of their other son by a serial killer, and is continually targeted by the locals. When Vinicio offers Manolo information about the infamous child mass murderer "the Monster of Babahoyo," Manolo foregoes going to the police so that he can get the scoop of a lifetime. Crónicas is a lurid, riveting cautionary tale about sensationalism and moral misgivings lead by an impressive Leguizamo in his first Spanish-speaking role.Watch This If You Like: Primal Fear, The Usual Suspects, seeing John Leguizamo in a serious leading man role for once.
4. Us and Them – Netflix
Country: ChinaGenre: Romantic dramaDirector: Rene LiuCast: Jing Boran, Zhou Dongyu, Tian Zhuangzhuang, Qu Zheming.
At first glance, Us and Them seems like a sentimental weepy about a beautiful couple and their inevitable doom — either by some tragic twist or the bittersweet realities of life. And to an extent, it is. But Us and Them, which is the directorial debut of Chinese singer-actress Rene Liu, is a surprisingly raw, funny, and brisk romance that tugs on your heartstrings in just the right way. Us and Them follows Xiaoxiao and Jianqing, two struggling young country kids trying to make it in Beijing, when they meet by chance on a train home during the busy Chinese New Year period. And the film follows them every New Year, as they overcome heartbreak, poverty, missed chances, and fall in and out of love. But what could be a saccharine slog is actually quite wistful and melancholic, as Us and Them presents a clear-eyed view of relationships both romantic and otherwise.
Watch This If You Like: One Day, Before Sunrise, About Time, watching a love story so angsty that your palms start itching.
5. La Forêt – Netflix
Country: FranceGenre: Crime drama miniseriesCreator: Delinda JacobsCast: Alexia Barlier, Samuel Labarthe, Frédéric Diefenthal, Suzanne Clément, Nicolas Marié.
A moody, intriguing small-town mystery, La Forêt is a Netflix crime drama worth watching. The six-episode miniseries is one of Netflix's stellar international imports which first aired in France in 2017 with a gimmick that allowed audiences to bet on who they thought was the culprit. But even without that audience participation, La Forêt is an intriguing addition to this year's impressive slate of small-town mystery dramas. The series opens on a small town that is shaken by the disappearance of a teen girl, who goes missing the day that a new perceptive, by-the-books sheriff starts his job. At first his employees and the rest of the town are cagey with the new Captain Gaspard Decker (Samuel Labarthe), unwilling to implicate their longtime friends and neighbors. But soon the mystery deepens, and this small town is revealed to have darker secrets than anyone could have imagined. The characters are familiar, but well drawn-out — a standout is the local cop Lt. Virginie Musso (Suzanne Clément), a mother who is the most resistant to her new boss Decker. As is the ethereal teacher Eve Mendel (Alexia Barlier), the town outcast who first discovers the missing teen and provides the most interesting break from the small-town archetypes.
Watch This If You Like: Sharp Objects, Broadchurch, Fargo, reading Agatha Christie novels with a glass of red wine while Edith Piaf plays softly in the background.