'Under The Skin' Filmmaker Jonathan Glazer Is Directing A Holocaust Drama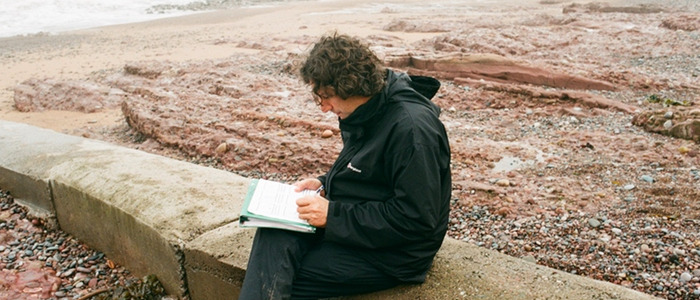 Here's a film that will likely turn out to be both brilliant and very hard to watch. Jonathan Glazer, the filmmaker behind the nightmarish masterpiece Under the Skin, is helming a Holocaust drama. The film has no title yet, but is set to arrive sometime in 2020.
Jonathan Glazer hasn't helmed a film since 2013's stunning Under the Skin, and that's far too long a gap for such a great filmmaker. Thankfully, Glazer's time away from filmmaking is almost over. During an interview with A Dash of Drash podcast (h/t The Playlist), Glazer revealed he's working on a film about the Holocaust, set in Auschwitz.
Glazer says his film is not just about the Jewish people who suffered in concentration camps, but also the cold, damnable indifference of bystanders. The director says inspiration for the film comes from his childhood. After being horrified by World War II imagery, Glazer says he remembers "being very taken by the faces of the bystanders, the onlookers, the complicit, you know? Ordinary Germans...I started wondering how it would be possible to stand by and watch that. Some of the faces actually enjoy it. The spectacle of it. The kinda circus of it."
This sounds both fascinating, and not really like most films that center on World War II and the Holocaust. It also sounds like it's going to make for some intense, very unpleasant viewing.
Elsewhere in the interview, Glazer also offered some insight into how he's approaching the film's Auschwitz setting:
"A lot of the stories I've seen, I do sometimes think they could be set anywhere actually. As soon as you define a plot, you're sort of somehow relegating Auschwitz as a place and it becomes a context. For me, I don't want to do that. I just felt that was wrong."
The filmmaker also reveals he's been working entirely on this film for the last "four or five years", which explains why we haven't seen anything from him since Under the Skin. In short, this is clearly a very personal, very detailed project for Glazer, and has the potential to be a genuinely stunning work. Glazer has spent a career helming fascinating, hard to classify films. In addition to Under the Skin, he also directed the eerie drama Birth and the absolutely bonkers crime film Sexy Beast.
Glazer says he expects to start filming this untitled Holocaust drama next summer, aiming for a 2020 release date. You can listen to the director's interview below.
I also recommend you check out this video essay about Glazer's work.
Jonathan Glazer Video Essay