'Colette' Trailer: Keira Knightley Starts A Literary And Sexual Revolution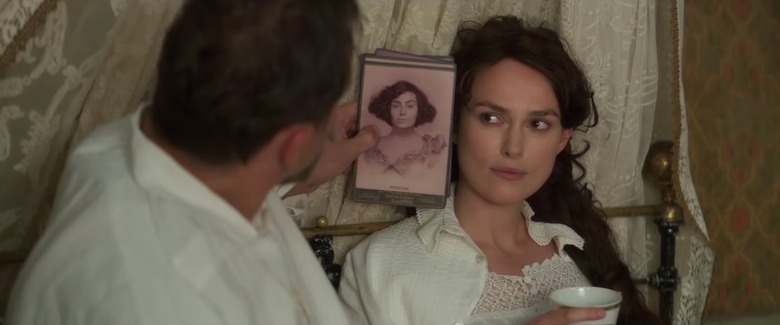 Keira Knightley in a period drama! What will they think of next? But Colette may be the period drama queen's most modern movie yet. In the first Colette trailer, the Oscar-nominated actress stars as the real-life French writer Gabrielle Sidonie Colette who goes on to become a leading literary figure and an early sexual revolutionary.
Colette Trailer
Knightley flirts with Oscar buzz yet again in Wash Westmoreland's biographical drama, which earned accolades when it premiered at the Sundance Film Festival earlier this year and thrust Knightley to the forefront of the Oscar race. And you can see why: all of Knightley's talents are on display in the trailer, which shows the titular Gabrielle Sidonie Colette transform from a naïve French country girl into one of the most famous authors in France and a prominent gender-fluid LGBT figure. Knightley gets to play the young naïf, then the rebellious intellectual, and finally transforms into the sexually empowered gender-fluid icon that goes down in history.
Dominic West sneers impressively as "Willy," Colette's successful writer husband who recruits Colette as his newest ghostwriter. Their abusive and exploitative relationship is telegraphed in full in this footage, which really leaves no room for imagination. It's a classic case of showing the entire movie in the trailer.
But despite some unfortunate marketing, Colette looks like a magnificent showcase for Knightley, who finds the perfect sweet spot between her (unfortunately rare) modern roles and her signature period films — by portraying a powerful woman ahead of her time. And man, does she look fabulous in those tailored suits.
Colette also stars Aiysha Hart, Fiona Shaw, Denise Gough, Robert Pugh, Rebecca Root, Eleanor Tomlinson, and Julian Wadham.
Here is the official synopsis for Colette:
After marrying a successful Parisian writer known commonly as 'Willy' (Dominic West), Sidonie-Gabrielle Colette (Keira Knightley) is transplanted from her childhood home in rural France to the intellectual and artistic splendor of Paris. Soon after, Willy convinces Colette to ghostwrite for him. She pens a semi-autobiographical novel about a witty and brazen country girl named Claudine, sparking a bestseller and a cultural sensation. After its success, Colette and Willy become the talk of Paris and their sexual adventures with other women inspire additional Claudine novels. Colette's fight over creative ownership and gender roles drives her to overcome societal constraints, revolutionizing literature, fashion and sexual expression.
Colette opens in theaters on September 21, 2018.