'Goosebumps 2: Haunted Halloween' Trailer: Evil Dummies Return, But Not Jack Black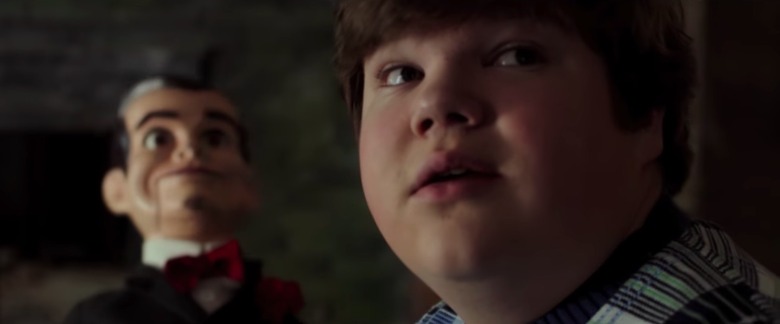 Summer is in full swing, which means it's time to start getting your Halloween costumes ready. And what better way to prepare you for Halloween than a new Goosebumps 2: Haunted Halloween trailer?
Yes, in case you forgot, a Goosebumps sequel is happening — this time without Jack Black's R.L. Stine. But there will still be a few familiar faces along for the ride, including It star Jeremy Ray Taylor, Jumanji: Welcome to the Jungle star Madison Iseman, and, of course, one of R.L. Stine's most terrifying monsters, the possessed ventriloquist dummy known as Slappy.
Goosebumps 2 Haunted Halloween Trailer
The first Goosebumps took a family-friendly spin on the series of children's horror novels that traumatized a whole generation of kids. The 2015 horror-comedy film introduced a group of kids who accidentally stumble upon R.L. Stine's enchanted manuscripts — unleashing all manner of horrible monsters onto the world. The sequel takes a similar spin, but seems to remove Black's R.L. Stine from the equation.
A new trio of kids (played by Madison Iseman, Caleel Harris, and Jeremy Ray Taylor) discover an abandoned house where one of R.L. Stine's books sits gathering dust in a mysterious chest. Unlocking the book titled Haunted Halloween, they accidentally bring to life the infamous possessed ventriloquist doll Slappy, who has been teased as the primary Big Bad in this film for a few months now. Of course, there are plenty of other ghouls and monsters that get unleashed too, including a CGI gorilla that looks like it stepped right out of Rampage.
It hasn't been confirmed whether Black will return for Goosebumps 2: Haunted Halloween, though it was announced at CinemaCon that he would reprise his role as Slappy. But for now, the Goosebumps 2: Haunted Halloween cast is rounded out by Ben O'Brien, Wendi Mclendon-Covey, Chris Parnell and Ken Jeong.
Here is the official synopsis for Goosebumps 2: Haunted Halloween:
Slappy is back to wreak more havoc this Halloween in a brand-new comedy adventure based on R.L. Stine's 400-million-selling series of books.
Goosebumps 2: Haunted Halloween is set to arrive in theaters on October 12, 2018.