That Joaquin Phoenix 'Joker' Movie Is Officially Happening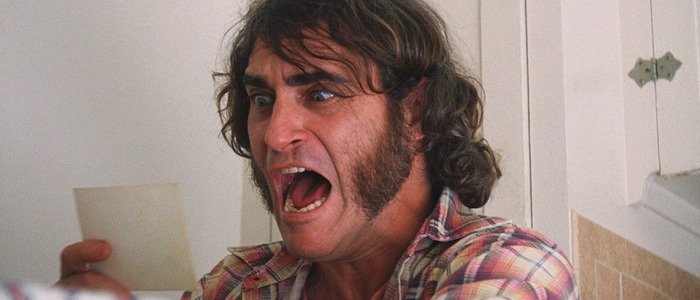 It's official: Joaquin Phoenix will play the Clown Prince of Crime in a Joker standalone movie. We more or less already knew this, but after months of rumor and speculation, it appears Phoenix has officially, finally signed on to the project. And now Warner Bros. will make it, with Todd Phillips directing.
THR confirms that Phoenix has officially decided to give the whole comic book movie thing a try. The film will be an origin story for Batman's most infamous foe, and rumors in the past have suggested the story will be drawing on the iconic Alan Moore and Brian Bolland comic The Killing Joke. Todd Phillips, director of The Hangover, will helm the Joker movie, which THR says will have a budget somewhere in the "$55 million range, significantly lower than the tentpoles that dominate the form. And the standalone is meant to be darker and more experimental in tone and content (at least as experimental as a studio can be with established brands such as DC), which is described as being akin to a crime drama."
I really don't know what to make of this. Phoenix is a phenomenal actor – in fact, I'd go so far as to say he might be the best actor working today. Which means he could deliver a truly memorable performance as the Joker. But...I don't really know how excited I can be for a Joker standalone film. On top of that, a Joker origin story sounds silly. Going back to the well to draw on The Killing Joke is a boring, uninspired idea. Besides, the Joker always works better as a bit of an enigma. Part of what made Heath Ledger's Joker so memorable in The Dark Knight was the fact that we knew virtually nothing about him. He just materialized, and started wreaking havoc.
Meanwhile, Warner Bros. might be developing another standalone Joker movie. That film would star Jared Leto, reprising his take on the character from Suicide Squad. As we previously reported, Warner Bros. and DC are developing a "new origins" banner that's separate from the current DCEU as we know it. This allows multiple actors to play multiple versions of certain characters, with no overlap. Whether or not audiences will go for this remains to be seen.
Phoenix has considered joining the wild world of comic book movies before. He came very close to playing the lead in Doctor Strange, but ultimately backed out because he didn't like the idea of committing to multiple films. One can assume that means this Joker film will truly be a one-and-done deal for Phoenix. He'll slap on some make-up, have a few laughs, cash a big paycheck, and then ride off into the sunset to do something else.
There's no release date for the Joker movie yet, but THR says it starts shooting this September, and we might see it as soon as 2019.