Jason Momoa To Star In Apple TV Series 'See' From 'Hunger Games' Director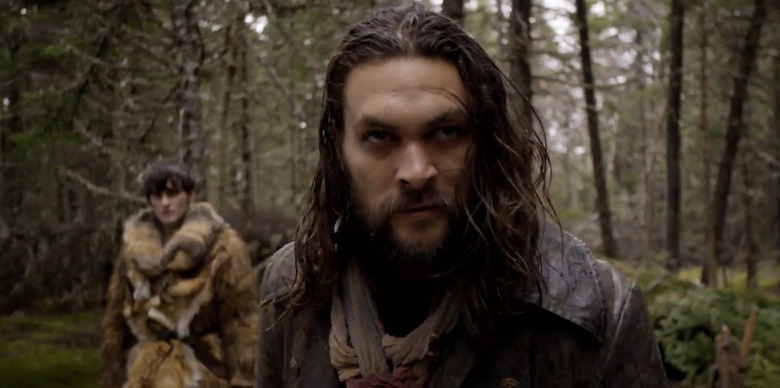 The once and future Aquaman is heading to Apple for a new TV series.
Jason Momoa (Game of Thrones, Justice League) has scored the lead role in See, an original new sci-fi show that will be directed by Red Sparrow and The Hunger Games: Catching Fire filmmaker Francis Lawrence and written by Eastern Promises and Locke screenwriter Steven Knight. Learn more about the new Jason Momoa Apple series below.Deadline calls the Apple series "an epic, world-building drama set in the future," and says that the ten-episode drama "is set in a future when the human race has lost the sense of sight, and society has had to find new ways to interact, to build, to hunt, to survive. All of that is challenged when a set of twins with sight is born."
Momoa will play a shy and physically feeble librarian who prefers to ignore the danger of the outside world and instead lounges in the town's abandoned library listening to audiobooks all day. I'm kidding – he actually plays "Baba Voss, a fearless warrior, leader and guardian." But that first thing would have been an interesting change of pace for him, wouldn't it? I understand that Momoa is trying to get while the getting's good in terms of these physically dominant roles, and I don't blame him for that, but I'm curious as to what kind of shades he can play beyond just "buff tough guy."
Momoa is no stranger to TV, starting his career on shows like Baywatch and Stargate: Atlantis before securing his breakout role as Khal Drogo on HBO's Game of Thrones. Since then, he's gone on to star in films like Bullet to the Head, The Bad Batch, Justice League, and the upcoming DC Comics solo film Aquaman, but he's also kept one foot in the waters of television by starring in the Netflix series Frontier. Headlining this futuristic Apple series will be a nice switch in scenery from that period drama...assuming Apple actually ever unveils how they plan to distribute this mass of content they're building. The company has announced over a dozen shows with high-profile talent attached, but there's still no indication of how anyone will actually be able to watch any of it. Here's hoping they figure that out soon.
Update: We assumed Deadline was correct in reporting that the first season of See would encompass eight episodes, but we've since learned that they were inaccurate. A source close to the production tells us there will be ten episodes in season one, and our article has been updated to reflect that.