'Mission: Impossible – Fallout' Early Buzz: Chris McQuarrie Does It Again With Another Wildly Entertaining Sequel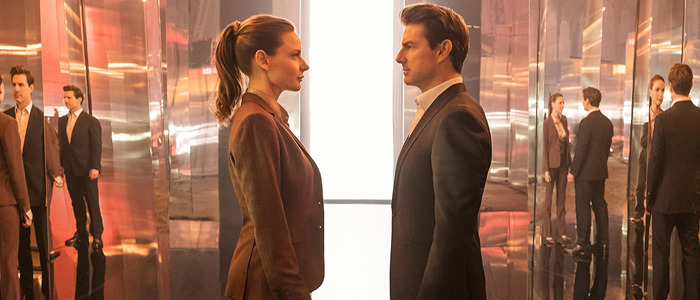 Until now, each entry in Tom Cruise's ongoing Mission: Impossible franchise has been directed by a different person. But that changes with this month's Mission: Impossible – Fallout, the first entry to bring back a returning filmmaker in writer/director Christopher McQuarrie. This is one of /Film's most anticipated movies of the year, and now the first Mission Impossible Fallout early buzz has arrived from the film's premiere in Paris.
This has become one of the most consistently great action franchises in cinema history, and McQuarrie was responsible for 2015's Mission: Impossible – Rogue Nation, a terrific movie with impressive set-pieces and character work alike. Fallout looks to be more of a direct sequel than the previous entries, with Sean Harris's villain Solomon Lane implying that Ethan Hunt's reckless (if effective) actions will finally come back to bite him...somehow. Rebecca Ferguson's British agent Ilsa Faust, a brilliant addition to the series in Rogue Nation, is back for more, along with familiar faces like Ving Rhames, Simon Pegg, Alec Baldwin, and Michelle Monaghan as Ethan's wife, Julia.
Angela Bassett and Henry Cavill are the new additions to the cast this time around, playing the head of the CIA and a hard-hitting agent, respectively.
So how does the newest film stack up?
Mission Impossible Fallout Early Buzz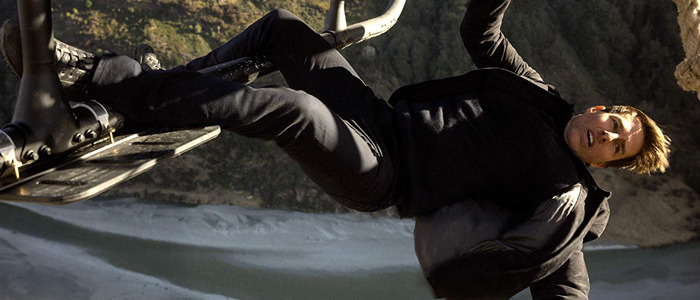 Fandango's Erik Davis has said before that the Mission: Impossible films are his "favorite action movies," and he sets the bar pretty damn high right out of the gate:
Just walked out of #MissionImpossibleFallout, which is absolutely fantastic. This movie entertains you in every which way – incredible action sequences, nail-biting suspense & hands down the series best finale yet. My favorite movie of the summer right there – loved every second pic.twitter.com/hWUnI7P2jQ

— Erik Davis (@ErikDavis) July 9, 2018
Steve Weintraub from Collider is also a big fan of this franchise, and he agreed that this entry is top notch:
Happy to report #MissionImpossibleFallout is a fantastic movie that's absolutely loaded with *insane* action and edge of your seat holy shit moments. Not sure how @TomCruise keeps raising the bar but I'm so happy he does. The bathroom fight scene alone is worth price of admission pic.twitter.com/FPhnz37VCK

— Steven Weintraub (@colliderfrosty) July 9, 2018
Before the #MissionImpossibleFallout screening @chrismcquarrie said they only finished the movie 5 days ago & @TomCruise saw the finished film last night. We were 1st audience to see finished film. Theater was made up of reporters & a lot of people that worked on film in Paris. pic.twitter.com/EnPED2i6VF

— Steven Weintraub (@colliderfrosty) July 9, 2018
A journalist from the French outlet Allocine was also a big fan:
#MissionImpossibleFallout ça joue dans la même cour que #RogueNation, c'est dire le gros niveau de l'ensemble. Facile mon blockbuster préféré de 2018 so far. Great job @chrismcquarrie & @TomCruise ! 💪🏼 pic.twitter.com/xwMMjfAGZI

— Maximilien PIERRETTE ⚡️ (@maxp26) July 9, 2018
According to Google Translate, that tweet roughly translates to "Mission: Impossible – Fallout "plays in the same yard as #RogueNation, that's to say the big level of the whole. Easy my favorite blockbuster of 2018 so far. Great job."
Comme espéré, les scènes d'action sont dingues, et Rebecca Ferguson/Ilsa Faust c'est toujours cœur avec les doigts. Fin de transmission, ces tweets ne d'auto-détruiront pas dans 5 secondes. #MissionImpossibleFallout

— Maximilien PIERRETTE ⚡️ (@maxp26) July 9, 2018
His follow-up tweet loosely translates to: "As hoped, the action scenes are crazy, and Rebecca Ferguson / Ilsa Faust is always heart with the fingers. End of transmission, these tweets will not self-destruct in 5 seconds."
***
It seems like a very limited number of reactions have come out this screening thus far, but I'll keep scrounging around for more reactions and will update this post if I find any.
Mission: Impossible – Fallout hits theaters in the U.S. on July 27, 2018, and I can't wait to see it for myself.