'Orange Is The New Black' Season 6 Trailer: The New Maximum Security Prison Ups The Dangers To The Max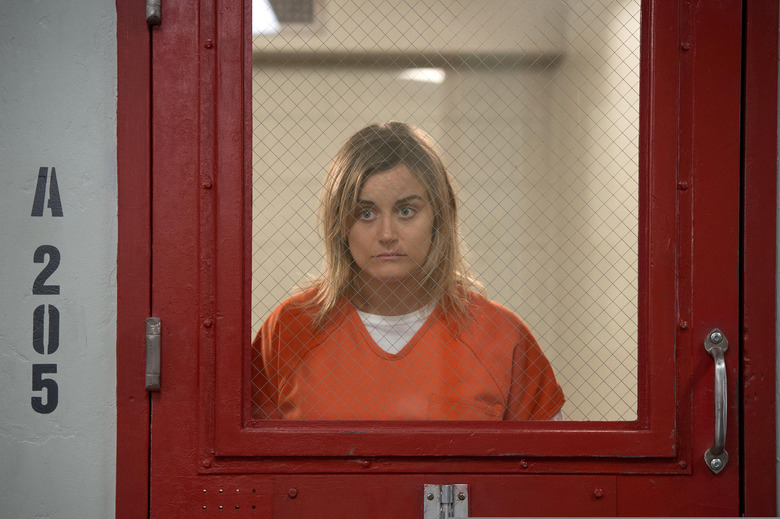 I don't think we're in Litchfield anymore. The women of Litchfield Penitentiary are a long way from home in Orange is the New Black season 6, as they trade in their minimum-security home for a maximum security prison. And with that maximum security comes maximum dangers, as the Litchfield ladies are faced with inmate rivalries, riots, and new cruel guards in the Orange is the New Black season 6 trailer.
Orange is the New Black Season 6 Trailer
Netflix's Emmy-winning dramedy series is back for its sixth, and most alarming, season. Orange is the New Black changes things up dramatically by moving the Litchfield ladies out of Litchfield and dumping them in maximum security. With their new stomping grounds come an array of new problems: namely the explosive inmate rivalries based on the colors of their uniforms, and the violent riots that ensue because of them. And the Litchfield ladies themselves are torn apart, as their friendships are tested in the dangerous new environment.
Created by Jenji Kohan and based on Piper Kerman's memoir of the same name, Orange is the New Black has garnered 12 Primetime Emmy Award nominations, including Outstanding Comedy Series, Outstanding Writing for a Comedy Series, and Outstanding Directing for a Comedy Series, and won three. The series has been renewed for a seventh — and possibly final — season.
Here is the official synopsis for Orange is the New Black season 6:
Picking up one week after the emergency response team stormed Litchfield Penitentiary, the ladies of Litch have been torn apart, literally and figuratively, as they enter a new facility in the sixth season of Orange Is The New Black. Now newbies they must navigate new rules and power dynamics, starting at the bottom, and getting hazed by inmates and tortured by guards. Friendships will be tested and new allegiances formed — some by choice and others by circumstance — as the women face a slew of charges from the riot. Will they take plea deals and turn on each other or band together and keep their bonds intact?
Orange is the New Black returns for its sixth season on Netflix on July 27, 2018.