'John Wick 3' Title Confirmed As 'John Wick 3: Parabellum'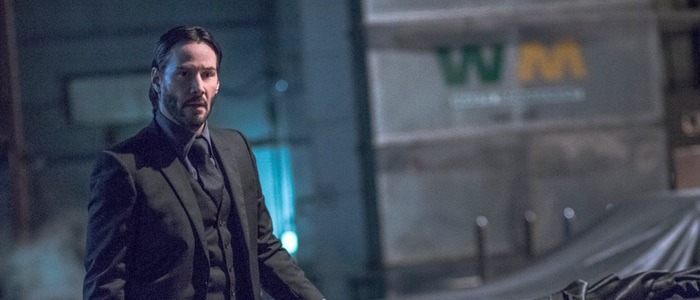 John Wick 3 officially has a title. Keanu Reeves, the star of the cult action series, has confirmed that the third entry in the John Wick franchise is called John Wick 3: Parabellum.
The third John Wick movie will buck the trend and do away with the "Chapters" in its titles. Instead, the newest John Wick film will be named John Wick 3: Parabellum, Reeves confirmed to ComingSoon.
When asked whether the title for the third John Wick film was John Wick 3 or the rumored Parabellum, Reeves responded, "It's both! John Wick 3: Parabellum." This comes as a nice confirmation of a title that has been floating around as John Wick 3's working title for months now.
So what exactly does the fancy word "parabellum" mean? Reeves explained:
"Prepare for war. It's part of that famous sentence, 'Si vis pacem, para bellum,' which translates as, 'If you want peace, prepare for war.'"
Yes, it sounds like our favorite assassin is going to war in John Wick 3: Parabellum against legions of assassins who are after the lofty bounty placed on his head. It makes sense considering the dire circumstances John Wick found himself in at the end of John Wick: Chapter 2, after violating the sacred rules of the Continental by killing someone on the hotel's grounds.
The next entry in the John Wick franchise is highly anticipated after the first two films bucked expectations to become some of the most stylish and acclaimed action flicks of the past decade. The franchise has become so popular that it has begun to expand to comic books and television, with a spin-off TV series The Continental in the works at STARZ with acclaimed writer/producer Chris Collins (Sons of Anarchy) executive producing. A spin-off feature film Ballerina, following a female child assassin, is also in the works.
Derek Kolstad and Chad Stahelski are returning to write and direct John Wick 3: Parabellum, respectively. Ian McShane, Common, Laurence Fishburne, Lance Reddick, and Ruby Rose are expected to reprise their roles, while Halle Berry, Angelica Huston, Asia Kate Dillon, Mark Dacascos, and Jason Mantzoukas, and Hiroyuki Sanada (who will reportedly play the villain) have all been confirmed as new additions to the cast.John Wick 3: Parabellum will be the first movie in the Wick franchise to hit theaters in the summer. It arrives on May 17, 2019, and you can read even more about it right here.