'The Predator' Reshoots Included References To Other 'Predator' Films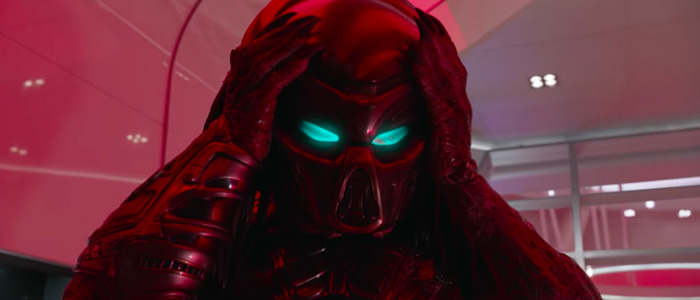 In April, actor Keegan-Michael Key revealed that about three-quarters of The Predator's third act was reshot. Now a new report reveals what changes were made to co-writer/director Shane Black's highly-anticipated sci-fi sequel, and that a recently-tested cut of the movie includes references to a number of other films in the franchise. Find out what was altered during The Predator reshoots below.
Warning: possible spoilers ahead for The Predator.
AvPGalaxy (via ScreenRant), a fan site that's been covering these movies for years with a pretty reliable track record, has sources that have provided some new updates about what was changed during The Predator reshoots. They say that hybrid alien creatures and "friendly" Predators have been removed from the movie entirely, but apparently there's a Predator dog that is still in the film.
Before we go any further, here's some quick background information. In 1990's Predator 2, a Predator nicknamed City Hunter wields a spear to kill gang members in Los Angeles. You can get a glimpse of that spear around the :10 mark here:
And at the very end of 2004's AVP: Alien vs. Predator, Lex (Sanaa Lathan) is gifted a spear by the Predators after defeating the Alien Queen:
AvPGalaxy's report details some of the easter eggs we'll see in The Predator that reference other movies in this franchise:
Lex's spear [from Alien vs. Predator] is now displayed alongside City Hunter's spear from Predator 2. Casey, Olivia Munn's character, is also shown some grainy pictures of the Predators from the first two films.
That sounds like references that could just briefly appear in the background that only the most hardcore fans would notice, but this next batch of information is a lot more spoilery, so I'm going to give one more warning now: spoiler-phobes, beware.
OK, now that we're all on the same spoilery page here, the report also says "All death sequences involving the more prominent characters have also been completely changed now," though it's unclear how exactly they've been changed. (Come on – you didn't think the whole cast was going to make it out of this movie alive, did you?) The final battle with what AvPGalaxy calls the Upgrade Predator (Fox internally refers to it as the Super Predator) now takes place in the woods at night, and after the ugly mega-beast attacks the base that we saw in the most recent trailer, it "gives the survivors a chance to escape before he begins to hunt them to find the best fighter amongst them."
It seems like Shane Black wanted to take another swing at the ending with these reshoots and ended up throwing the fans a bone with those easter eggs, and I have my fingers crossed that this will all result in a satisfying popcorn flick. The Predator arrives in theaters on September 14, 2018.