'Rub And Tug' Casting Causes Controversy; Scarlett Johansson Issues A Tepid Response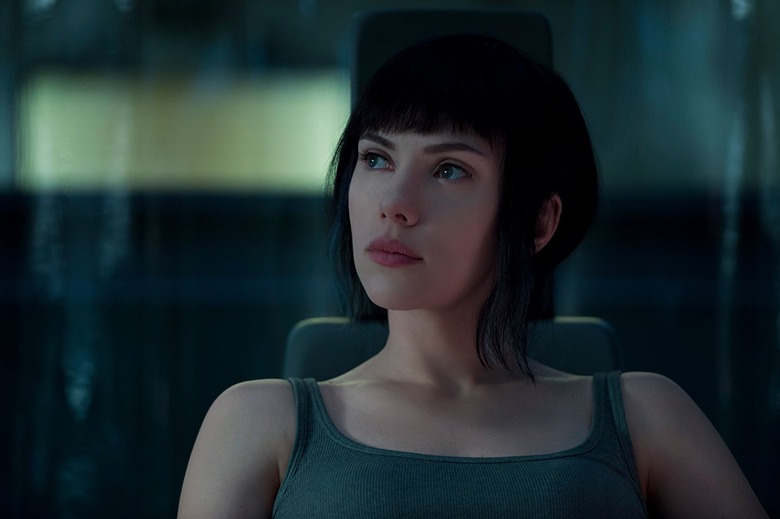 After news broke that Scarlett Johansson would be re-teaming with her Ghost in the Shell director Rupert Sanders for the biopic Rub & Tug, controversy immediately descended on the duo — again.
The Rub and Tug casting controversy is centered on Johansson playing a transmasculine man who became a notorious Pittsburgh crime boss. In response to the backlash, Johansson has released a statement on the controversy — her second in two years following the allegations of "whitewashing" in Ghost in the Shell.
The controversy boils down to the casting of Johansson, a cisgender woman, as a transmasculine man — which would theoretically take away another potential role for transgender actors. Anger against the casting immediately spread online, which prompted a response from Johansson's representative, who told Bustle:
"Tell them that they can be directed to Jeffrey Tambor, Jared Leto, and Felicity Huffman's reps for comment."
Tambor, Leto, and Huffman have all won or been nominated for awards for playing transgender characters in movies or television. It's a pretty disparaging remark from Johansson, if not just a flimsy defence. The remark points out Hollywood's spotty track record of casting cisgender actors in trans roles as a defence for Johansson's casting. But it also suggests that she's aware that the character she's playing is transgender and that she doesn't care — or at least, that she only cares about gaining an award for it. Johansson is not just the victim of miscasting in this case either: the actress also produces Rub & Tug through her These Pictures banner.
Johansson earned ire before with another Sanders-helmed project. Last year, she starred in Ghost in the Shell as a character who was originally Japanese in the manga and anime titles, which she downplayed in interviews surrounding the film. The film ended up a box office failure.
Early this week reports on Rub & Tug incorrectly labelled the subject of the biopic, Dante "Tex" Gill, as a "cross-dressing woman" who rose through a male-dominated society to become a powerful Pittsburgh crime boss during the 1970s and '80s by running a string of massage parlors that doubled as prostitution hubs. But further digging from ScreenCrush revealed that this real-life figure actually identified as a transgender man.
Though not many historical records exist of Gill (born Jean Gill), he was described in his 2003 obituary in the Pittsburgh Post-Gazette as "insisting that she was a man and telling everyone she wanted to be known as 'Mr. Gill.' Gill dressed as a man and reportedly also used male pronouns when describing himself. There was also speculation that Gill "may even have undergone the initial stages of a sex change that made her appear masculine."