'The Meg' TV Spot Encourages You To Swim Faster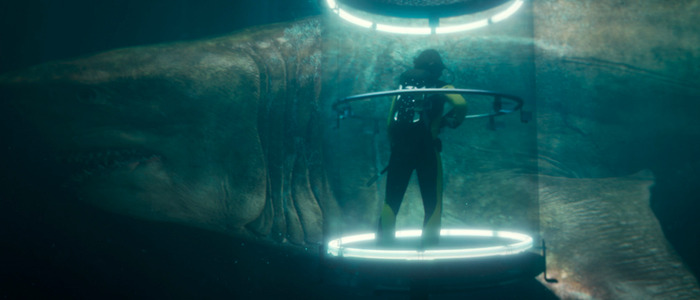 Summer is here in full-force, so it's time to embrace big, dumb blockbusters. Like The Meg, a movie about Jason Statham fighting a Megalodon shark that just happens to not be extinct, somehow. I'm sure the film will explain this, but really, who cares? We don't need answers. We just need to see Statham vs. shark. While you wait for The Meg to splash into theaters, watch a new The Meg TV spot below.
The Meg TV Spot
Say what you will about The Meg – the marketing department has been doing a pretty good job selling it. There is no chance in hell a film like this will turn out to be high art, but at the very least, it should deliver on the promise of seeing Jason Statham stare-down a massive shark. Will there be a scene where Statham punches the snark on its big stupid shark face? We can only hope.
The Meg is adapted from Steve Alten's 1997 novel Meg: A Novel of Deep Terror. The book was cashing-in on the Jurassic Park craze of pitting modern-day humans against prehistoric monsters. The concept – man vs. Megalodon – was inherently cinematic. But it took a while for the book to find its way to the screen. Disney hooked the rights to the book immediately, but the movie floundered in development hell for years. By 2015, Warner Bros. had control of the rights, and hired Eli Roth to helm. Roth eventually sailed away from the project, citing creative differences. Jon Turteltaub, director of the Nic Cage vs. America's Secrets movie National Treasure, ended up netting the job after Roth left.
And now here we are. Statham plays "expert deep sea rescue diver Jonas Taylor", who is "recruited by a visionary Chinese oceanographer (Winston Chao), against the wishes of his daughter Suyin (Li Bingbing), to save the crew-and the ocean itself-from this unstoppable threat: a pre-historic 75-foot-long shark known as the Megalodon. What no one could have imagined is that, years before, Taylor had encountered this same terrifying creature. Now, teamed with Suyin, he must confront his fears and risk his own life to save everyone trapped below...bringing him face to face once more with the greatest and largest predator of all time."
I love that Statham's character encountered this big-ass shark once before, but apparently no one knows about it. I guess he just kept it a secret for some reason? Smooth move, Statham.
The Meg opens August 10, 2018.