Is Sacha Baron Cohen Teasing A Donald Trump-Themed Project?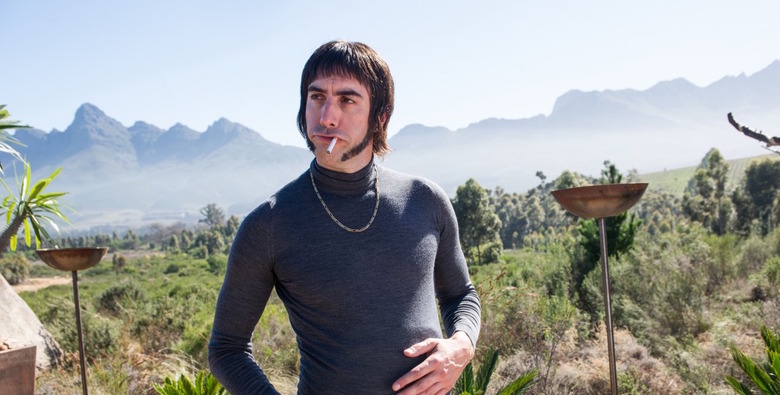 Sacha Baron Cohen may be reviving his long-standing feud with Donald Trump. On the 4th of July (because when else?) Cohen teased a new project that seems to take a dig at the president in a Twitter video titled "A Message from Donald J. Trump."
The actor and comedian posted a video on his Twitter Wednesday that promised, "He's back as you've never seen him before." What follows is a doctored video featuring Trump declaring that Baron Cohen was a "third-rate character" as the comedian's face glides across the screen.
Sacha Baron Cohen New Project: Donald Trump?
A message from your President @realDonaldTrump on Independence Day pic.twitter.com/O2PwZqO0cs

— Sacha Baron Cohen (@SachaBaronCohen) July 4, 2018
"I only wish he had been punched in the face so many times right now he would be in the hospital," Trump rants. "It was disgraceful. He oughta be fired immediately."
"Sacha Baron Cohen, go to school! Learn about being funny," Trump continues. The clip fades to a logo of Trump University as the text "Sacha Graduates Soon" appears on screen.
The clip in the teaser was originally shared by Trump in 2012 in response to Baron Cohen's publicity stunt at the Oscars for his film The Dictator in which the British comedian threw fake ashes on red carpet commentator Ryan Seacrest while dressed as his character, General Aladeen. Trump took to both Twitter and YouTube to lambast Baron Cohen's antics, calling Baron Cohen's stunt "a disgrace."
But Baron Cohen and Trump's feud stretches back to long before that. Trump was one of many people who was bamboozled by one of Baron Cohen's personas, when he was interviewed by Baron Cohen's "Ali G" in 2003 as part of his parody TV show. In the classic scene, Ali G tries to sell the surly businessman on the idea of "ice cream gloves" — an incident that Trump denies he was fooled by, though the clip suggests otherwise.
Baron Cohen took another shot at Trump in his 2016 action-comedy Grimsby, which featured a subplot in which Trump becomes infected with HIV after Daniel Radcliffe's blood is sprayed into his mouth from a gunshot. The joke was well-received by audiences but caused a headache for the film's studio Sony, which added a disclaimer that the then-presidential candidate did not actually have HIV.
So, is Trump Baron Cohen's next target? Given their long and hostile feud and the on-the-nose teaser, that seems to be the case.