'Jack Ryan' Trailer: John Krasinski Is Ready For Action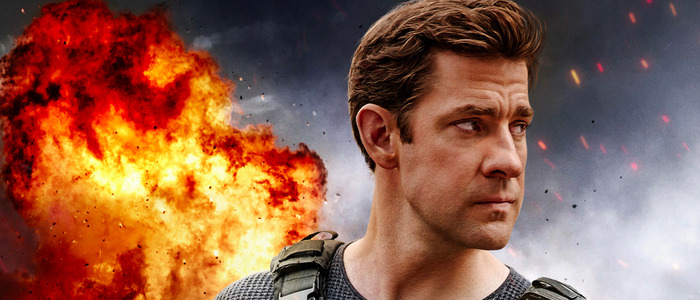 John Krasinski may have recently earned the distinction as a hot new director, but he hasn't given up his day job. Krasinski stars in Jack Ryan, a new Amazon series adapted from the Tom Clancy books your grandpa used to read in his big, comfy arm chair. But this ain't your grandpa's Jack Ryan. This is an action-packed, ass-kicking adventure. Watch the latest Jack Ryan trailer below.
Jack Ryan Trailer
The new Jack Ryan trailer features sound bites from various U.S. Presidents saber-rattling about battling foes. Make of that what you will! The real selling-point here, though, is the non-stop action. While Hollywood has always tried to sell adaptations of Tom Clancy's airport paperbacks as big, exciting affairs, they're not really that action packed. But people don't want to see Jack Ryan sitting around chatting. They want to see him shooting some guns and punching some enemies.
Four different actors have played Ryan in five films: Alec Baldwin in The Hunt for Red October; Harrison Ford in Patriot Games and Clear and Present Danger; Ben Affleck in The Sum of all Fears; and Chris Pine in Jack Ryan: Shadow Recruit. Now it's John Krasinski's turn! While Krasinski may never quite be able to shake off his "Jim from The Office" status, he has been trying to alter his image for the last few years. At one point, he was the frontrunner to play Captain America before Chris Evans landed the role. Later, he got muscled-up to star in the Michael Bay spectacle 13 Hours: The Secret Soldiers of Benghazi. And now here he is again, with some cut abs, shootin' some guns.
Krasinski is also enjoying a recent career resurgence thanks to his directorial duties on A Quiet Place. The actor had already directed a few films before A Quiet Place, but that 2018 horror film was the first to really gain acclaim and attention. Jack Ryan was in the works before A Quiet Place hit theaters, and a part of me wonders if Krasinski is wishing he hadn't committed to the show at this point. But who knows! Maybe it'll turn out well.
In the series, Krasinski's Jack Ryan is an "up-and-coming CIA analyst" who "is thrust into a dangerous field assignment for the first time. He uncovers a pattern in terrorist communication that has him up against a new breed of terrorism that threatens destruction on a global scale."
Jack Ryan debuts on Amazon Prime Video on August 31, 2018.
When CIA analyst Jack Ryan stumbles upon a suspicious series of bank transfers his search for answers pulls him from the safety of his desk job and catapults him into a deadly game of cat and mouse throughout Europe and the Middle East, with a rising terrorist figurehead preparing for a massive attack against the US and her allies.