Sorry Jack, Chucky's Back: 'Child's Play' Remake In The Works At MGM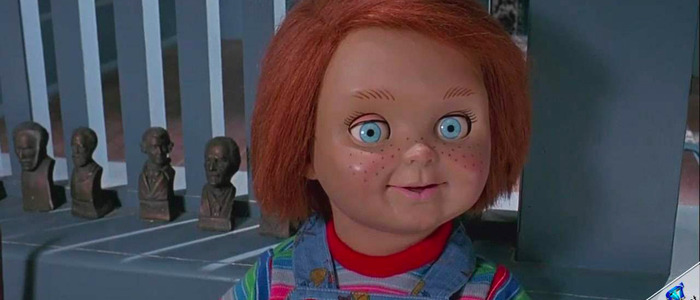 The Good Guy Doll is about to get a face lift. MGM is working on a Child's Play remake, proving that nothing lasts forever. Up until now, Child's Play had been one of the few horror franchises to stand the test of time and remain remake free. Those days are apparently over.
Collider is reporting that MGM and the producers of It are working on a remake of Child's Play, the 1988 horror film that introduced the world to Chucky the killer doll. Collider says Lars Klevberg, director of the completed but not-yet-released horror film Polaroid, is directing from a script by Tyler Burton Smith, who wrote Kung-Fury 2. David Katzenberg and Seth Grahame-Smith, who produced It, will produce the new film, with Aaron Schmidt executive producing.
I won't mince words: I hate this idea. Child's Play is one of my favorite horror franchises, and I've always loved the way the series was able to adapt rather than be remade. Chucky has evolved over the years, and somehow always remained entertaining. A big key to this secret is Don Mancini, the creator of the character who has penned the script for every film since the beginning. The fact that Mancini is apparently not writing this new film instantly makes me suspicious. And then there's the new film's alleged plot. According to Collider, the new film is a "a contemporary reboot involving a group of kids (a la Stranger Things), and a technologically-advanced doll that enters their world."
Uh...no. Get out of here with this. A Stranger Things-style Child's Play reboot with a "technologically-advanced" Chucky is a terrible idea. Part of Chucky's appeal was that he was a simple-looking stuffed doll that just happened to house the soul of an evil serial killer. If you change that and turn Chucky into some sort of super robot toy, you lose most of the charm. Of course, the real test for this new Child's Play will be casting. Will Brad Dourif return to voice Chucky, as he's done with every film since the beginning? If not, you might as well chuck this reboot right into the garbage can.
Child's Play creator Don Mancini has talked about potential remakes in the past. For a while, Mancini and Child's Play producer David Kirschner were considering launching a remake of their own, but they eventually changed their minds. As Mancini told IGN:
"After Seed of Chucky, what was in vogue in the horror genre was to do remakes of the originals. That was happening with Elm Street, Halloween, Texas Chainsaw and Friday the 13th. All of the big ones were getting remade, so David Kirschner [the producer on the Chucky movies] and I initially tried to do that, but because we did the first movie at MGM and all the subsequent ones at Universal, the rights to the first movie were split between the two studios, and so it was just kind of a legal nightmare. After a couple of years of trying to disentangle that, we decided that life was too short and we wanted to get a movie going as quickly as possible, so rather than doing a strict remake, we did a movie that's technically a sequel."
That sequel was Curse of Chucky, which toned done some of Chucky's famous jokes to tell a more straightforward scary story. This was followed by the recent Cult of Chucky, which took the series in an even crazier direction. Since then, Mancini has also announced a Child's Play TV series.
— Don Mancini (@RealDonMancini) June 22, 2018
Production on the Child's Play remake is expected to begin in September.