New 'The Spy Who Dumped Me' Clip Has A Meth-Fueled Car Chase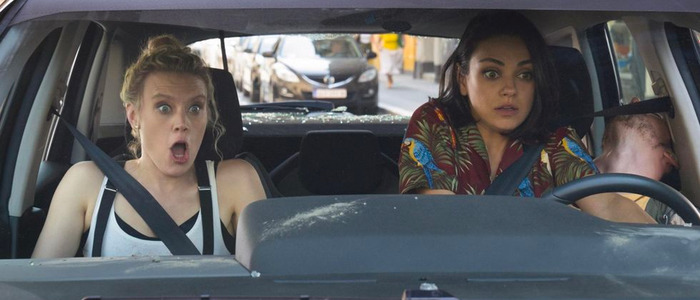 The Spy Who Dumped Me may not be the most buzzed-about movie of the summer, but the comedy looks like it could be a lot of fun. In a new Spy Who Dumped Me clip, stars Mila Kunis and Kate McKinnon hop in a cab to get away from some gun-toting guys on motorcycles. Action and jokes about smoking meth follow. Watch the Spy Who Dumped Me clip below.
The Spy Who Dumped Me Clip
The summer movie season is dominated by sequels and superheroes, but there are a few original films hiding among the pack. One such film is The Spy Who Dumped Me, an action-comedy from director Susanna Fogel. The film looks both funny and action-packed, and that could make for a very rewarding film. The clip above highlights both humor and action, with Kate McKinnon getting in a few funny lines as a fast-paced car chase unfolds. Based on this clip, and the previous trailers for the film, I'm impressed with how Fogel is staging the action set pieces.
Fogel told Entertainment Weekly: "It was really important that it felt legitimate. We were going for stunts that weren't ironic, for real action-movie action." The stunts in the film were handled by veteran stunt coordinator Gary Powell, who has worked on several James Bond films and also served as Pierce Brosnan's stunt double.
If you're burned out on the same old same old of the summer movie season, perhaps this film can break up the tedium. "We were at lunch one day and one of us said, 'Broad City meets Bourne,'" Fogel said. "Our jumping-off point was, What would we do if we had to run from the cops in, like, my Toyota Prius? What would we do if we were confronted with an assassin? We'd probably make fun of something he was wearing."
In addition to Kunis and McKinnon, The Spy Who Dumped Me stars Justin Theroux, Gillian Anderson, Hasan Minhaj, Ivanna Sakhno, and Sam Heughan. Look for it in theaters August 3, 2018.
Audrey (Mila Kunis) and Morgan (Kate McKinnon), two thirty-year-old best friends in Los Angeles, are thrust unexpectedly into an international conspiracy when Audrey's ex-boyfriend shows up at their apartment with a team of deadly assassins on his trail. Surprising even themselves, the duo jump into action, on the run throughout Europe from assassins and a suspicious-but-charming British agent, as they hatch a plan to save the world.