Small-Screen Stream: All-Comedy Edition, Because We Deserve It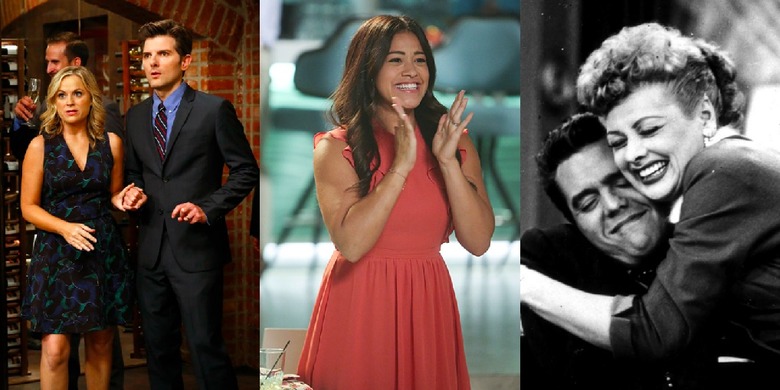 (Welcome to Small-Screen Stream, a feature where we share the best television shows streaming and where you can watch them.)
It's been a hard few weeks.
No matter where you fall on the political spectrum, there's an exhausting onslaught of things going on that have made it very difficult to remain positive, focused, and productive. It's also been hard to watch television lightheartedly; things like The Handmaid's Tale and Westworld – about body politics and oppression and challenging ideologies – are a little too real in the wake of all that's happening around us.
I don't know about you, but I've been tuning out the noise with whatever lighthearted entertainment I can. Whether that means re-visiting old favorites or discovering new comedic gems, I've been making my way through an array of shows, and wanted to theme this week's column around that. Because we could all use a little lighthearted escapism right now.
Jane the Virgin, Seasons 1-4
Where To Watch: NetflixCreated By: Jennie Snyder UrmanStarring: Gina Rodriguez, Andrea Navedo, Yael Grobglas, Justin Baldoni
I will confess that I had never really watched Jane the Virgin until this week, despite plenty of polite urging from friends. But after reading Jen Chaney's excellent piece on Vulture dubbing Jane the "best show on TV," I finally gave in and binged Season 1. And dammit, I'm hooked. Gina Rodriguez is so charming it should be illegal, and the style, tone, and characters give it such a distinct and authentic feel; there's really nothing else like it on TV, and it quickly rises above what would feel like obnoxious quirks (like the voiceover and soap elements). It's an absorbing show, so easy to get sucked into, and the rest of the world just falls away the second it starts. I can't recommend it enough.
Fresh Off the Boat, Seasons 1-4
Where To Watch: HuluCreated By: Nahnatchka KhanStarring: Constance Wu, Randall Park, Hudson Yang, Forrest WheelerFresh Off the Boat is not a show that I follow consistently, but it's one of my go-to "falling asleep" series, which is more of a compliment that it sounds. It's not because it's boring or because I don't care, but because I am so comforted by the safety and innate kindness of these characters that it helps me drift off just knowing they exist in the world. I love Randall Park and Constance Wu so much; they're pitch-perfect as the often-embarrassing parents to Hudson Yang's Eddie. I've found myself returning to it more often than usual lately, as stories of immigrants fill the headlines. Fresh Off the Boat is about the immigrant experience, and about feeling "other" in a place that should be home, and it finds the humor in those dark places. It's a great antidote to what's going on in the real world, and a great reminder of the concept of America and what it means to different families and generations.
The Good Place, Season 1
Where To Watch: NetflixCreated By: Michael SchurStarring: Kristen Bell, Ted Danson, William Jackson Harper, Jameela Jamil
I'll confess right now that I had a hard time getting into The Good Place, not because it isn't across-the-board excellent, but because it instills in me a very specific anxiety. I have a hard time processing the afterlife, and have never been able to relaxingly enjoy art that is so entrenched in interpreting what life after death might be like. This is a problem that still exists when I watch the show, but that I have been able to mostly overlook as it made its way into Season 2 on the tail of a seismic twist that reconfigures much of what you think you know about this place and these people. Kristen Bell is a delight, as are her fellow cast mates, though Ted Danson easily steals the whole show as the deity who designed the titular, heavenly realm. The first season is available on Netflix, and I imagine the second will join it soon. Best catch up before it returns this fall.
Girls, Seasons 1-6
Where To Watch: HBO NowCreated By: Lena DunhamStarring: Lena Dunham, Allison Williams, Jemima Kirke, Zosia Mamet, Adam Driver
This is a controversial inclusion, but I don't care. Every season of Girls takes place in the summer, and so every summer I feel compelled to return to it. It's a show that continues to lend me a certain kind of comfort, as I watch these young women not so far apart in age from me try – and often fail – to navigate post-college city life. They're exceptionally bad at being functional humans, which holds intrigue for a dysfunctional person like myself. Lena Dunham can be grating, yes, but she created a series that is a sobering, warts-and-all reality check that's full of some of the best, subtlest, and most intelligent humor I've ever seen on a show targeted to women. It pissed off an entire generation of Millennial women who refused to acknowledge how accurately it shined a light on our at-times brutal selfishness, so it's not for everyone. But if you're like me and take comfort in watching the worst of yourself projected as a means of self-reflection, Girls makes for a nice afternoon indoors in front of the AC.
One Day At a Time, Seasons 1-2
Where To Watch: NetflixCreated By: Gloria Calderon Kellett, Mike RoyceStarring: Justina Machado, Todd Grinnell, Isabella Gomez, Rita Moreno
Like Jane the Virgin, this was a series I had never seen until this last week, despite hearing nonstop praise. I decided to check it out, as its themes of immigration and the hardships of Latinos living in modern America couldn't possibly be more relevant. I'm so glad I finally gave in, because One Day at a Time is exactly the sort of multi-camera sitcom I've been craving, after the new Roseanne broke my heart and tedious series like The Big Bang Theory gave the genre a bad rep. This series is everything those shows are not, a biting, funny, important series that tackles a smattering of real-world issues, like mental health, homophobia, and racism in the United States. It's a reboot of 1970s series I never saw, but that lack of familiarity doesn't matter at all. Plus, there's nothing better than 86-year-old Rita Moreno dropping one-liners all over the place.
Ellen, Seasons 1-5
Where To Watch: HuluCreated By: Neal Marlens, Carol Black, David S. RosenthalStarring: Ellen DeGeneres, Clea Lewis, David Anthony Higgins, Joely Fisher
I love Ellen DeGeneres as if she were family, and I jumped for joy when I realized her sitcom was on Hulu. Ellen has always been a hero of mine, because her career represents total perseverance in the face of adversity. But it can be easy to forget how far she's come, and how different she felt as a comedian and personality before she was out. Not that orientation determines everything about a person, but because she was so clearly a woman holding back. Ellen is a monumental piece of American television that captures a historical moment – Ellen's character coming out, mirroring Ellen's own experience – but it's also a genuinely funny show even without that distinction. To watch it is to witness the growth of one of our premiere talents, as she truly comes into her own. It's a beautiful thing that still feels important, some 20-plus years later.
Parks and Recreation, Seasons 1-7
Where To Watch: NetflixCreated By: Michael Schur, Greg DanielsStarring: Amy Poehler, Nick Offerman, Chris Pratt, Aubrey Plaza, Aziz Ansari, Adam Scott
I've put Parks and Rec in this streaming column before and I'll put it here again – because it's never not an instant good-mood booster, and never not relevant. It is easily my most re-watched show, and I find myself turning to it specifically in times of trauma or depression, when everything feels like too much. Luckily, these characters are always there for me, and there's an episode for whatever specific emotion I want to meditate on.  Leslie Knope's quest to create a better world for women and for the townspeople she loves will never not wreck me, and I love that the show lets her actually be successful. Her "annoying" qualities – or rather, what the rest of the world deems annoying – don't stop her from finding love, from attaining public office, and for becoming the fricken president. Every citizen of Pawnee, Indiana – from April to Ron to Andy to Tom – feels like family at this point, and if you've never taken the time to get to know them, or haven't seen the show at all, please, I beg of you: do it. There's never been a better time. This is a show that not only radiates warmth and positivity, but it also offers a positive take on politics and is, fundamentally, about America and all of the beautiful things our country is when you peel away the bullshit.
I Love Lucy, Volumes 1-5 
Where To Watch: Amazon PrimeCreated By: Cameron DouglasStarring: Lucille Ball, Desi Arnaz, Vivian Vance, William Frawley
Sometimes you just need an old classic to do the trick. I've adored I Love Lucy since I was a little girl, watching re-runs on Nick at Nite or TV Land, always impressed by this fiery, spunky woman so unlike any I'd ever seen on TV before. I still feel the Lucy-sized hole in modern sitcoms, and still long for a weekly character who ignites me the way she did. The best part about I Love Lucy is that it's timelessly hilarious, somehow walking the line between the absurd and the believable. A lot of that is reliant on Lucille Ball's natural comedy, which is the rarest of gifts. She's perfect. But of course, her co-stars – Desi Arnaz, Vivian Vance, and William Frawley – are equally delightful, and the chemistry between the cast is like non-other. When I found the series on Amazon Prime this week, I found myself skipping through episode after episode, re-watching favorite moments that stuck out from childhood memory, uproariously laughing at all of the great physical comedy, and feeling genuinely moved by the intense love between Lucy and Ricky. If you're a fan of classic sitcoms, Prime has plenty on hand – but Lucy is, as always, a great place to start.
The Andy Griffith Show, Seasons 1-8
Where To Watch: Amazon PrimeCreated By: Sheldon LeonardStarring: Andy Griffith, Ron Howard, Don Knotts, Elinor Donahue
Speaking of classic TV on Amazon Prime, when was the last time you watched an episode of The Andy Griffith Show? It had been ages for me, but it's been on my mind a lot lately. I've always felt so comforted by the idea of Mayberry, this American town out of time that represents a certain never-can-have quality; it's a fantasy of what small-town Americana should be, with its quirky locals and weekly fatherly lessons. I always wanted a dad like Andy, always wanted to walk down by the creek with a fishing pole, whistling with a parent who loved me unconditionally. I've been watching an episode every night before bed for these last few weeks, because – as with Fresh Off the Boat – I like drifting to sleep with concepts like these ingrained in my head. Of small towns and small-scale hijinks and families together, in the place where they feel most safe. Mayberry may not be real, but it's a sanctuary in my head. It's been a real treat to find solace in it, and I recommend everyone check out an episode or two to remember what it feels like to truly be home.