'Skyward' Comic To Be Adapted By 'Rampage' Director And 'Lucifer' Showrunner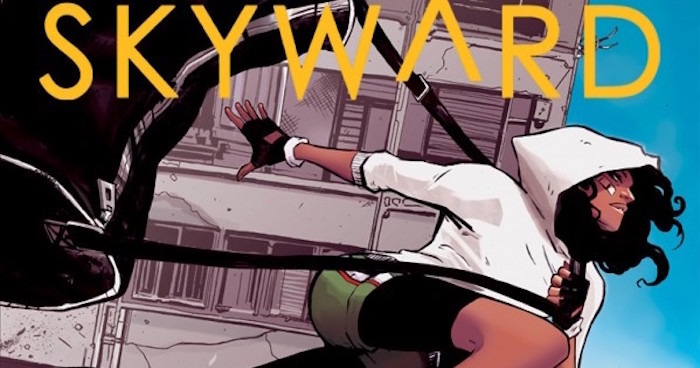 As Hollywood runs out of Marvel and DC comics stories to mine, Image Comics may be the next big thing. The comic book publisher behind popular titles like The Walking Dead and Saga has been getting a slew of feature film adaptations, the latest of which will be brought to life by Rampage director Brad Peyton and Lucifer showrunner Joe Henderson. The comic book they're adapting for Sony will be none other than Henderson's own series, Skyward.
Variety reports that Sony Pictures has landed the film rights to Skyward, and has tapped Henderson to adapt his series for the big screen with Peyton directing. Henderson will also executive produce, with Peyton and Jeff Fierson producing. Peyton said of the project:
"Jeff and I are focused on making event films — regardless of budget or scope. 'Skyward' is a big one. We're very excited to deliver on what an anti-gravity movie should deliver on and be working with Joe Henderson on this."
Co-created by Henderson and Lee Garbett, Skyward debuted in April of this year. The story is set in a world where gravity has become a fraction of what it is now, after an event known as G-day. Twenty years later, humanity has adapted and young people like Willa Fowler, who was born the day after G-day, have come to love their new low-gravity abilities. But one day Willa stumbles upon a plot to bring gravity back that could pose a danger to the world.
Here is the official synopsis for the Skyward comic book (via Image Comics):
"MY LOW-G LIFE," Part One One day, gravity on earth suddenly became a fraction of what it is now. Twenty years later, humanity has adapted to its new low-gravity reality. And to Willa Fowler, a woman born just after G-day, it's...well, it's pretty awesome, actually. You can fly through the air! I mean, sure, you can also die if you jump too high. So you just don't jump too high. And maybe don't stumble into a dangerous plan to bring gravity back that could get you killed.... From writer JOE HENDERSON (showrunner of Fox's Lucifer) and artist LEE GARBETT (Lucifer, Loki: Agent of Asgard), SKYWARD is an adventure-filled exploration of our world turned upside down and a young woman's journey to find her place in it.
I haven't read Skyward, but it's interesting that Sony is jumping so quickly to adapt the title so soon after it hit shelves. The comic series has already been praised as one of the most best new titles of the year, so perhaps Sony wants to get ahead of the crowd in an industry overcrowded with comic book adaptations. Not to mention the fact that other studios are pouncing on Image Comics adaptations, since the publisher's titles offer something a little different from the usual superhero fare.
Skyward seems promising, with a unique and refreshing premise from Henderson. And since Henderson has had experience writing in the TV industry, he will likely make an easy leap to movies. As for Peyton, well, San Andreas made a lot of money .