'Transformers' Film Series Coming To Comic-Con For First Time Ever With 'Bumblebee'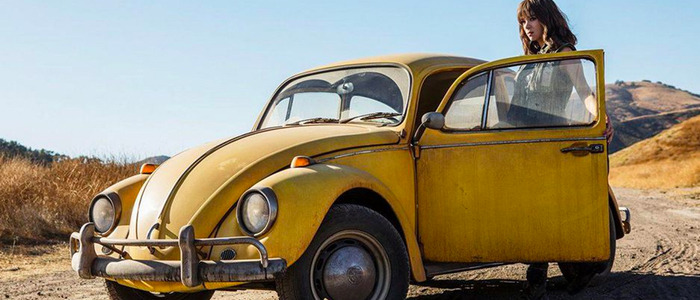 Bumblebee will be making a pitstop at San Diego Comic-Con International this year, marking the first time in Comic-Con history that a Transformers film will grace Hall H. Hailee Steinfeld, John Cena, Jorge Lendeborg Jr. and director Travis Knight are all expected to attend.
Believe it or not, a Transformers film has never had a panel at San Diego Comic-Con's coveted Hall H. That will change this year. As initially reported by io9 and confirmed by Deadline, the Transformers spin-off hitting theaters this December will be making an appearance when Paramount brings it to San Diego this month. Cast members Hailee Steinfeld, John Cena, and Jorge Lendeborg Jr. will all be there, as will director Travis Knight. Bumblebee himself will not be in attendance, because he is a CGI robot character, and this is the real world. You can likely expect to see new footage at SDCC, should you be attending. The panel will happen Friday, July 20 from 5-6PM.
Bumblebee is set in 1987, and finds Bumblebee the Autobot on the run and seeking refuge "in a junkyard in a small California beach town. Charlie, on the brink of turning 18 years old and trying to find her place in the world, soon discovers the battle-scarred and broken Bumblebee. When Charlie revives him, she quickly learns that this is no ordinary yellow Volkswagen."
I'm decidedly not a fan of the Transformers film series. The first movie is somewhat tolerable, but the franchise only got worse from there. That said, the trailer for Bumblebee was surprisingly endearing, and I'd love for the film to break the Transformers curse and deliver a genuinely good Autobot-themed film for once.
Bumblebee Trailer
While Bumblebee will have its day at SDCC this month, another big Paramount film will not be making the trio: Mission: Impossible – Fallout. This is likely due to timing – Fallout opens July 27, which is only a few days after Comic-Con ends. From a budgetary standpoint, it probably didn't make much sense to pull out all the stops and pay to shuttle Tom Cruise and company off to SDCC to promote a movie opening in mere days.
Fallout finds Cruise's Ethan Hunt and his IMF "in a race against time after a mission goes wrong." That's literally the plot of every single other Mission: Impossible film, and yet each film manages to kick a ton of ass. I'm a bit disappointed that the film won't have any presence at SDCC, but at least we can all take heart knowing Cruise and his death-defying stunts will be gracing movie screens not long after.
SDCC runs from July 19 through July 22.