Scott Derrickson Not Returning For Retooled 'Snowpiercer' TV Series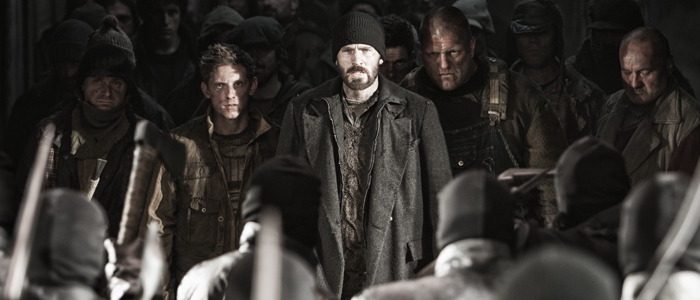 The director of TNT's Snowpiercer TV series pilot has stepped off the train.
Doctor Strange and Sinister director Scott Derrickson was hired over a year ago to helm the cable adaptation of the French graphic novel that was famously brought to the big screen by Bong Joon-ho back in 2013. A new showrunner has since come aboard and wants "extreme reshoots" on the pilot, but Derrickson recently took to Twitter to explain that he won't be the one to oversee them.
Early this year, less than two weeks after TNT ordered the show to series, original showrunner Josh Friedman (Terminator: The Sarah Connor Chronicles) stepped down, and though the term "creative differences" was thrown around in the press, Friedman didn't mince words about why he was "removed" from the project:
I didn't "exit" over creative differences. TNT insisted that I be removed from show running duties because they didn't think I'd be compiant. Hopefully they found someone more to their liking.

— josh friedman (@Josh_Friedman) February 27, 2018


Orphan Black co-creator Graeme Manson was hired about a month later to replace him, and it sounds like Manson has some wildly different ideas in mind for what a Snowpiercer TV series should be like. And now it seems that Derrickson doesn't agree with the new vision for the show:
The 72-page Snowpiercer TV pilot script by @Josh_Friedman is the best I've ever read. The feature-length pilot I made from that script may be my best work.

The new show runner has a radically different vision for the show. I am forgoing my option to direct the extreme reshoots.

— N O S ⋊ Ɔ I ᴚ ᴚ Ǝ ᗡ ⊥ ⊥ O Ɔ S (@scottderrickson) June 29, 2018
This isn't just a case of a filmmaker hyping their own work. In response to Derrickson's tweet, writer Michael Green (Blade Runner 2049, American Gods, Alien: Covenant) indicated that he'd also seen the version that will now never make it on the air, and agreed that it was "astonishing."
Friedman, an outspoken personality on Twitter, wasn't thrilled that Manson didn't reach out to him about taking over the showrunning duties. He tweeted:
"If you're asked to rewrite someone or take over their show it seems like good sense and good karma to reach out to that person first and a) find out what the circumstances of their departure are and b) thank them for doing the work you'll be profiting from. You should buy that person a nice meal or a bottle of alcohol if they're up for it. Your money was earmarked for them at one time. And more than likely, what may be a good job for you was a passion project for them. Put another way: if you were to take over a show I'd originated and worked on for two years and didn't reach out to me before taking the job you're either an idiot, a coward, or a vichy motherf***er."
This whole thing is, to use a technical term, a bummer. I'm very curious about Friedman and Derrickson's version of this story, but it seems all but certain we'll never get to see it.
Snowpiercer tells the futuristic story of the human survivors of a new Ice Age who all live on a perpetual motion train zooming across the frozen wasteland of Earth. The entire story takes place on a train, where the occupants are divided up into living quarters based on their class. The poorest group, who live in filthy conditions and are forced to eat...well, let's call it "non-traditional" food, ultimately gets sick of the status quo and sparks a revolution against the rich, who occupy far more opulent living quarters. The whole thing is one big metaphor – occasionally on the nose, but undoubtedly effective.Jennifer Connelly (A Beautiful Mind, Requiem for a Dream) and Daveed Diggs (Hamilton, Blindspotting) are leading the show's cast, and they're joined by Mickey Sumner, Susan Park, Benjamin Haigh, Sasha Frolova, Katie McGuinness, Alison Wright, Annalise Basso, Sam Otto, Roberto Urbina, Sheila Vand, and Lena Hall. The series is expected to premiere sometime in 2018.