'Uncle Drew' Interview: Lil Rel Howery Talks The Love Of The Game, 'Space Jam', Working With Legends & More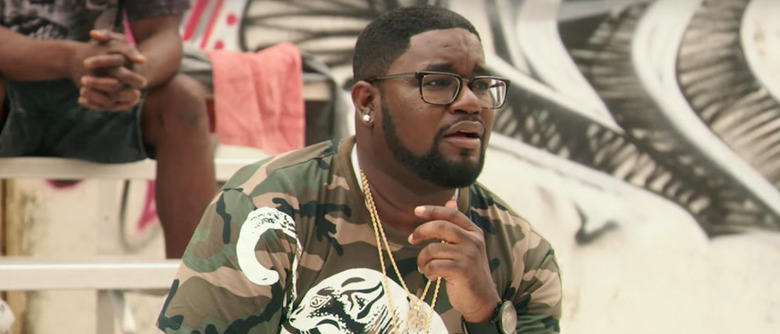 Comedian/actor Lil Rel Howery is two things to the core: a Chicagoan and a basketball fan. So when he was asked if he wanted to star in a feature film adaptation of the popular Uncle Drew commercial shorts (all made by Pepsi), with NBA legend Kyrie Irving returning as the titular character, he was quick to say yes without even looking at a script. The film also stars such basketball luminaries as Chris Webber, Reggie Miller, Nate Robinson, Shaquille O'Neal, and the WNBA's Lisa Leslie, all playing elderly former players, recruited by Howery's Dax to play in the Rucker Classic street ball tournament in Harlem against much younger players. Uncle Drew also stars Tiffany Haddish as Dax's ex-girlfriend, who breaks things off with him and immediately begins dating his lifelong arch nemesis on the court, Mookie (Nick Kroll).
Already a prominent comedian throughout Chicago and a rising star nationally since the beginning of the 2000s, Howery beginning getting smaller film roles and starring roles on such series as "The Carmichael Show" and "Insecure." But it was his role as life-saving TSA agent/best friend Rod Williams in writer/director Jordan Peele's Get Out (2017) that served as his calling card performance to the world. In addition to Uncle Drew, Howery has a very funny cameo in the current release Tag, and audiences will see him at the end of the year in director Susanne Bier's ensemble sci-fi thriller Bird Box, co-starring Sandra Bullock, Sarah Paulson, Jacki Weaver, Trevante Rhodes, David Dastmalchian, and fellow Chicagoan John Malkovich.
/Film spoke with the 38-year-old Howery in Chicago recently about his love and connection to the game of basketball (including the film Space Jam, starring his all-time hero, Chicago Bulls superstar Michael Jordan); how his long-time friendship with Kroll translated into playing bitter enemies in Uncle Drew; and his experience on the Bird Box set.
I saw you on the MTV Movie & TV Awards the other day [Howery took part in a pre-taped parody of Black Panther, alongside his Uncle Drew co-star Tiffany Haddish; in the segment, he played the part of the River Tribe Elder, who had a plate in his bottom lip]. What was it like doing that?Lil Rel: It was fun. The lip plate thing...it's funny because I remember watching the movie and seeing the guy with the lip plate. So they hired the same people that did the makeup [in Black Panther] to do the lip plate on me. It's a weird thing to get a mouth cast done of you. It was kind of uncomfortable but it was worth it.The Uncle Drew shorts were so famous for years. Were you in one of them at some point? How did you get brought into the fold on the film?Lil Rel: No. Uncle Drew was my first offer after Get Out.And it's a lead role, so that's a huge jump in many ways.Lil Rel: Yeah. As soon as the producer told me this was a basketball movie based on those commercials, I was in. I'm a big basketball fan and a huge fan of those commercials. People don't remember, but the first commercial they shot was here in Chicago, and it was a hit. Kyrie went to a real park dressed like that—nobody knew who he was. Honestly, I didn't I didn't know who he was for maybe the first four commercials. At first I thought it was James Harden, but then I noticed he wasn't shooting with his left hand, so I knew it wasn't him. Then when I found out it was Kyrie, I was blown away by that. It was great.You said yes before you even read the script?Lil Rel: Yeah. I mean, he did tell me the premise. I've actually been missing basketball movies. I was like "We're going to make another basketball movie? I'm in!"As a fan of basketball, how long did it take you get past the idea that you were working alongside these legends day after day?Lil Rel: [laughs] Let me tell you what happened. So, the first table read we had, I got there kind of early, and Chris Webber walks in, and I'm like "Okay, you've got to chill," because Chris Webber is one of my favorite power forwards of all time. So I go to walk up to him, and before I say anything, he says, "Hey man, I'm a huge fan. I loved you in Get Out; I love your stand-up specials." And I'm like, "Ah man, I was going to say something to you first." But it broke the ice and made me comfortable. Also, I had to realize how nervous they were. As much as I was starstruck, they were nervous too. For a couple of them, this is their first time ever doing a movie and they wanted to make sure they were good. We all combined our nervous energy, and it ended up working out. I was happy that they were so willing to talk and answer every basketball question I ever had. I asked, and they answer it. I'm like a source now [laughs]. I'm so proud of them because they ended up being really good actors, but it was surreal at the beginning, man.Whenever I interview a musician or athlete who takes a stab at acting, you forget that as much as they might be at the top of their game in their chosen profession, when they decide to do something like acting, they're like a first-year acting student. They don't know more than anyone else and they are out of their comfort zone. Were they looking to you for advice or support about their acting?Lil Rel: They would. They would ask questions. Even Kyrie would say, "Should I do this differently?" You have to understand, these are legends; they don't have to ask me anything. But I appreciated them asking and wanting to know my opinion on things.We said before, this is your first lead, and I'm guessing that wasn't lost on you. Tell me about your combination of being excited and terrified.Lil Rel: You know something? I wasn't really. Maybe I'm way too confident, but I wasn't nervous about it. I think I've been waiting on this moment. I know one of the things I wanted to do was make sure that the performance I delivered made them do their thing better too. I'm an awkwardly unselfish actor and I think things only work when everybody is well oiled. It's like a point guard that doesn't score a lot of points, but you get the ball moving. And that's what I wanted to do with this, because these dudes are in makeup and prosthetics. We shouldn't run away from that. This needs to be funny with that; that's insane. So it's all about me figuring out a way to pass the ball to them, so they can run with it and slam dunk it, which all of them did. It's so interesting—I do that with different projects. I'm wondering as I do more and different types of projects if audiences will be okay with me being unselfish.You and Nick Kroll have known each other for a while. And as much as I enjoyed the story of these older players, the emotional arc is what's going on between you and Nick, which began when you were young and has defined Dax's life ever since. Talk about finally getting to work with him and the way that rivalry fuels success.Lil Rel: Me and Nick have been wanting to work together for a while. When I read the script, that's who I thought of. Nick was a little bit on the fence about it, and I did a show for him in L.A., and he doesn't know I did the show so I could talk him into doing this show. We had this chemistry. When you have a role like that where all you do is talk crazy about each other, it has to be someone you're actually friends with.How does that work? There are so many insults hurled at you, and not just by Nick. Do you have to approve those?Lil Rel: Some of the stuff I pitched! I'm a comedian; I don't take that that seriously. It's just funny. It's like these giants are calling me a hobbit, but they're really the ones who are freaks of nature. That's what funny to me. That's why I'm really proud of my reactions to being insulted. I don't mind doing that. It's just about giving and taking. You make that sacrifice happen so it works. Nick Kroll is just funny. He does such great characters work, but I didn't know what he was going to do with this. And on the first day of shooting, he started talking in that voice, and I was laughing a lot on the first few days of shooting. "Come on, brah!" [laughs] That's what made it work. I think if we weren't friends, it would have been weirder. But because we're cool, we had so much fun with that.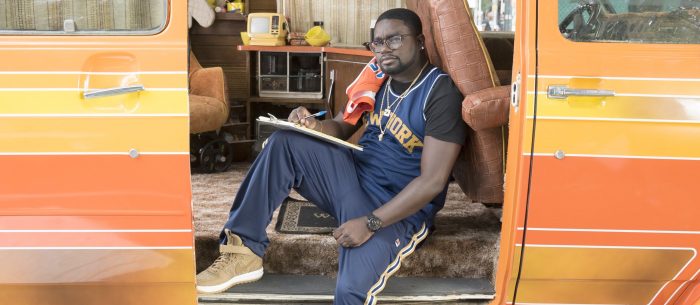 What is the most Chicago thing about you?Lil Red: There's a lot of things. Being blunt. We're some of the bluntest people you can think of, being from Chicago. There's no middle ground with me. I'm just going to keep it 100 with people, you know what I mean? I'm very opinionated. And Chicago people are some of the most confident people in this country. I don't know why. I go to other cities and I'm like, "Damn, ya'll's self-esteem is low." [laughs] If you think about it, it all comes down to our sports. The Chicago Bears—it's the 1985 Super Bowl, and we're still riding that wave [laughs]. "Yeah, the '85 Bears!" I still walk around with that confidence in me. Those Bulls championship teams—"Yeah, we had Michael Jordan. I don't care who you got. I don't care about Steph Curry. I had Michael, Scottie, Kukoc." I'm still mad I never got to go to a game at Chicago Stadium. As my grown self, I wish I could have experienced that. I heard it used to be loud. If I had a time machine, the one thing I'd do is go to a 1987 Bulls game [laughs].One thing I've noticed in talking to a lot of Chicago actors is that there's a work ethic that is unrivaled. Is that another thing you think is especially Chicago about you?Lil Rel: Oh yes. That's 100 percent there too. It's such a hustle and grind in entertainment here because there's not as much here, so you have to create a lot of those opportunities. So when you do go to Hollywood, you're already aggressive and proactive. You're not dependent on your agent or manager. You're like "I'm going to do this regardless. I'm know how to hustle this myself." I was a self promoter when I was doing comedy here. I stopped dealing with promoters and had my own nights at comedy clubs. I was like "Why am I letting these people pay me when they get the whole door, but these people came to see me? That don't make sense." So you become this hustler, so when you go to Hollywood, it's kind of easier. All you have to do is take all the work you can. The year I did Uncle Drew, I did four movies; I don't know how I pulled that off, but I did it [laughs].Your character in Uncle Drew is a hustler, to the point where he really doesn't trust anybody. That's another theme of the film is getting back to that place where you can trust people. He gets called out on that at one point.Lil Rel: That's the heart of the movie. The script changed a few times, but one of the thing I wanted them to change was to make sure the heart had to be there. That's what sports is about, especially basketball. I can't watch the '92 Bulls championship tape without tearing up a little bit. There's something really heartfelt about a team coming together, because they have to come together to do it, all of these different people. And I think that's something Uncle Drew did a good job with. Drew learned his lesson too. He learns to apologize and stop being prideful the whole time. For him to learn that lesson and then give that lesson to Dax, that was smart.The most important question I'm going to ask you today is this: As a Chicago basketball fan, how much did Space Jam change your life?Lil Rel: Oh, man. You know what's amazing about it? It's timeless. I was a kid when Space Jam came out, so to see my kids watch it... They've never seen a Bulls game with Michael Jordan, but they know Mike from Space Jam. That's crazy. A whole other generation of kids fell in love with Space Jam. Bill Murray is brilliant in it. There are so many funny little things in there. The beginning of Space Jam—with him and his dad—is one of the most beautiful things I've ever seen. And there's so much heart in Space Jam, which is one of the big reasons I wanted to make sure we had some of that in our movie.I was there at Sundance last year, when Get Out played as the secret midnight screening. I knew it was great when I saw it, but nothing quite prepared me for how successful and important the film became. Did you in any way anticipate how it took off, both in terms of box office and as a cultural shift that began last year.Lil Rel: Not in the beginning I didn't. I just thought it was a really great script, and Jordan Peele was dope to me. It wasn't until Sundance happened, because the buzz from that was crazy. I was texting Jordan, saying "Is this about to get crazy?" We didn't know how people were going to react to it, and that was the first time we saw a real reaction to it. People could have hated us; it could have gone either way. I just knew it was something I'd never seen before. Even when I saw the first cut of it, I loved it so much and I liked that I was in it. "This is really good, right? Am I crazy?"You made a film with Susanne Bier, who I had the great pleasure of meeting just a couple of days after she won her Oscar [for In A Better World]. Tell me about this movie.Lil Rel: It's called Bird Box. They're keeping it under wraps a little bit because it's hard to talk about it without giving too much away. But it's a sci-fi thriller. It's a great cast. This is the craziest character I've ever played; he's not a like a psycho or anything, but he's so off. Everybody is cool and smart, and he's an insecure weirdo. It's just so fun playing weirdos. I can't wait to see the movie. We shot it, and it was so much fun. Sandra Bullock was amazing to work with. John Malkovich, who's a huge basketball fan and he's from Chicago. So we talked Chicago basketball all the time. If you would have told me who I'd be having the most basketball conversations with on that set, John Malkovich would have been the last person I'd thought of. But that dude knows the game. We talked so much, I was like "Should we get a podcast or something? Just John Malkovich and Rel talking hoops?"That's the idea of the century. Best of luck, sir. It was great meeting you.Lil Rel: Thank you, man.