'Breaking Bad' Reunion And 'Better Call Saul' Heading To Comic-Con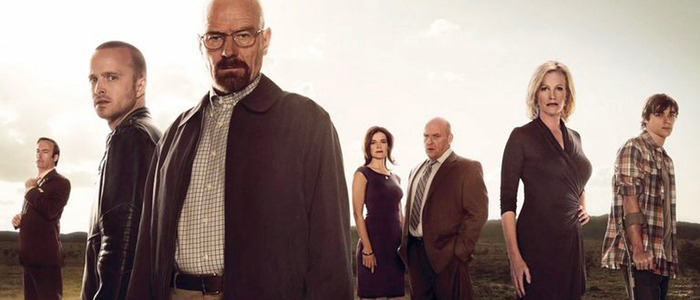 Breaking Bad and its spin-off prequel Better Call Saul are both headed to San Diego in July. San Diego Comic-Con will host both a Breaking Bad reunion featuring the original cast, as well as the Better Call Saul season 4 premiere episode.
The cast of Breaking Bad recently had a big reunion for Entertainment Weekly, but if you were hoping to see everyone together again live, and in person, here's your chance. Deadline reports SDCC will host a big Breaking Bad reunion featuring Bryan Cranston, Aaron Paul, Dean Norris, Anna Gunn, Bob Odenkirk, Giancarlo Esposito, Betsy Brandt, Jonathan Banks, RJ Mitte and Breaking Bad creator Vince Gilligan. The gang will gather for a panel in Hall H on July 19, 2018 at 4:30 PM.
And that's not all. An hour before that, the audience in Hall H will be treated to the premiere episode of Better Call Saul season 4. Odenkirk, Banks, Esposito, Rhea Seehorn, Michael Mando, Patrick Fabian, Gilligan and co-creator Peter Gould will be in attendance for that. In short, if you're a fan of the universe these shows exists in and headed to SDCC, July 19 is going to be lit.
"Being a student of television, I realized that in most television shows the characters maintained their characteristics throughout the life of the series. They didn't really change," creator Vince Gilligan told EW. "I was very desirous of creating a show where the main character changed. I didn't necessarily think of it in terms of being groundbreaking. I mainly worried that because it was a different take on the structure of a television show that that would be a ding against it and that it would make it harder to get made."
Breaking Bad ran from January 20, 2008 – September 29, 2013 on AMC. The series focused on Walter White (Bryan Cranston), a chemistry teacher diagnosed with lung cancer who goes on to form a drug empire cooking meth. The series balanced wry humor and crushing darkness for five seasons, resulting in some of the best shows of the so-called "peak TV" age. After Breaking Bad ended, Gilligan and Peter Gould launched the prequel/spin-off Better Call Saul. Saul follows Jimmy McGill, aka Saul Goodman (Bob Odenkirk), a sleazy lawyer character introduced in Breaking Bad. While Better Call Saul features several characters from Breaking Bad, it's a much different (and, in my humble opinion, better) show. Better Call Saul returns for its 4th season on AMC August 6, 2018.
SDCC runs from July 19 through July 22, 2018.