'Father Of The Year' Trailer: David Spade Is A Drunk, Deadbeat Dad In This Netflix Comedy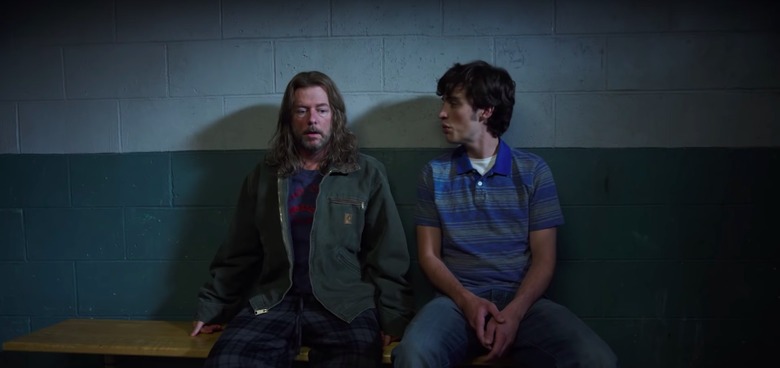 If you've had a hankering to see David Spade get thrown naked from a pick-up truck filled with water, you're in luck. An entire scene of just that plays out in the Father of the Year trailer in excruciating detail, giving you an up-close and personal view of David Spade's butt. It's exactly the kind of comedy gold you that you want from a Happy Madison-Netflix film.
Father of the Year Trailer
Adam Sandler's Happy Madison Production and Netflix
continue their happy partnership
with yet another broad comedy starring Happy Madison regular David Spade. But it looks like Sandler is taking a backseat in this multi-movie deal, with Father of the Year appearing to be the first of their Netflix movies that Sandler is not starring in. Sandler's longtime collaborator Spade gets the spotlight in the fifth Happy Madison-Netflix deal.
Father of the Year stars Spade as a deadbeat dad who lives under a trailer (not in one), whose son barely tolerates him. But as his son Ben (Joey Bragg) prepares to move to college, Spade's Wayne accidentally ends up derailing Ben's life in spectacular fashion. A dumb bet becomes a dumb reality, as Wayne picks a fight with the father of Ben's best friend (Nat Faxon), resulting in thousands of dollars of property damage, and Ben losing his job and chance to go to college. But Wayne is determined to fix his mistakes and, naturally, hijinks ensue.
I haven't seen any of Sandler's Netflix movies, but Father of the Year appears to be in the same vein of the past four movies — which is to say, fun dumb comedy. I probably won't end up watching it, but that doesn't mean thousands of
other Netflix subscribers won't
. But hey,
whatever appeases the algorithm,
right?
Father of the Year also stars Nat Faxon, Bridgit Mendler, Joey Bragg, Matt Shively, and Jared Sandler.
Here is the official synopsis for Father of the Year:
When a drunken debate between two recent college graduates about whose father would win in a fight is taken seriously by their idiot dads, jobs are lost, relationships ruined, futures destroyed, and best friends come of age as they come to grips with who their fathers really are. Starring David Spade, Nat Faxon, Joey Bragg, Matt Shively, and Bridgit Mendler.
Father of the Year premieres on Netflix on July 20, 2018.