Expect To See A More Vulnerable, Human Side Of John Kreese In 'Cobra Kai' Season 2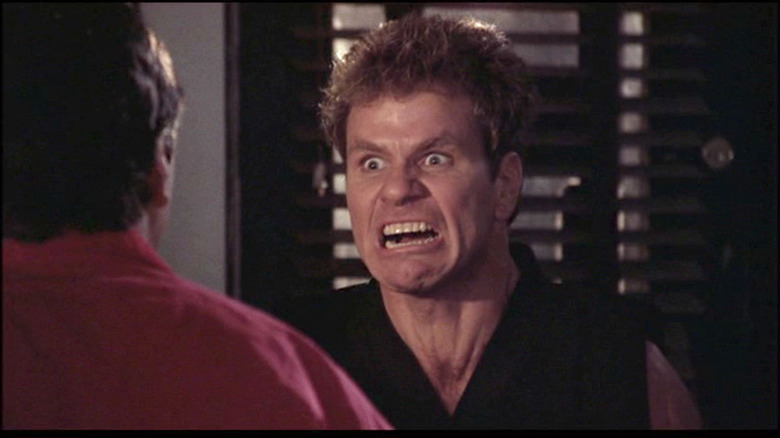 Johnny Lawrence (William Zabka) may have the one who swept Daniel LaRusso's (Ralph Macchio) leg in The Karate Kid, but John Kreese was the one who told him to do it.
The original Cobra Kai sensei played by Martin Kove was the cruel karate master who preached "no mercy" to the bullies in the Karate Kid series, but perhaps mercy is what we'll feel toward John Kreese when Cobra Kai season 2 is over.
Kove made a surprise appearance at the end of YouTube Premium's acclaimed Cobra Kai web series, collectively sweeping the audience's leg from under them. And now with Kove promoted to series regular for Cobra Kai season 2, be prepared to see a lot more of John Kreese. And be prepared to maybe even feel a little sympathy for him.
In an interview with SYFY WIRE on the Saturn Awards red carpet, Kove expressed excitement about returning to the Karate Kid series after 30 years and revealed what Cobra Kai had in store for his infamous John Kreese:
"You know, it's really interesting, the darkness that prevailed through John Kreese in those days is remembered by a lot of people, the interesting thing about what we're going to do, is maybe he won't be so dark, but he'll still be on another agenda. Because, as you know by the 10th episode, it looks like he's got it all together. But maybe he doesn't, and that's what's really interesting: Maybe he doesn't have it all together, and he's a human being after all – which is exciting for me to play as an actor.
Everybody gets used to seeing John Kreese and thinking death and Lucifer and all of that, but how interesting it'd be if he has another side to him that is equally as effective: a vulnerable side that maybe might turn just as dangerous."
Kove appeared in the first Karate Kid as well as its sequels The Karate Kid Part II and Part III, each time playing the antagonist. But we may see a new side to the iconic villain, especially after Cobra Kai managed to turn around our perceptions about former villain-turned-hero Johnny Lawrence (though there were already plenty of video essays declaring him the real hero of The Karate Kid). So could we see a new side of John Kreese? We'll have to wait until Cobra Kai returns for season 2.
Cobra Kai season 2 will debut in 2019.