Whoa: 'Halo' TV Show Coming To Showtime, Starts Filming In 2019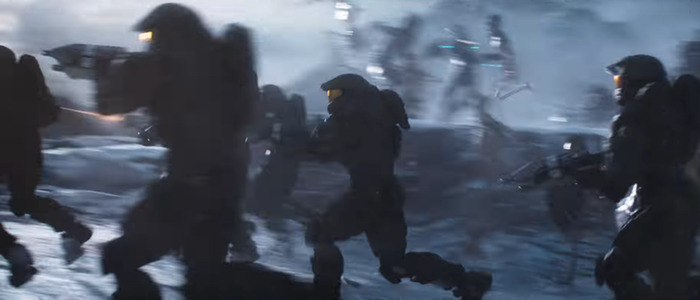 Showtime has just announced that they're adapting the mega-popular Xbox video game series Halo into a TV show, and it will begin shooting early next year. That sound you're hearing? That's the sound of fans' heads exploding all over the damn world. Read on for more info about the Halo TV show below.
According to a press release, Kyle Killen (Awake) will executive produce, write, and serve as the series' showrunner. Rupert Wyatt (Rise of the Planet of the Apes) will direct multiple episodes of the show and executive produce. Steven Spielberg's Amblin Television will produce alongside Showtime and Microsoft/343 Industries. Showtime has ordered 10 hour-long episodes for its first season.
Here's the official description of the show:
In its adaptation for Showtime, HALO will take place in the universe that first came to be in 2001, dramatizing an epic 26th-century conflict between humanity and an alien threat known as the Covenant. HALO will weave deeply drawn personal stories with action, adventure and a richly imagined vision of the future.
This is huge news. A Halo movie has been attempted multiple times over the years, with District 9 director Neill Blomkamp famously getting close under the eye of producer Peter Jackson back in the mid-2000s after creating some Halo short films, but that project fell apart. In 2009, Blomkamp told us that he wouldn't return to the world of Halo even if he was asked to:
"I worked on it for five months...I put a lot of sort of sweat and blood into Halo. Creatively, it's very compelling. I love it. But, when you work that long on something and you have it bottom out and collapse...I mean, I got District 9 out of it, I think I'm probably better off because it's more of a personal film. But yeah, I love the world of Halo. I don't think I would go back there."
With that in mind, I don't imagine we'll be seeing him step behind the camera to direct any episodes of the Showtime series.
David Nevins, the president and CEO of Showtime, said that this will be the network's most ambitious series ever – which is quite a statement, considering these are the same people who aired David Lynch's Twin Peaks: The Return.
"HALO is our most ambitious series ever, and we expect audiences who have been anticipating it for years to be thoroughly rewarded. In the history of television, there simply has never been enough great science fiction. Kyle Killen's scripts are thrilling, expansive and provocative, Rupert Wyatt is a wonderful, world-building director, and their vision of HALO will enthrall fans of the game while also drawing the uninitiated into a world of complex characters that populate this unique universe."
Halo has expanded beyond the world of video games before, but never on this scale. Halo 4: Forward Unto Dawn was a live-action miniseries from 2012, and Ridley Scott's Scott Free Productions produced another series called Halo: Nightfall in 2014 (that one starred Mike Colter, who went on to play Luke Cage in Marvel's Netflix series).
Kyle Killen has been involved with a handful of shows that were cancelled before their time, including the 2012 Jason Isaacs-starrer Awake on NBC and the 2010 Fox series Lone Star, which had tons of potential but was cancelled after only two episodes because no one watched it. I've been pulling for the guy ever since, and now he has a shot to do something incredible for a fan base that's been hungry for a proper adaptation for almost two decades. One thing's for sure: Showtime is about to get a hell of an influx of new subscribers.