'Fear The Walking Dead' Has Been Hit Over The Head With A Lawsuit Claiming Copyright Infringement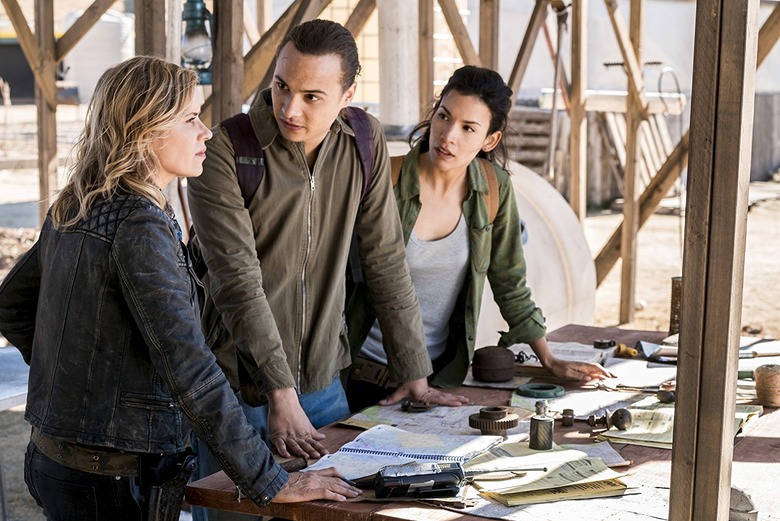 AMC has been hit with yet another lawsuit over its massively popular The Walking Dead franchise. But this time, it's the spin-off Fear the Walking Dead engaging in the legal battle.
Dead Ahead author Mel Smith has accused Fear the Walking Dead of copyright infringement after its season 2 arc tread too closely to his book's premise of a zombie apocalypse at sea.
In a complaint filed in federal court in California this week, Mel Smith alleges that "portions of that season's 13 episodes were copied" from his own zombie comic series, Dead Ahead. The complaint (which you can read here), states:
"Within the last three years, defendants, and each of them, infringed plaintiff's copyright in DEAD AHEAD by, among other things, broadcasting or otherwise exploiting the second season of FEAR THE WALKING DEAD. Portions of that season's 13 episodes were copied from plaintiff's copyrighted literary work DEAD AHEAD."
Smith is reportedly referring to the season 2 arc of Fear the Walking Dead, which saw the core team taking refuge in the ocean, where they were shocked to be confronted by zombie swimmers. The unpopular subplot was quickly dropped, with showrunner Dave Erickson soon bringing the series back to the dry land of Mexico.
The complaint doesn't give much details about Dead Ahead, but the plot of Smith's comic book is described by one website as the following:
"What had started as a fun little fishing trip soon turns into a nightmare of damnation, trapped on a floating prison. The continents have been hit by a zombie outbreak that spread fast, turning humanity into living corpses, leaving those at sea alive to fend for themselves. With provisions running low, hope comes on the horizon in the form of a luxury liner. All they needed to survive would be on the ship, but who among the fishermen will dare to board the liner and discover what's become of its passengers and crew?"
Smith is filing suit against The Walking Dead creator Robert Kirkman and his Skybound shingle, Gale Anne Hurd's Valhalla Entertainment and executive producer David Alpert. Interestingly, Mel Smith's agent, David Alpert, also happens to be Robert Kirkman's business manager and partner, which could help push Smith's frankly thinly supported lawsuit past the beginning stages.
And with AMC embroiled in a number of lawsuits — which run the gamut from season 1 showrunner Frank Darabont suing over the show's profits, to claims of an AMC profit scam, and a wrongful death suit after a stuntman's tragic fatal accident — it's possible the network will seek to settle Smith's lawsuit as quickly and quietly as possible. On the other hand, Alpert, who is a co-defendant on this case, is also facing his own legal issues over a claim of breach of fiduciary duty.
For now, a dry and ocean-less Fear the Walking Dead will return on August 12, 2018.