'The House With A Clock In Its Walls' Trailer: Cate Blanchett Really Hates Pumpkins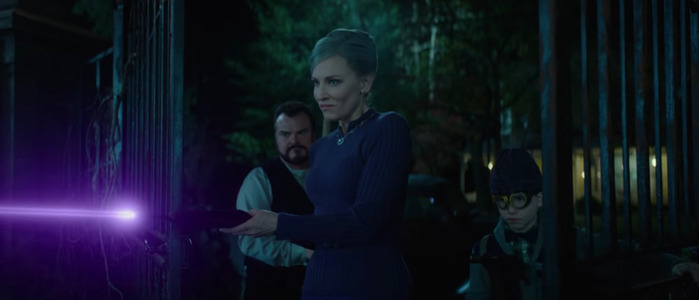 A new House with a Clock in Its Walls trailer is here, and it's full of charming, spooky fun. The adaptation of John Bellairs' book hails from filmmaker Eli Roth, and stars Jack Black and Cate Blanchett. Watch The House With a Clock in Its Walls trailer below.
The House With a Clock in Its Walls Trailer
Alright, time for me to cry uncle. I'm not a fan of director Eli Roth, and his most recent film – the unnecessary Death Wish remake – was dreadful. But gosh darn it, this trailer is wonderful. This is the type of spooky, imaginative fun that I was always drawn to as a kid (and still am drawn to today). After years of pumping-out hard R-rated films, maybe this has been Eli Roth's true calling all along – making creepy yet family-friendly films.
There's so much to love here. The atmosphere looks wonderful, the humor is actually funny, and everyone seems to be having a good time – Cate Blanchett yelling, "God, I hate pumpkins!" at the end is my favorite line of the year so far, and the playful banter between Black and Blanchett really works. Also, as an added bonus, Kyle MacLachlan is in this movie – something I was unaware of until this exact moment.

Here's the film's official synopsis.
In the tradition of Amblin classics where fantastical events occur in the most unexpected places, Jack Black and two-time Academy Award® winner Cate Blanchett star in The House with a Clock in Its Walls, from Amblin Entertainment. The magical adventure tells the spine-tingling tale of 10-year-old Lewis (Owen Vaccaro) who goes to live with his uncle in a creaky old house with a mysterious tick-tocking heart. But his new town's sleepy façade jolts to life with a secret world of warlocks and witches when Lewis accidentally awakens the dead.
Roth directs with a script from Supernatural creator Eric Kripke. In addition to Jack Black, Cate Blanchett, Owen Vaccaro and Kyle MacLachlan, The House With a Clock in Its Walls also stars Colleen Camp, Renée Elise Goldsberry, Vanessa Anne Williams and Sunny Suljic. The film is arriving just in time for Halloween season, and if it ends up being as delightful as this trailer suggests, I'll be thrilled. An old-school Amblin flick with Halloween themes and Cate Blanchett yelling about pumpkins is just about exactly what I need right now.
The House With a Clock in Its Walls opens on September 21, 2018.