'Wellington Paranormal' Trailer: The 'What We Do In The Shadows' Spin-Off Series You Need Right Now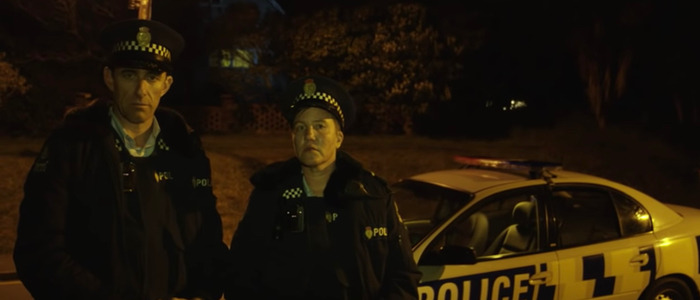 The clueless cops from What We Do in the Shadows have their own TV series now: Wellington Paranormal. The series hails from Shadows creators and stars Taika Waititi and Jemaine Clement, and is set to hit New Zealand TV next month. No U.S. home for the show has been announced yet, and I need that to change immediately. Watch the Wellington Paranormal trailer below.
Wellington Paranormal Trailer
Midway through the hilarious vampire mockumentary What We Do in the Shadows, two local patrol cops show up at the flat the main vampire characters live in to investigate a disturbance. The vampires use hypnotic suggestion on the officers so they won't notice anything out of the ordinary – like a dead body in the basement. It results in a hilarious scene (which you can watch right here). Now those oblivious cops have their own spin-off series, Wellington Paranormal. Like What We Do in the Shadows, it's shot mockumentary style, and once again, Taika Waititi and Jemaine Clement are involved behind the scenes.
The result looks a bit like the X-Files episode "X-Cops," only a lot funnier. The series follows police unit members Mike Minogue and Karen O'Leary (playing characters with the same exact names), along with a new character, Sgt. Ruawai Maaka (Maaka Pohatu), as they investigate ghosts, werewolves, demonic possessions and other paranormal phenomena. Waititi and Clement aren't featured in this trailer, but IMDb suggests they'll both be making appearances in the show.
This looks great, but there's a catch. Wellington Paranormal is set to debut on TVNZ (Television New Zealand) on July 11, but there's no official home for the show in the United States yet. Hopefully this will be remedied soon, so that us folks in the states can get a peek at it.
Wellington Paranormal is just one of several What We Do in the Shadows-related projects on the horizon. FX has ordered an American reboot of the film in the form of a new TV series. The premise will be the same – a group of vampires sharing an apartment together – but will move the action from New Zealand to the United States. Matt Berry, Kayvan Novak, Natasia Demetriou, and Harvey Guillen star, with Waititi and Clement serving as co-creators and executive producers. In addition to that, Waititi and Clement have been planning a sequel called We're Wolves, focusing on the werewolf characters from Shadows.
If, for some strange reason, you've managed to avoid seeing What We Do in the Shadows, I urge you to remedy that immediately. The film is currently streaming on Amazon Prime Video.