Pixar Pier Is The New Normal For Disney Theme Parks, For Better And Worse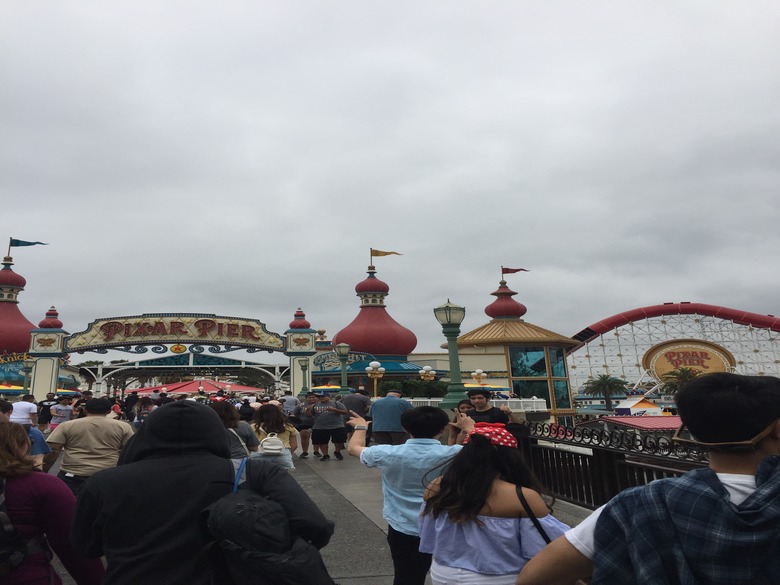 (Welcome to The Disney Discourse, a recurring feature where Josh Spiegel discusses the latest in Disney news. He goes deep on everything from the animated classics to the theme parks to live-action franchises. In this edition: a visit to the opening days of Disney California Adventure's Pixar Pier reveals the future of Disney theme parks.)
Last weekend, Disney unveiled a re-imagining of a section of the Disney California Adventure (DCA) theme park at the Disneyland Resort. It's called Pixar Pier, featuring revised versions of old attractions, a handful of new fast-food restaurants, and more. It's all part of the Pixar Fest theme of the summer at Disneyland, which you have no doubt heard about, at least if you live on the western half of the United States and/or you're enough of a Disney parks fan.
One pre-existing piece of entertainment that's taking center stage in Pixar Fest is the Pixar Play Parade; previously, this high-tech parade full of floats, Audio-Animatronic characters, live dancers, puppets, and more would be performed once or twice a day at DCA. Now, it's the afternoon parade at Disneyland Park; watching it live on Pixar Pier's opening weekend — as I did — was, like being at Pixar Pier on its first two full days, quite the experience.
The Pixar-ification of Disney Parks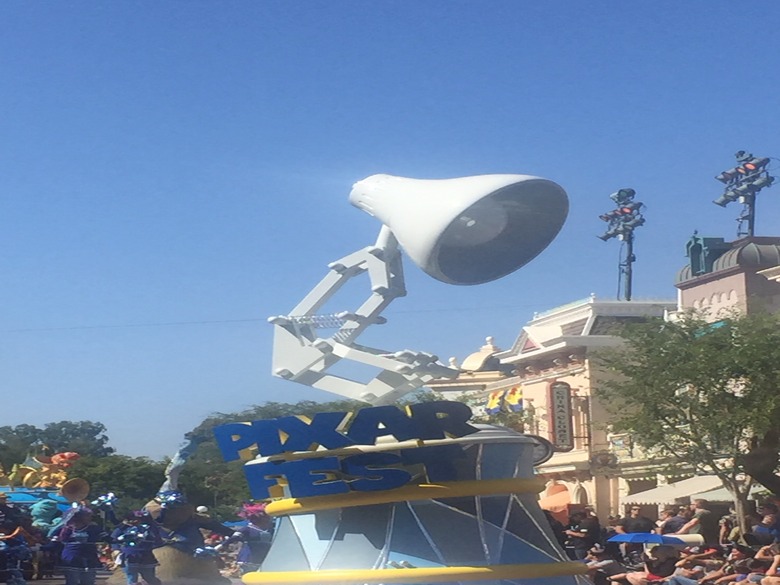 A writer could not, if he prayed for it, ask for a better metaphor than what happened during the Sunday afternoon performance of the Pixar Play Parade. My wife, 3-year old son and I planted ourselves right in the middle of Main Street, U.S.A. to watch the 3:30 show, which now features a couple new floats, including ones themed to Inside Out and Up. Being at Main Street for the first performance means the show starts a little later — that's where the parade route ends for the 3:30 show.
Soon enough, we saw the first set of dancers coming down from Fantasyland to Main Street, wearing flashy clothes color-coded to the bouncing yellow-and-blue ball with a red star in the middle from the Luxo, Jr. short that features the bouncing lamp that is the studio logo's icon. And right behind those dancers? A very large float featuring Luxo, Jr. itself, and a "Pixar Fest" sign spinning around it like rings around a globe. It was shiny! It was new! It was about 100 feet away from us!
...And it wasn't moving! ...At all. The visual icon of Pixar Animation Studios, whose creative takeover seems complete by its full encroachment upon the original theme park that Walt Disney guided to fruition, had come to a complete stop on Main Street, U.S.A. No one seemed sure of how to solve that problem or what to do next. After ten minutes, the parade got moving again, to a rousing, if exhausted, set of cheers from people like us on Main Street, who had parked themselves for a curbside spot for over an hour.
My wife and I couldn't help but laugh as we saw a lot of Pixar Play Parade performers move just a bit faster towards the end of the parade route. And who could blame them? They were drenched in sweat — I'm talking Ted Striker-in-Airplane!-level sweat here — and needed a well-deserved break from the super-sized parade. My wife and I had mostly seen the parade before — the aforementioned float themed to Up was mysteriously not on the parade route on Sunday, though we had walked by the parade on Friday, June 22 as it rounded the hub at the end of Main Street, and spotted the float then.
After a decade of going to the Disney parks in earnest, and being parents for nearly four of those years, my wife and I got a bigger kick out of watching Cast Members be real. Sure, the Pixar Play Parade is fine — the new floats are suitably snazzy. But watching those Cast Members literally sweat their way through an unexpected improvisation was the kind of thing we gravitate towards now.
A Trip's Inner Workings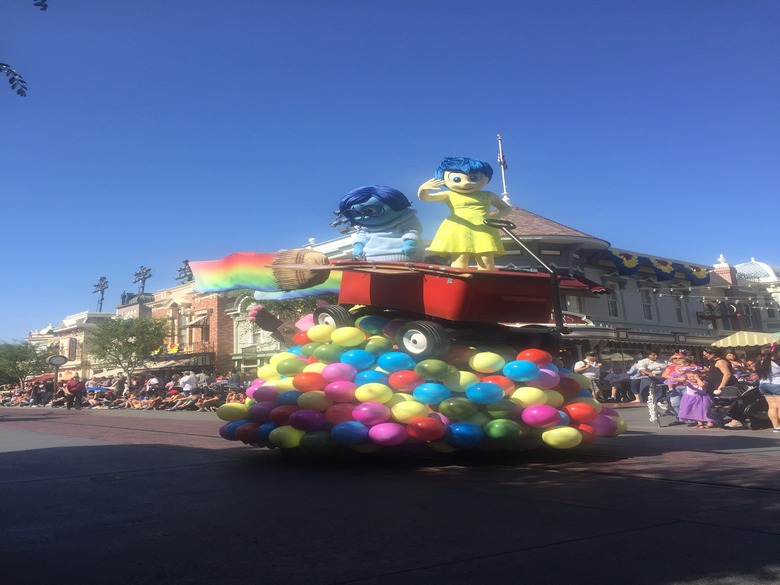 It was, I should note, a coincidence that we were at the Disneyland Resort on the same weekend as the opening of Pixar Pier. This past Friday, the 22nd of June, was my tenth wedding anniversary; for such a special occasion, neither of us could resist a trip to the Happiest Place on Earth. (By this point, you will not be surprised to learn that we spent our honeymoon in Walt Disney World.) After we had made our vacation plans, the Pixar Pier opening date was announced, which felt like either kismet or madness. Going to the theme parks was a welcome, privileged respite in which we could indulge. (Let's be honest: you're reading this because you want a break from the horrors of the real world, and that's why I'm writing it too.)
On the morning before Pixar Pier opened, my wife, son, and I stood dutifully in line at our first experience of the trip: a photo opportunity with Minnie Mouse as a prologue to a breakfast buffet at the edge of Disneyland's Main Street in the Plaza Inn restaurant. The kindly Cast Member who was chatting us up as we waited for Minnie to end her break — er, let's say she was checking to make sure the food was hot — noted the impending arrival of Pixar Pier and said, without prompting, "I don't think I'd be there tomorrow for anything." And there was the Cast Member later that day in a Fantasyland kiosk who, without prompting, offered to save me nine bucks on a pen for the autograph book that I had bought for my son because "no one should have to pay that much for a pen."
I have genuinely been fascinated with the inner workings of the Disney theme parks since I started visiting a decade ago. Even here, amidst the moments of genuine honesty (though it may read like snark), I can't help but acknowledge how quickly the well-oiled machine of the Disney parks could break down. And I don't mean a literal breakdown like the Pixar Play Parade float. Even something as small as a Cast Member offering me one of a good handful or two of generic Bic pens instead of the cheerily designed pen with Disney characters feels like it could lead to chaos. I didn't complain about the pen, of course. But I'm sure that Cast Member's manager would have.
I couldn't help but think of inner workings as I stood in line, somewhat dutifully, somewhat out of obligation, for the Incredicoaster. I was thinking about how odd of a month Pixar has had, too. On June 8, John Lasseter announced that he would leave Disney at the end of the year, ending speculation after his six-month-long sabbatical due to accusations of sexual harassment over decades at the company. On June 15, Pixar's new film Incredibles 2 opened to generally solid reviews and massive success at the box office. And now we have Pixar Pier, which feels both not terribly impressive and a confirmation that even if Lasseter is going away, the studio is here to stay.
Pixar Pier isn't an entirely new area; it's taken over Paradise Pier, a section themed to the boardwalks of California cities like Santa Cruz in the early 1900s. But the Incredicoaster is the biggest update of all within this not-entirely-new land. Right now, there are only three attractions in Pixar Pier, and none of them are new, exactly. Before it was the Incredicoaster, the massive roller coaster with one inverted loop was California Screamin'. The second attraction, Toy Story Midway Mania!, has been at DCA so long that it's now lasted three iterations of the roller coaster now called the Incredicoaster. (California Screamin' had the same coaster track, but its second, longer-lasting soundtrack featured the voice of Neil Patrick Harris.) The third attraction, the Pixar Pal-A-Round, is a massive Ferris wheel that's been a DCA visual icon since the park opened in February 2001. In 2019, a carousel previously themed to The Little Mermaid will reopen with Toy Story theming, and another attraction themed to Inside Out is also coming next year.
This is a long way of saying that walking through Pixar Pier on its opening weekend was like watching a snazzy new Broadway show during its dress rehearsal. All it had was inner workings, because it's not finished yet. Because the Disneyland Resort is still roughly a year away from the opening of Star Wars: Galaxy's Edge, they had to do something this summer to get the crowds out. There were almost as many construction walls as there were attractions or meet-and-greet characters. Pixar Pier doesn't exactly make sense with the basic premise of DCA, but the park felt much more popular, at least at first blush.
Is It Really an Incredi-Coaster?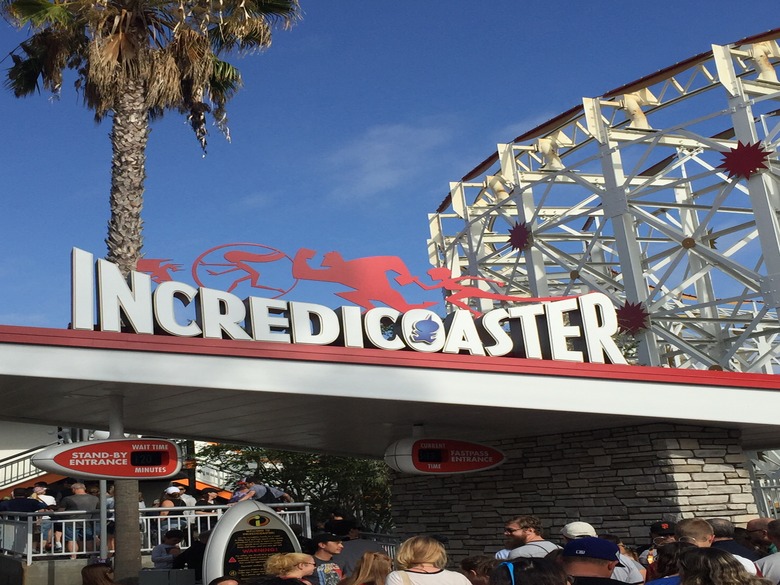 The Incredicoaster itself is admittedly impressive, though maybe not quite so impressive as to merit a standby line of over 2 hours. (Hot take: there are exceedingly few attractions that merit such a long wait.) The premise of the new coaster is simple enough: the multi-powered baby Jack-Jack has gotten free of his babysitter, Edna Mode, and it's up to the rest of the Parr family to save him from...himself. Or something.
Once the coaster gets moving, it really gets moving and leaves any story in the dust; as was the case with California Screamin', this is a very fast-moving ride that fits the superheroic theme well. I'll also give a bit of credit to the Imagineers for utilizing as much of the space in the attraction—both inside a few of the covered sections as well as in the very beginning and ending of the ride—to incorporate the characters. I'm not really a huge upside-down coaster fan, but I allow that the Incredicoaster is a solid attraction.
Pixar Pier as a whole, though, feels excessive, like gorging yourself on birthday-cake frosting before you dig into the cake. I won't bore you with every detail of my trip to Disneyland. But let me tell you some of what I experienced on the trip with my family: we rode on the Finding Nemo Submarine Voyage, Buzz Lightyear Astro Blasters, Toy Story Midway Mania!, watched a Pixar parade, went through A Bug's Land multiple times, ate dinner in Cars Land, and rode through Monstropolis on the Monsters, Inc.: Mike and Sulley to the Rescue! attraction. Do you know what all of those things have in common? They all existed before Pixar Pier.
Pixar Pier confirms the answer to a question no Disney theme-park fan was asking: how popular is Pixar? When Disneyland opened in 1955, and for many years afterwards, the theme-park experience was not solely defined by intellectual property. Of course, even in the opening years, there were attractions themed to Disney's animated films as well as some of its live-action films. For a long time, those attractions were singular and did not define either an entire area or an entire park. Now, as we await the arrival of Star Wars: Galaxy's Edge at both Disneyland and Walt Disney World, and as you can live out the Avatar life on Pandora at Disney's Animal Kingdom, the presence of Pixar at Disney California Adventure just feels like more of the same.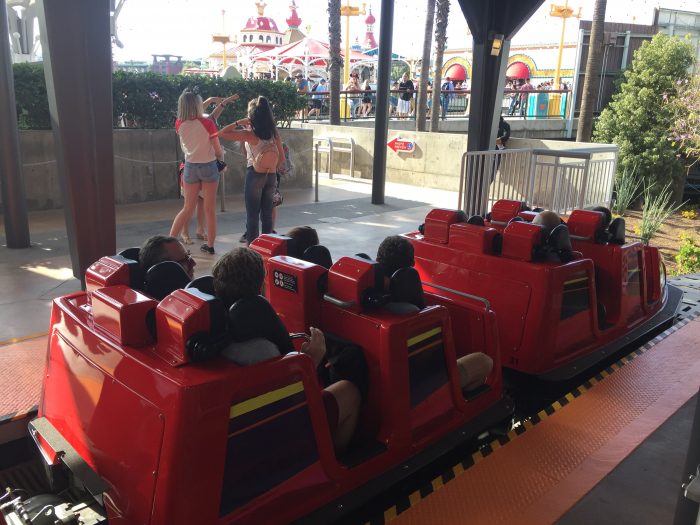 DCA, especially, has fallen prey to intellectual property, even more so than Disneyland. There's Cars Land, Pixar Pier, and Hollywood Land, the latter of which houses attractions themed to Pixar, Frozen, and Marvel characters. And hey, if you're not a fan of A Bug's Land, don't worry. It's going away soon, to be replaced by a land themed to...Marvel characters. I will freely admit that my two favorite sections of DCA, Buena Vista Street and Grizzly Peak, are not heavily themed to any existing IP, and I don't think that's a coincidence.
I'm not going to pretend that I hated Pixar Pier, or that I think dramatically less of Disneyland now than I did before. I have problems with the area — again, it's not ideal to broadcast the opening of a new land and a good chunk of it is under construction — and I certainly have plenty of issues with the Disney theme parks in general. (When a Cast Member cheekily called the churros at the park "reasonably priced" while I sat with my son at Turtle Talk with Crush, a guest near me immediately shot back, "You mean wildly overpriced?" They're not wrong!)
But I can't deny that my heart melted when, during that delayed Pixar Play Parade, my son's face lit up with excitement when a Cast Member walked up to him and booped my son on the nose with the Nemo puppet he was maneuvering. In moments like these, I grudgingly accept the fact that Pixar Pier is going to be the way Disneyland exists for younger generations. It's not Disneyland. It's Pixarland, U.S.A. Welcome to the new normal of Disney theme parks.