Pop Culture Imports: An Offbeat Ang Lee LGBT Comedy, A Revival Of An Anime Classic, And Netflix's Bold New Bollywood Collaboration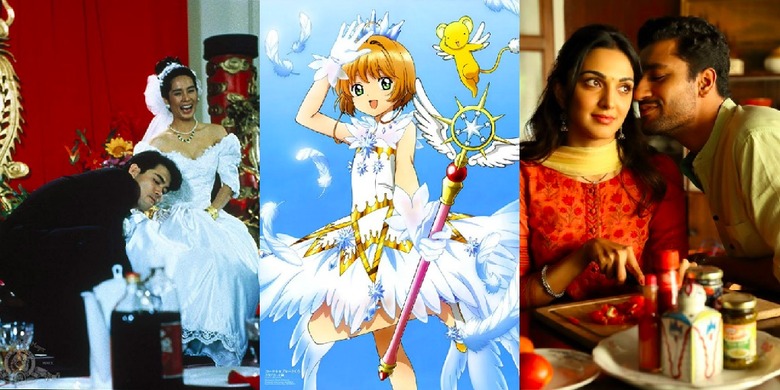 (Welcome to Pop Culture Imports, a column that compiles the best, wackiest, and weirdest foreign-language movies and TV shows streaming right now.)
Welcome back to Pop Culture Imports, lovers of foreign movies and TV shows. It's nearing the end of June, and hey, what better way to close out Pride Month than to feature an early Ang Lee gay comedy of manners? We'll round out our list of recommendations with a revival of the beloved anime Cardcaptor Sakura, a documentary about a couple of tortured artists, a devastating Spanish family drama about an estranged family, and Netflix's latest collaboration with Bollywood.
And now, let's dive into the best foreign-language movies and shows streaming now.
1. The Wedding Banquet – Fandor
Country: TaiwanGenre: Romantic comedyDirector: Ang LeeCast: Ah-Leh Gua, Sihung Lung, May Chin, Winston Chao, Mitchell Lichtenstein.Ang Lee's name today has become synonymous with rich, emotionally charged dramas, but the tender and terribly funny The Wedding Banquet feels worlds away from the prestigious director behind Brokeback Mountain or Life of Pi. Lee's second feature film is a comedy of manners that hews a little more poignant than its hackneyed premise would have you believe. The Wedding Banquet follows Wai-Tung (Winston Chao), a gay New Yorker who, at the urging of his loving boyfriend Simon (Mitchell Lichtenstein) attempts to satisfy his parents by entering a phony marriage with a struggling artist looking for a green card (May Chin). But the marriage of convenience suddenly becomes inconvenient when Wai-Tung's parents show up in America to throw their son a lavish wedding banquet. As you can guess, hijinks ensue.
But The Wedding Banquet is more than its cultural clashes (though the riotous scenes of Chinese parties hit hilariously close to home). Comedy and drama are in a delicate dance in Lee's masterfully directed film. The characters never descend into stereotypes — Chinese, gay, or otherwise — and Lee adds a layer of deep authenticity to a story that could have otherwise been a run-of-the-mill broad comedy. It's also super progressive compared to other "gay" comedies of the era (cough, In & Out).
Watch This If You Like: The Birdcage, Eat Drink Man Woman, Love, Simon, celebrating Pride Month for two more days, baby!
2. Cutie and the Boxer – Netflix
Country: U.S., JapanGenre: DocumentaryDirector: Zachary HeinzerlingCast: Ushio Shinohara, Noriko Shinohara.
Picture: Portrait of the artist as an old man, washed up and attempting to reinvigorate his once-promising career with his long-suffering wife by his side. It sounds like an excruciatingly pretentious documentary to sit through, right? Cutie and the Boxer is anything but.
Director Zachary Heinzerling deploys a light hand on a painful subject: that of aging artist Ushio Shinohara, and 80-year-old "boxing" artist who was once proclaimed one of the rising artists of the '70s New York art scene. Now, barely able to scrape up enough money for rent, Ushio prepares for an exhibit that he is certain will resurrect his career. But his massive ego has led him to overlook his wife of 39 years, Noriko Shinohara, an artist in her own right who had sacrificed her career to become the de facto assistant to "support the genius." But Noriko is determined to prove herself as an artist as well, creating the alter-ego "Cutie" in a series of illustrations that expose her and Ushio's troubled marriage plagued by alcoholism and poverty.
Heinzerling brilliantly interweaves Noriko's quirky illustrated vignettes with old home videos and modern-day footage, painting a sad, powerful, but never pitiful portrait of a marriage that hangs by on a couple's mutual — and oft-destructive — love for art.
Watch This If You Like: Jiro Dreams of Sushi, Big Eyes, The September Issue, pretending Eternal Sunshine of the Spotless Mind had a happy ending.
3. Cardcaptor Sakura: Clear Card – Crunchyroll
Country: JapanGenre: AnimeDirector: Morio AsakaCast: Sakura Tange, Aya Hisakawa, Junko Iwao, Megumi Ogata, Motoko Kumai, Tomokazu Seki.
Even in anime, nostalgia is the order of the day. But I can't deny that I didn't squeal in excitement when I discovered that a new Cardcaptor Sakura series had been released. The innocent and light-hearted magical girl anime — which many U.S. viewers may be familiar with as the heavily censored Cardcaptors — has returned with a new 22-episode season (all episodes available for free on Crunchyroll), and it's as adorable (and as gay) as ever.
Titled Cardcaptor Sakura: Clear Card, the revival season starts off right where Cardcaptor Sakura ended 18 years ago. Our intrepid heroine Sakura Kinomoto begins her first day at junior with the joyful discovery that her old card-hunting partner, Syaoran Li, had returned from Hong Kong, allowing the two of them to resume their delightful courtship of excessive blushing and long stares. But Syaoran's return isn't the only sudden change in Sakura's life. One night, our favorite cardcaptor experiences a strange nightmare and wakes to find that all her magical cards have disappeared — or gone transparent, to be exact. Thus begins the very familiar formula of Cardcaptor Sakura: Sakura fights strange, supernatural phenomena and turn them back into cards. But hey, if it ain't broke, don't fix it.
Again, Cardcaptor Sakura: Clear Card is riding heavily on that nostalgia we have for the original series, aping the original's charming animation style, bringing back the original voice cast, and upping the kawaii appeal to 100. If it were possible, Cardcaptor Sakura: Clear Card is even frothier and more meandering than the original series, dedicating ample runtime to Sakura making cheesecake or choosing her afterschool club. But director Morio Asaka and CLAMP writer Nanase Ohkawa know the reason we keep coming back to this show — it's not for the fights or even the outfits, but for the sweet slice-of-life moments and budding romance. And it's most definitely for the homoerotic tension.
Watch This If You Like: Cardcaptor Sakura, Sailor Moon, Revolutionary Girl Utena, the cutest shit you'll ever see.
4. Sunday's Illness – Netflix
Country: SpainGenre: DramaDirector: Ramon SalazarCast: Susi Sánchez, Bárbara Lennie, Greta Fernández.Sunday's Illness is a searingly told and achingly felt Spanish drama about an estranged mother-daughter pair who reunite for a strange 10-day experiment. Sunday's Illness follows the rich and well-off Anabel who, 35 years after abandoning her 8-year-old daughter Chiara, is approached by Chiara with an odd request: to spend 10 days alone together. But the 10-day stay in their old rustic home isn't the warm reunion the estranged duo expected, with the embittered Chiara constantly playing mind games with her mother and Anabel acting as if she has never had human contact outside of a ballroom.
Slow, dreamy, and exquisitely shot, director Ramon Salazar lends a chilly touch to this neo-Gothic portrait of grief and loss. It's a masterful family drama that offers no catharsis or semblance of human decency, but still hits you like a gut punch in the end.
Watch This If You Like: White Oleander, Postcards From the Edge, Persona, Hereditary without the horror.
5. Lust Stories – Netflix
Country: IndiaGenre: AnthologyDirector: Karan Johar, Anurag Kashyap, Zoya Akhtar, Dibakar BanerjeeCast: Kiara Advani, Radhika Apte, Bhumi Pednekar, Manisha Koirala, Vicky Kaushal, Neil Bhoopalam, Neha Dhupia, Sanjay Kapoor, Akash Thosar.
Netflix and Bollywood are turning out to be a match made in heaven. After the streaming service teamed up with Indian filmmakers to deliver the utterly charming Love Per Square Foot (which I featured in my very first Pop Culture Imports column), Netflix has now brought us the fascinating deep dive into female sexuality in India, Lust Stories. 
The anthology film, consisting of four short film segments directed by renowned Indian directors Anurag Kashyap, Zoya Akhtar, Dibakar Banerjee, and Karan Johar respectively, addresses sex in a funny and frank way. And though technically Bollywood, Lust Stories has none of the glossy sheen that we associate with the industry. Each of the charmingly authentic four segments — which range from goofy slapstick to poignant romantic dramas — provide us an unvarnished glimpse into the complex sex lives of women in India. The second short segment in particular, which stars Bhumi Pednekar in a virtually wordless performance as a maid having an affair with her employer, is a powerful and heartbreaking dive into class conflicts in India and the country's obsession with fair skin. While all of the shorts broach taboo subjects like female desire and affairs, it's not all hard-hitting stuff — Kiara Advani's segment lets the actress pull off a raunchy public orgasm bit that would put Meg Ryan to shame.
Watch This If You Like: Love Per Square Foot, Sex and the City, Love, Actually, the deli scene in When Harry Met Sally, the funny parts in the Vagina Monologues.