'Rise Of The Teenage Mutant Ninja Turtles' Theme Song Remixes The Classic Tune You Remember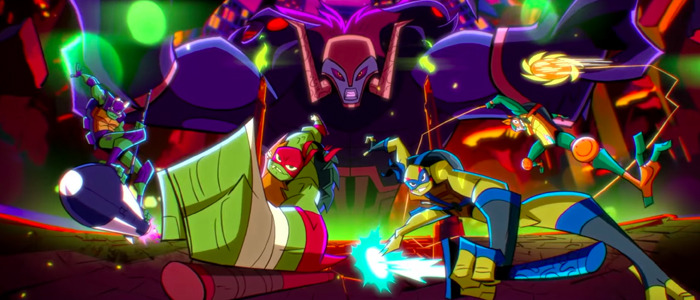 The Teenage Mutant Ninja Turtles theme song from the 1987 animated series is burned into my brain forever thanks to all the time I spent watching that show as a kid. It's been decades since that show went off the air, but Nickelodeon's new show Rise of the Teenage Mutant Ninja Turtles has just unveiled its title sequence, and its theme song puts a new spin on that classic '80s version. Check it out below, and see the new take on the turtles in action.
Rise of the Teenage Mutant Ninja Turtles Theme Song
Whoa. Am I just getting old, or is there WAY TOO MUCH GOING ON in this video? I can appreciate the idea of having the entire thing take place in one long continuous shot. Sure. Cool. Fine. And I understand that they needed to do something new and fresh with the music, which is a little busy for my personal tastes but a strong match for this era. But hoo boy, the visuals in this thing are out of control. They have TRON cycles now? And did Raph go Super Saiyan at the :20 mark? I still can't get over the notion that this iteration of these characters looks like those Burger King Kids Club characters from the 1990s. (Kid Vid, anyone?) Maybe it's a result of an overstimulated generation needing more to keep their attention, but watching this practically made my head spin. I'm probably just old now.
For comparison, here's the original theme song (which – and prepare to have your mind blown if you didn't already know this – was co-written by The Big Bang Theory and Two and a Half Men creator Chuck Lorre).
The cast includes Omar Miller (Ballers) as Raphael, Ben Schwartz (Parks and Recreation) as Leonardo, Josh Brener (Silicon Valley) as Donatello, Brandon Mychal Smith (You're The Worst) as Michelangelo, Kat Graham (The Vampire Diaries) as April O'Neil, and Eric Bauza (DuckTales) as Splinter. April O'Neil will be black for the first time in an animated series, and if that trailer was too wild to try to search for her, it might be easier to get a look at her in these still images instead. This take on the TMNT will also differentiate itself from previous iterations by making Raphael the leader of the brothers instead of Leonardo.
Rise of the Teenage Mutant Ninja Turtles, which has been given a 26 episode order, will premiere sometime this fall.