'Demolition Man' 25th Anniversary Pop-Up Coming To Comic-Con 2018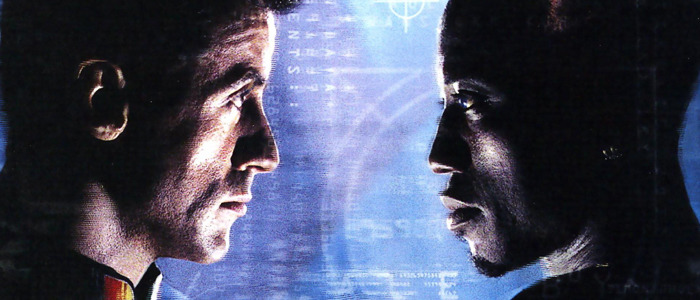 In 1993, Warner Bros. released Demolition Man, a sci-fi action film that starred Sylvester Stallone as a present day cop who's cryogenically frozen until being thawed out in the future to apprehend his greatest nemesis. It's somehow terrible and wonderful at the same time.
It's been 25 years since the film came out, and to celebrate, Warner Bros. is planning a Demolition Man Comic-Con pop-up at next month's convention in San Diego. And if you've seen the movie, you probably know where this is going: yep, Taco Bell is going to be involved.
According to the SDCC Blog, Warner Bros. is teaming up with Taco Bell to "offer a Demolition Man pop-up and a futuristic and upscale Taco Bell dining experience near the convention center" where exclusive Taco Bell and Demolition Man merchandise will be on sale.
Why Taco Bell? First, let's set the stage. In the film, Stallone plays L.A.P.D. Sgt. John Spartan, a stereotypical '90s movie cop who doesn't play by the rules. In 1996, a terrorist named Simon Phoenix (Wesley Snipes) frames Spartan for the death of a bunch of hostages in the opening scene, and the two of them are placed in cryo-stasis. In 2032, Phoenix escapes and begins wreaking havoc on the megolopolis of San Angeles, a city that hasn't experienced violence for decades and whose police department is now almost hilariously incapable of subduing the villain. Naturally, they unfreeze the one man who can possibly take him down. Spartan is paired with a '90s-obsessed cop (a young Sandra Bullock), and the two team up to stop Phoenix once and for all.
Along the way, this happens:
Yes, that footage is absolutely real. In the future, every single restaurant is Taco Bell – even the high-class places. (Old commercial jingles have taken over as popular music, too. It's a deeply weird film.) The Taco Bell thing is simultaneously one of the dumbest and most brilliant pieces of product placement in movie history: memorable and effective only because of how shamelessly blatant and ridiculous it is. Say what you will about it, but this movie went there, and it's still one of the things people remember most about the film.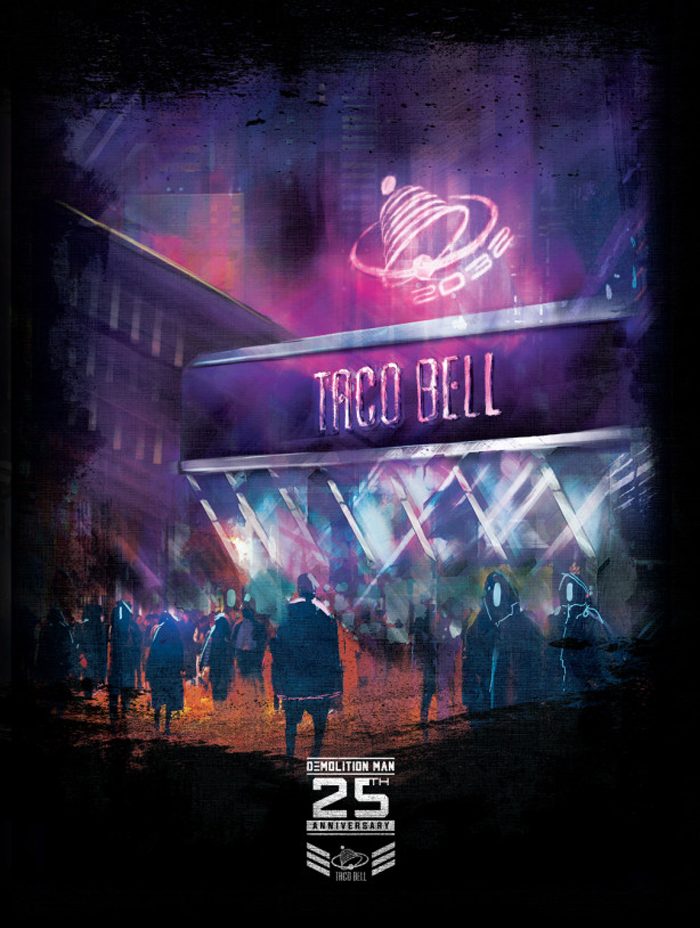 Taco Bell also announced that they're bringing back their Nacho Fries, which were taken off the menu earlier this year. They'll be back at stores nationwide on July 12, and they're apparently going to be on the menu at Comic-Con as well from Thursday, July 19 – Sunday, July 22.
The Demolition Man Comic-Con pop-up will offer free food nightly during this year's convention from 6pm-12am at 658 Fifth Avenue in San Diego. No badge is required.
Meanwhile, SDCC Blog speculates that there may be some secret plans for a larger Demolition Man reunion, since Wesley Snipes is going to be at the convention promoting something called Cut Throat City. Stallone has attended before for the Expendables movies, and Bullock went for the first time in 2013 to promote Gravity. Fingers crossed for a secret panel, because that sounds like it would be a lot of fun.