'Bad Times At The El Royale' Interview: Cynthia Erivo Is About To Be A Star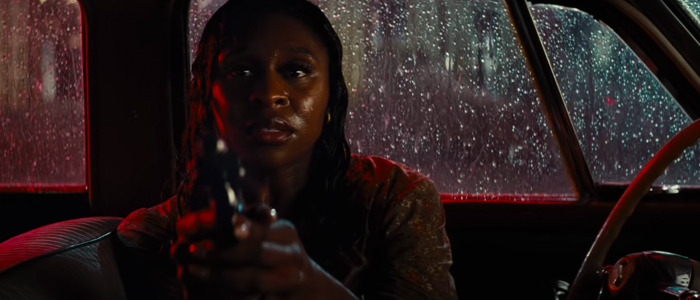 Cynthia Erivo is on the rise, and she's about to have one hell of a Fall. The British actress/singer is set to appear opposite Viola Davis, Elizabeth Debicki, and more in Steve McQueen's gritty heist film Widows in November, but first, she'll make her big screen debut in Bad Times at the El Royale, a 1960s-set crime drama written and directed by Drew Goddard that features a fantastic ensemble cast of its own.
Erivo, who recently made a big splash on Broadway in The Color Purple, puts her singing voice to good use in Bad Times by playing a soul singer named Darlene Sweet. During an early press event for the film this week, I spoke with her about her character's relationship with Jeff Bridges' duplicitous priest character, how the cast's dynamics change as the movie hurtles toward its conclusion, and more. Check out some highlights from our chat below.
Note: This interview was conducted in a group setting with a handful of other journalists.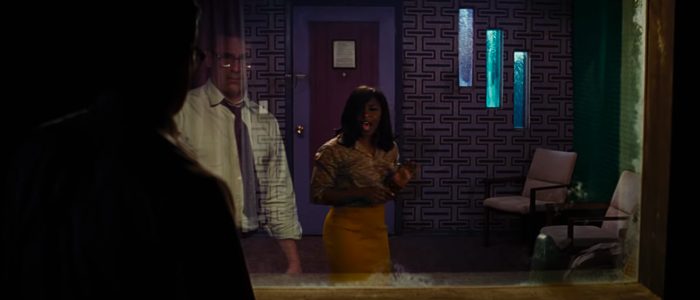 As we see in the movie's trailer, Erivo's Darlene checks in to the El Royale hotel and begins to practice singing, unaware that Jon Hamm's vacuum salesman has stumbled across a secret passageway and is watching her from within. In some early footage we saw at a press event in Lake Tahoe this week (where the fictional El Royale is located), we see this scene play out in a five-minute unbroken take, with Erivo singing all the way through the song live on the set. The actors did 27 takes until they nailed it, and Erivo sang live every single time; ultimately, the filmmakers used that live vocal track in the trailer.
In the footage we saw, Jeff Bridges' Father Daniel Flynn hears Darlene's singing and appears mesmerized by it. The trailer ends with Darlene holding a gun on him while he admits to not being a real priest, and it's clear that Erivo and Bridges spent a lot of time working together in this ensemble. When asked to describe their characters' relationship, Erivo explained that their connection goes deeper than we thought:
"I think what it is between them is that [Darlene] gives [Flynn] the opportunity to be honest, because that's all she's really asking for. She is honest herself. There's nothing she's ever doing that's a lie. Drew [Goddard] was saying that she's sort of the hope, and that's why he chose the yellow for her and why she's in that bright color. Everything she does is out of honesty. I guess Jeff's character finds in Darlene a space to repent, I guess. Even though he's the priest, for some reason he's found this person to lose his sins on, I guess. That's what she's for. There's this relationship that they end up having together where he really talks to her, and she really listens. She wants to know about him, and he wants to know about her, and it's probably, for her, the first time that she's had somebody appreciative of what she has because of where she's coming from. So they find solace in each other."
Erivo is a singer/songwriter, and Bridges is a musician in his own right. (He's released multiple albums and played on the soundtracks for movies like Crazy Heart.) I asked if the two of them jammed together between takes, and Ervio lit up:
"Yes, we did. Jeff is amazing. We had a lot of fun. We giggled and laughed. He's kind of awesome. He's so into soul and funk and that era, so we would sit and watch Stevie Wonder or James Brown, or original videos of Michael Jackson, when Prince was on stage and asked him to come up. All of those really cool moments, we got to do because we were alone on the set a lot together, so we spent a lot of time together."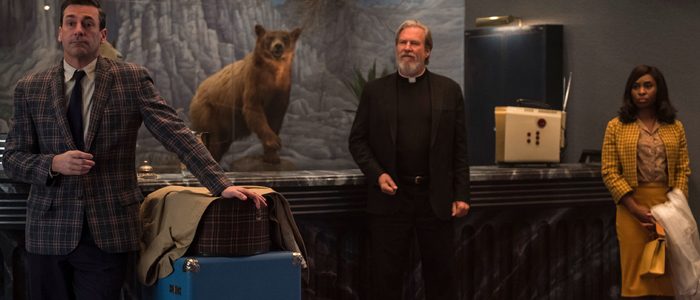 A lot of what we see in the trailer showcases little pairings and groupings of the cast members. I asked Erivo if she had the opportunity to work with the whole cast, and she explained how their dynamics evolve across the film:
"It's so strange because it starts off almost singular – you meet them all by themselves. And then all of a sudden, they're in a group. Then they're split off and it's like pairs, and then they'll split off and then they're back in the group again. So they each have their moment where they're on their own, or in a pair, and then there's moments where it's all of them, the whole entire cast. I feel like because everyone's had the chance to be on their own, it gives that gravitas to the moments where everyone's together."
She mentioned that one scene involving the entire cast took about a week to shoot, so that sounds like it could be a pivotal moment in the movie. We'll have more interviews with writer/director Drew Goddard and actors Jeff Bridges, Jon Hamm, and Dakota Johnson in the weeks leading up to the film's release, so stay tuned for those.
Bad Times at the El Royale arrives in theaters on October 12, 2018.
Seven strangers, each with a secret to bury, meet at Lake Tahoe's El Royale, a rundown hotel with a dark past. Over the course of one fateful night, everyone will have a last shot at redemption...before everything goes to hell.