'Blood Fest' Trailer: Rooster Teeth's Horror Comedy Wakes The Dead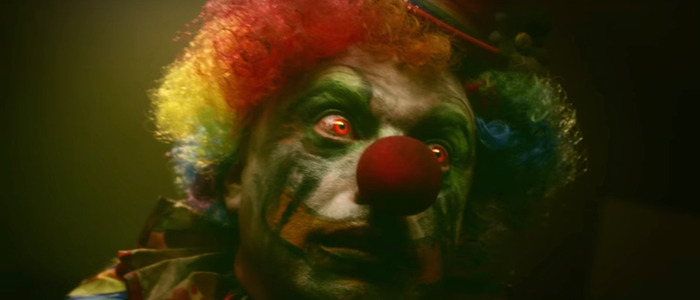 Rooster Teeth's latest work is a horror-comedy that owes more than a little to Cabin in the Woods. The meta Blood Fest focuses on some fright fans attending a horror festival who quickly discover their worst nightmares are coming true. Watch the Blood Fest trailer below.
Blood Fest Trailer
What is Blood Fest? It's a new super-meta horror-comedy from Rooster Teeth, the production company based out of Austin, Texas. Blood Fest features Robbie Kay (Once Upon a Time, Hannibal Rising), Seychelle Gabriel (The Spirit, Falling Skies, Weeds), Jacob Batalon (Avengers: Infinity War, Spiderman: Homecoming), Barbara Dunkelman (RWBY) and Tate Donovan (Manchester by the Sea, Argo) and with a cameo from future Shazam  Zachary Levi. The story follows a trio of horror fans who head to the eponymous festival, believing it will be a harmless celebration of their favorite horror films. As it turns out, the horror ends up being very real, and now they have to fight for their lives.
This trailer throws off serious Cabin in the Woods vibes, albeit on a somewhat smaller scale. Will it be as good as that very clever horror film? We'll have to wait and see. Blood Fest will first screen at RTX Austin the first weekend in August, before opening via a one-night Fathom event in more than 600 movie theaters across the U.S. on Tuesday, August 14, 2018. Tickets for this event will be available starting Friday, June 29 at www.FathomEvents.com or participating box offices. Cinedigm will then release the film in theaters and on digital, cable and satellite platforms onAugust 31, 2018. The film will be made available on Blu-ray+DVD combo pack from Cinedigm starting October 2, 2018.
"After premiering at SXSW and playing for festival crowds around the world, we are thrilled to finally be able to share Blood Fest with our community and horror fans everywhere," said Matt Hullum, Rooster Teeth co-founder and CEO. "It still gives me chills to see our films on the big screen, and I can't wait for everyone to be able to see it."
 Blood Fest follows fans who flock to a festival celebrating the most iconic horror movies, only to discover that the charismatic showman (Egerton) behind the event has a diabolical agenda. As festival attendees start dying off, three teenagers (Kay, Gabriel, Batalon) more schooled in horror-film clichés than practical knowledge about neutralizing psycho killers must band together and battle through various madmen and monstrosities to survive.