'Bad Boys' Spin-Off Show 'L.A.'s Finest' To Air On Spectrum, Because Even Cable Companies Are Making Shows Now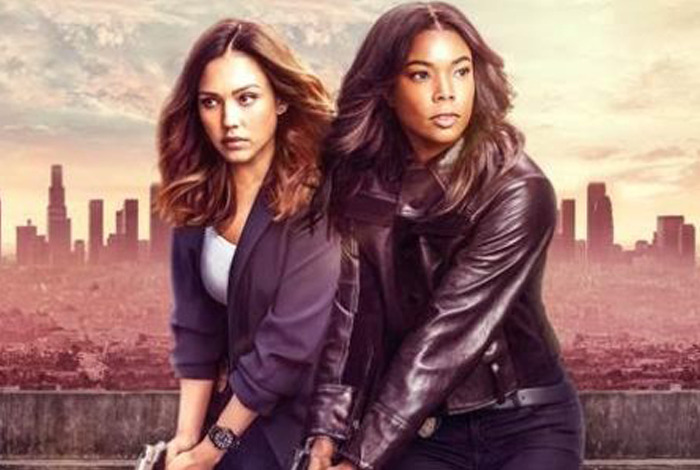 Are you already feeling overwhelmed with the sheer number of places out there that are pumping out original content? Too bad! Charter Communications is about to launch the Spectrum Original Content platform (great name, guys), and the new Bad Boys spin-off show L.A.'s Finest is going to serve as its guinea pig...I mean, flagship original series. Yep, even your cable company is trying to make original programming now.
TVLine reports that L.A.'s Finest, the Bad Boys spin-off that stars Gabrielle Union and Jessica Alba, has found a new home. Originally given a pilot order by NBC but not picked up to series, the show just received a 13-episode straight-to-series order from a new player in town and will debut next year on Charter's Spectrum Original Content platform. (They really need to work on that name.) Here's the show's official synopsis:
The series follows Burnett (Union), who last was seen in Miami taking down a drug cartel. She now has left her complicated past behind to become an LAPD detective. Paired with a new partner, Nancy McKenna (Alba), a working mom with an equally complex past, Burnett is pushed to examine whether her unapologetic lifestyle might be masking a greater personal secret. These two women don't agree on much, but they find common ground when it comes to taking on the most dangerous criminals in Los Angeles.
Charter Communications is a telecommunications company that owns Spectrum cable (formerly Time Warner Cable and Bright House Networks). I'm a customer only because I basically have to be, and like most cable companies, they're abysmal. But considering how much I pay them every month for their garbage services, I can totally understand how they'd have enough money where they might start thinking, "Hey, let's spend some of this on TV shows of our own!"
In short: this is Spectrum trying to provide current customers with content that they can't find anywhere else in an attempt to staunch the bleeding from so many people cutting the cord over the past few years. (No offense, but I think they're going to have to do a lot better than a network TV cop drama if they're really looking to move the needle in terms of interest.) We're going to start seeing even more original content pop up on new platforms until this content bubble bursts, but since no one knows when that'll happen, I'm guessing there will be many more announcements like this one in the days to come.