Damon Lindelof's 'Watchmen' TV Series Officially Picked Up, Will Debut In 2019 [Updated]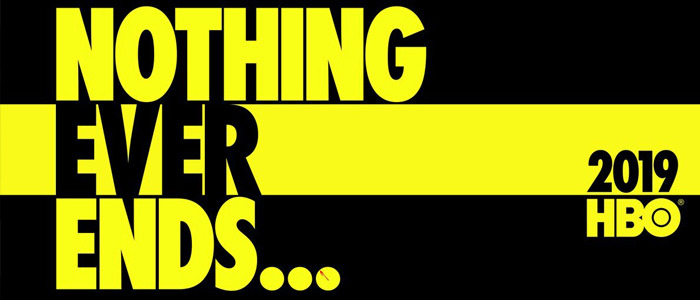 Update: HBO has officially picked up Damon Lindelof's new take on Watchmen, which isn't an adaptation or a sequel as much as a remix of Alan Moore and Dave Gibbons' iconic comic book series.
Nothing ever ends. #WatchmenHBO #DamonLindelof pic.twitter.com/ioJU0dQipw

— HBO (@HBO) August 17, 2018
Our original story about actor Jeremy Irons joining the show's cast can be read below.
The Watchmen TV series just added a surprising new cast member: Jeremy Irons. Damon Lindelof's HBO series inspired by Alan Moore and Dave Gibbons' iconic graphic novel is set 30 years after the events of the comic, and has been called more of a "remix" than a straight adaptation. In other words, don't count on Irons playing a character straight from the comic.
Deadline has the scoop about Irons joining the Watchmen TV series cast. HBO has yet to announce specifics regarding Irons' character, but Deadline says the acclaimed actor will likely be playing an "aging and imperious lord of a British manor." If you're scratching your head trying to figure out which character from the comic this might be, don't bother. With each new piece of info that arrives, I grow more and more convinced none of the main characters on Lindelof's show will be drawn from the original source material.
As Lindelof said in the past, he has "no desire to 'adapt' the twelve issues Mr. Moore and Mr. Gibbons created thirty years ago. Those issues are sacred ground and will not be retread nor recreated nor reproduced nor rebooted. They will however be remixed. Because the bass lines in those familiar tracks are just too good and we'd be fools not to sample them. Those original twelve issues are our Old Testament. When the New Testament came along it did not erase what came before it. Creation. The Garden of Eden. Abraham and Isaac. The Flood. It all happened."
Instead, the Watchmen TV series will be set in the same world of the comic, and show how the world has changed ever since the apocalyptic events that closed that story. In case you need a refresher (or in case you're only familiar with Zack Snyder's film adaptation and not the comic itself), the original Watchmen story concluded with superhero Ozymandias faking an alien attack. This fake-attack caused the warring powers of the world to unite, thus bringing about world peace. But how long can a world peace built on lies last? Lindelof's Watchmen picks up 30 years later, and will likely fill audiences in on what happened to the world in the meantime.
Irons is one of our great character actors, and he always turns in a memorable performance, even if the project he's appearing in is junk. And of course, this isn't his first superhero-related role. He previously appeared as Batman's loyal butler Alfred in Batman v Superman: Dawn of Justice and Justice League. Irons now joins a cast that includes Regina King, Don Johnson, Tim Blake Nelson, Louis Gossett Jr., Adelaide Clemens and Andrew Howard.
The Watchmen pilot is currently filming. No word yet on when we might see it.