'Ant-Man And The Wasp' Featurette: How Marvel Shot That Shrinking Car Chase Scene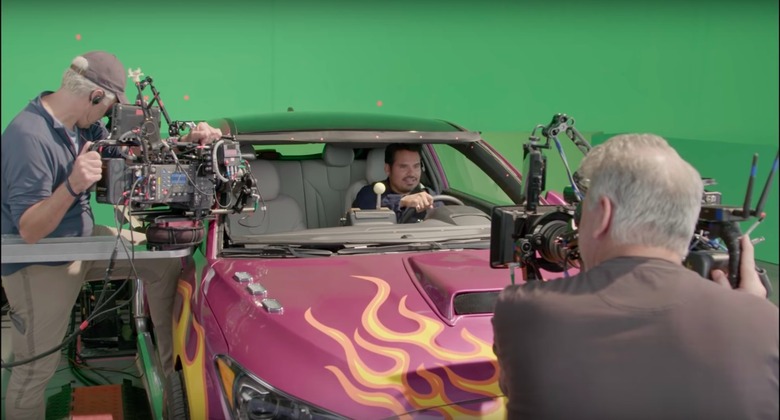 One of the best and most visually entertaining sequences of Ant-Man was the miniature fight scene that started in Scott Lang's (Paul Rudd) daughter's toy set and evolved into a street fight featuring a giant Thomas the Tank Engine. Now Ant-Man and the Wasp will do you one even better: all that, but in a car chase.
The latest Ant-Man and the Wasp featurette promises us a car chase like we've never seen before. No, the explosions aren't bigger and the cars aren't nastier, but there is a whole lot of shrinking and growing involved.
Ant-Man and the Wasp Featurette
Peyton Reed, who returns to direct Ant-Man and the Wasp, declares that the sequel will "double down" on everything that made Ant-Man so great. In the latest Ant-Man and the Wasp featurette, Reed hones in on the car chase scene that makes incredible use of Ant-Man's unique power to shrink and grow in the blink of an eye. But it will be more than just Ant-Man himself and a few Pez dispensers that will change sizes.
"Shrinking and growing as a visual concept, as a sci-fi idea, as a superhero idea is so cool," executive producer Stephen Broussard says in the featurette. "One of the ideas of this film is that they exported shrinking and growing beyond just suits and people. Suddenly cars can shrink, entire buildings can shrink."
Which leads up to the big chase scene. Scott, Hope van Dyne (Evangeline Lilly), and Luis (Michael Peña) are chased by a bunch of goons, but thanks to their shrinking powers, are able to easily evade them (and get a few cool punches in too). One standout sequence features Luis finding Hank Pym's (Michael Douglas) stash of miniature cars that he then expands and drives. It looks like a hugely entertaining scene that will look even better on the big screen.
Ant-Man and the Wasp also stars Michelle Pfeiffer, Walton Goggins, Bobby Cannavale, Judy Greer, Tip "T.I." Harris, David Dastmalchian, Hannah John-Kamen, Abby Ryder Fortson, Randall Park, and Laurence Fishburne.
Ant-Man and the Wasp opens in theaters on July 6, 2018.
Scott Lang is grappling with the consequences of his choices as both a superhero and a father. Approached by Hope van Dyne and Dr. Hank Pym, Lang must once again don the Ant-Man suit and fight alongside the Wasp. The urgent mission soon leads to secret revelations from the past as the dynamic duo fi

nds itself in an epic battle against a powerful new enemy.