'Mandy' Trailer: Nicolas Cage Battles A Nightmarish Cult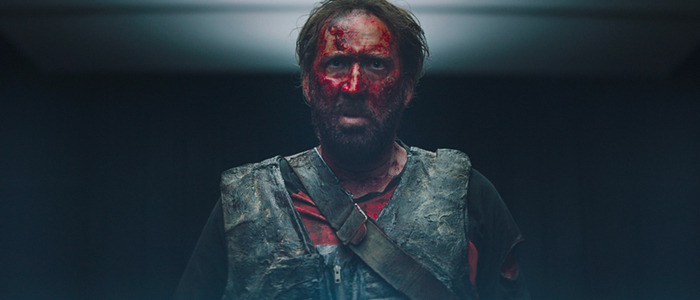 Nicolas Cage. Andrea Riseborough. The director of Beyond the Black Rainbow. Evil cults. Chainsaw fights. What more do you need?Mandy is the latest stylish nightmare from Beyond the Black Rainbow filmmaker Panos Cosmatos, and it looks delightfully deranged. In the film, Cage plays a man on a quest for vengeance, battling cultists and supernatural creatures. Watch the Mandy trailer below.
Mandy Trailer 
Put this movie in front of my eyeballs immediately. Mandy looks like everything I want from a movie, and more. I know Nicolas Cage churns out more bad movies than good these days, but every now and then, he'll remind us of how good he is. And Mandy looks like the perfect opportunity for him to do just that. In this film, the "quiet life of devoted couple Red (Nicolas Cage) and Mandy (Andrea Riseborough) takes a dark and bizarre turn when a nightmarish cult and their maniacal leader (Linus Roache) seek to possess Mandy...body and soul. A shocking assault on the innocent pair leads to a spiraling, surreal, bloody rampage of all out, mind-altering vengeance."
Pump this into my veins, please. Our own Ben Pearson saw Mandy at Sundance, and wrote:
A primal, psychedelic rage-scream of a movie, Mandy takes a while to get going, but once it does, it delivers exactly what fans are hoping for: Nicolas Cage fully unleashing the beast within and absolutely wrecking people with a giant axe and a chainsaw.
Virtually all of the early Mandy reviews out of Sundance have been overwhelmingly positive. The Village Voice review proclaims, "Insanely violent and ethereally beautiful, it's a revenge movie for those who hate revenge movies." IndieWire says, "For years, [Nicholas Cage] has swung wildly in search of gonzo material; at long last, he's found a movie willing to match his crazed intentions." The AV Club adds: "Were scientists to engineer an uncut, 100-proof cult sensation, it would probably look, sound, and kick like this." And RogerEbert.com declares, "For all of the endless feral performances that Cage has given, in movies good, bad and forgettable, Cosmatos' style-driven, '80s-tastic passion for weird worlds and characters takes full advantage of Cage's greatness, and then some."
Have I mentioned I want to see this immediately? Mandy was co-written by director Cosmatos and Aaron Stewart-Ahn, and features one of the final scores from soundtrack composer Jóhann Jóhannsson.
Mandy arrives in theaters September 14, 2018.
Bubbling up from somewhere in the realm of madness and chaos comes the eagerly awaited latest from grandiose filmmaker Panos Cosmatos. Somewhere in the primal wilderness near the Shadow Mountains in the year 1983, Red Miller (Nicolas Cage, in an adrenaline-inducing performance) has fallen deeply for the beguiling Mandy Bloom (Andrea Riseborough). But the life he has made for himself comes suddenly and horrifyingly crashing down when a vile band of ravaging idolaters and supernatural creatures penetrate his idyllic paradise with vicious fury. A broken man, Red now lives for one thing only—to hunt down these maniacal villains and exact swift vengeance.