'The Hate U Give' Trailer: A Police Shooting Drives A Teenager To Activism In The Empowering YA Novel Adaptation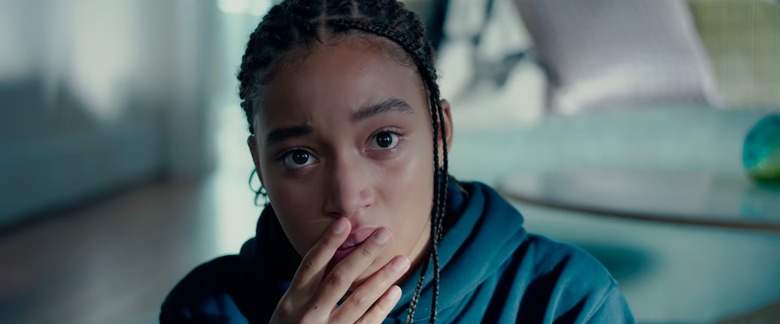 The Hate U Give trailer starts off like a fairly ordinary teen movie: Starr Carter (Amandla Stenberg) is a high school student who likes playing basketball with her rich, white prep school friends during the week, and partying with her friends from the poor, mostly black, neighborhood on the weekends. She likes hip-hop music and joking with her friends in the car.
But then things take a turn when she witnesses her childhood best friend killed by a police officer. The shooting sets off a domino effect that forces Starr to grapple with her place between her two different worlds, and wrestle with the injustice of the world.
The Hate U Give Trailer
Based off of Angie Thomas's acclaimed YA book, The Hate U Give taps into the frustration and turmoil surrounding the Black Lives Matter movement, and the shootings of unarmed black children. It's an all-too familiar narrative, and one that The Hate U Give brings to the big screen with sweeping emotion. The Hunger Games' Stenberg, who herself has become a prominent young voice  for diversity in Hollywood, gives a striking and heart-rending performance as Starr, the girl torn between two worlds — and later, the girl torn between sticking with the status quo or taking action.
The best-selling book began as a short story, but became a novel when Thomas saw the cases around Trayvon Martin, Mike Brown, Tamir Rice, and Sandra Bland. Thomas said she wanted to give a spotlight to these shootings and give a voice to black girls in YA. "I don't see a lot of Black girls [as characters] in YA," she told Ebony. "They get overlooked so often, and they are frustrated. But you know what? They are also speaking out."
George Tillman Jr. directs The Hate U Give, which also stars Regina Hall, Anthony Mackie, KJ Apa, Russell Hornsby, Algee Smith, Sabrina Carpenter, Issa Rae, Lamar Johnson, and Common.
Here's the official synopsis for The Hate U Give:
Starr Carter is constantly switching between two worlds: the poor, mostly black, neighborhood where she lives and the rich, mostly white, prep school she attends. The uneasy balance between these worlds is shattered when Starr witnesses the fatal shooting of her childhood best friend Khalil at the hands of a police officer. Now, facing pressures from all sides of the community, Starr must find her voice and stand up for what's right. THE HATE U GIVE is based on the critically acclaimed New York Times bestseller by Angie Thomas and stars Amandla Stenberg as Starr, with Regina Hall, Russell Hornsby, Issa Rae, KJ Apa, Algee Smith, Sabrina Carpenter, Common and Anthony Mackie.
The Hate U Give opens in theaters on October 19, 2018.