'Ant-Man And The Wasp' Featurette Highlights The Film's Kinetic Action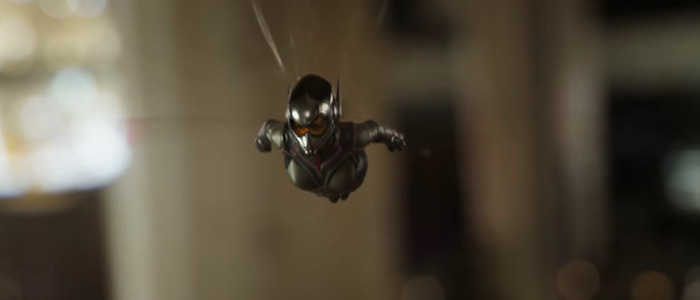 Ant-Man and the Wasp are at it again in yet another new featurette showcasing the upcoming Marvel film. The sequel to Marvel's light and frothy Ant-Man comes on the heels of all the d0om-and-gloom of Avengers: Infinity War, and might just be what fans need right now. Watch the Ant-Man and the Wasp featurette below.
Ant-Man and the Wasp Featurette
There have been many trailers, TV spots, and featurettes for Ant-Man and the Wasp, and the message running through them all is clear: this movie is fun. Fun is what Marvel is selling here, and fun might be just what MCU fans need after the downbeat ending of Avengers: Infinity War. This Ant-Man sequel is set before the events of Infinity War, which means it won't have to deal with the fallout of that film. It can forge its own path, while telling its own mostly isolated story.
This new featurette, titled "It Takes Two", is a quick look at some of the film's action set pieces. It also highlights Evangeline Lilly's Hope van Dyne, aka The Wasp. Lilly describes her character as "kinetic", and adds: "I am constantly in motion, and there is barely room to breathe." Paul Rudd is here as well, being his usual charming self.
I won't say I hated the first Ant-Man, but it felt kind of forgettable. It was mostly entertaining, but the minute it ended, I had no desire to see it again. With that said, everything I've seen for Ant-Man and the Wasp looks really fun. Based on the footage, this looks like an improvement over the first film in nearly every way. Plus, Michelle Pfeiffer is in this movie, which is always a plus.
I'm sure a lot of people want some sort of post-credit scene in this film that connects things to Infinity War, but I'd be happy if Ant-Man and the Wasp remained its own isolated thing. Let's take a breather from Infinity War for a while, and deal with its events when Avengers 4 arrives next year.
Ant-Man and the Wasp, starring Paul Rudd, Evangeline Lilly, Michael Peña, Walton Goggins, Bobby Cannavale, Judy Greer, Tip "T.I." Harris, David Dastmalchian, Hannah John-Kamen, Abby Ryder Fortson, Randall Park, Michelle Pfeiffer, Laurence Fishburne, and Michael Douglas, opens July 6, 2018.
Scott Lang is grappling with the consequences of his choices as both a superhero and a father. Approached by Hope van Dyne and Dr. Hank Pym, Lang must once again don the Ant-Man suit and fight alongside the Wasp. The urgent mission soon leads to secret revelations from the past as the dynamic duo fi

nds itself in an epic battle against a powerful new enemy.