'Flavors Of Youth' Trailer: A Stunning Anime Film From The Studio Behind 'Your Name' Comes To Netflix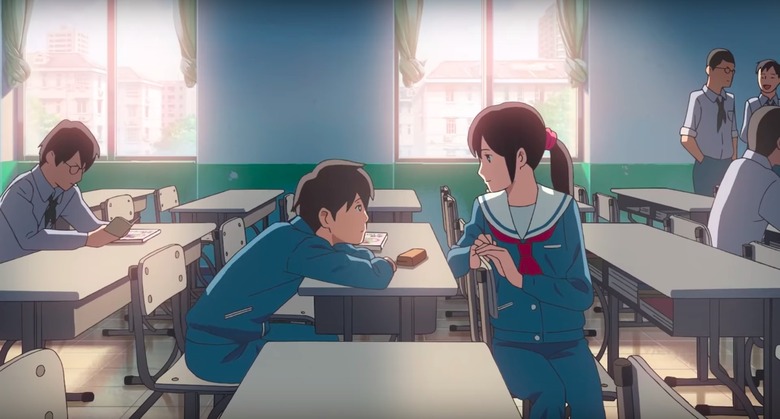 Your Name was the biggest anime crossover theatrical hit since Studio Ghibli became a household name. And with anime growing to be one of the most formidable markets in the world, it's no wonder that Netflix wants to tap into Your Name's particular brand of cerebral wistfulness.
The streaming giant has teamed up with the studio behind Your Name, CoMix Wave Films, to bring the visually stunning film Flavors of Youth to Netflix audiences. Below, check out the first Flavors of Youth trailer.
Flavors of Youth Trailer
It's no surprise that Flavors of Youth looks like a visual feast. Beautifully and photo-realistically animated, the Japanese/Chinese co-production comes from the studio that brought the breathtaking Your Name to life, as well as Your Name director Makoto Shinkai's other acclaimed films 5 Centimeters Per Second and Children Who Chase Lost Voices. But notably, Flavors of Youth is not directed by Shinkai. Instead, Yoshitaka Takeuchi, an animator who has worked on several of Shinkai's films, takes over the directing reins for the first time.
But while Shinkai's absence from the credits could be a little worrisome, the Flavors of Youth trailer does give off the vibe of Shinkai's trademark melancholy. Consisting of three chapters set in three different cities, Flavors of Youth will tell what looks to be a coming-of-age story merged with an adult drama. What else it consists of I'm not sure, as the trailer — and the accompanying synopsis — are as vague as can be.
I'm very curious about this project. Netflix has carved out a streaming hub for original and old anime series, and have been gung-ho about supporting dozens of new anime series. And with Your Name launching Shinkai to the international stage, I wonder if CoMix Wave Films is trying to make its mark as a studio on the same level of Ghibli by supporting new and rising directors like Takeuchi. It all rides on whether Flavors of Youth is good. That we won't know for a while, but hey, at least it looks pretty!
Here is the official synopsis for Flavors of Youth:
From CoMix Wave Films, the creative visionaries behind the international phenomenon Your Name, comes Netflix's new anime feature film Flavors of Youth. Told in three chapters in three cities, Flavors of Youth explores the simple joys of life through sensual memories and how the beating heart of love cannot be defeated by the flow of time.
After making its world premiere at Anime Expo in Los Angeles on July 6, 2018, Flavors of Youth will be available to stream on Netflix starting on August 4, 2018.