'Skyscraper' Featurette: Inside The Rock's Towering Action Movie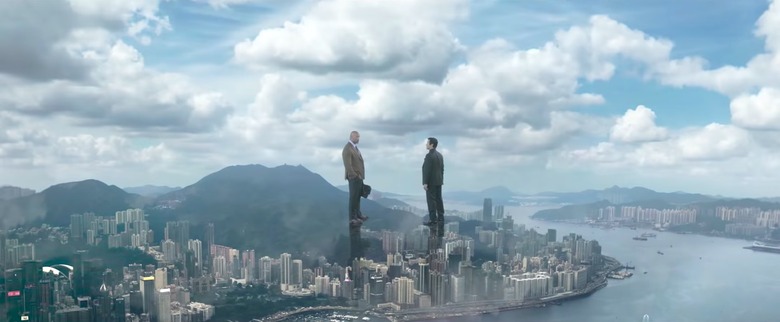 It's no secret that action thrillers like Die Hard and The Towering Inferno are heavy influences on this summer's new Dwayne Johnson action movie Skyscraper. But a new Skyscraper featurette explains exactly how the new movie differs from the action disaster dramas that came before it.
Skyscraper Featurette
A new Skyscraper featurette invites us to take a look inside the tower at the center of the action film that reunites Johnson with Central Intelligence director Rawson Marshall Thurber. While the featurette mostly shows us footage from the trailers that we've already seen, it's intercut with behind-the-scenes interviews with Johnson, Thurber, and several other members of the Skyscraper cast and crew.
The featurette telegraphs the journey of Johnson's character Will Sawyer from war veteran to FBI Hostage Rescue Team leader, to amputee, to the very niche job title of security analyst for skyscrapers. But his latest job at the tallest skyscraper in the world is jeopardized when terrorists take over the tower and set it on fire, endangering Sawyer's family in the process.
It's a narrative similar to those we've seen many times before in the Die Hard movies and Towering Inferno, both of which the film clearly pays homage to. But Johnson promises that Skyscraper will bring something new to the film — and not just in the form of his amputee protagonist. He says in the featurette:
"We're setting up something different with Skyscraper. There's a feeling that you get because most of the action takes place over a thousand feet in the sky upside down. I'm in real jeopardy."
"I think there's something very visceral about a family being torn apart and parents doing everything they can to protect their young," Johnson adds. Thurber agrees, saying that this film sees a change of pace for the action hero Johnson usually plays. "I wanted to see him be vulnerable, just doing whatever he can to protect his family and survive."
Here's the official synopsis for Skyscraper:
Former FBI Hostage Rescue Team leader and U.S. war veteran Will Ford now assesses security for skyscrapers. He's on assignment in China when he finds the tallest, safest building in the world suddenly ablaze, and he's been framed for it. A wanted man on the run, Will must find those responsible, clear his name and somehow rescue his family, which is trapped inside the building, above the fire line.
Skyscraper, which stars Johnson, Neve Campbell, Chin Han, Roland Møller, Pablo Schreiber, Byron Mann, Hannah Quinlivan, and Noah Taylor opens in theaters on July 13, 2018.