'Blaze' Trailer: Ethan Hawke Tells The Tale Of An Unsung Songwriter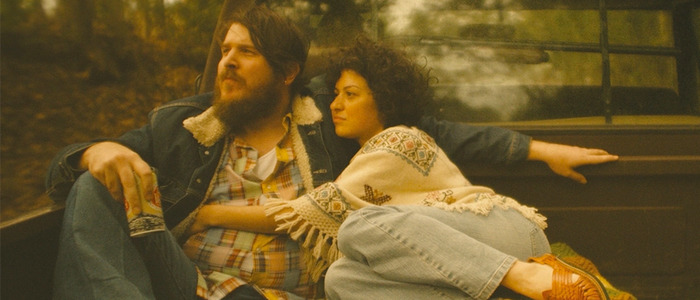 I've never heard of Blaze Foley, and perhaps you haven't either. If that's the case, Ethan Hawke wants to remedy that with his new film Blaze. Hawke helms the new drama which examines the life of the late country music singer-songwriter, who died in 1989. Watch the Blaze trailer below.
Blaze Trailer
Blaze Foley, born Michael David Fuller, isn't a household name, but the legacy of his music lives on. Merle Haggard, Willie Nelson, John Prine, Lyle Lovett, Nanci Griffith, The Avett Brothers, and Ryan Bingham have all covered his songs, and Lucinda Williams' "Drunken Angel" and Townes Van Zandt's "Blaze's Blues" are both tributes to his legacy. Now, Blaze Foley's story gets the biopic treatment courtesy of Ethan Hawke.
Hawke's film "weaves together three different periods of time, braiding re-imagined versions of Blaze's past, present and future." Ben Dickey plays Foley, while Alia Shawkat plays Foley's girlfriend Sybil Rosen (the real Sybil Rosen co-wrote the script with Hawke). Other cast members include Sam Rockwell, Wyatt Russell, Steve Zahn, Kris Kristofferson, and frequent Hawke collaborator Richard Linklater.
There's a serious Inside Llewyn Davis vibe coming off this trailer, so much so that one of the pull-quotes even references that brilliant Coen Brothers film. Hawke's direction looks stylish and moody while also remaining subtle, and based on early festival reviews, the actor and filmmaker might have delivered something special here. Blaze is currently sitting at 100% on Rotten Tomatoes, with Variety's review stating, "The daring of Ethan Hawke as a filmmaker is that he shapes his scenes not in a conventional way but as randomly observed slivers of life that amble and glide along to Blaze's dawdling spirit." IndieWire says, "The film isn't a jigsaw puzzle, where every piece neatly fits into a greater whole; it's more like a drunken night of people sitting around and remembering their old friend, warts and all."
Blaze will open first in Austin, Texas on August 17, 2018 before rolling out to all other major markets in September.
BLAZE is inspired by the life of Blaze Foley, the unsung songwriting legend of the Texas outlaw music movement that spawned the likes of Merle Haggard and Willie Nelson. The film weaves together three different periods of time, braiding re-imagined versions of Blaze's past, present and future. The different strands explore his love affair with Sybil Rosen; his last, dark night on earth; and the impact of his songs and his death had on his fans, friends, and foes. The braided storyline terminates in a bittersweet ending that acknowledges Blaze's profound highs and lows, as well as the impressions he made on the people who shared his journey.