'To All The Boys I've Loved Before' Trailer: Netflix Continues Its Streak Of Cute Teen Rom-Coms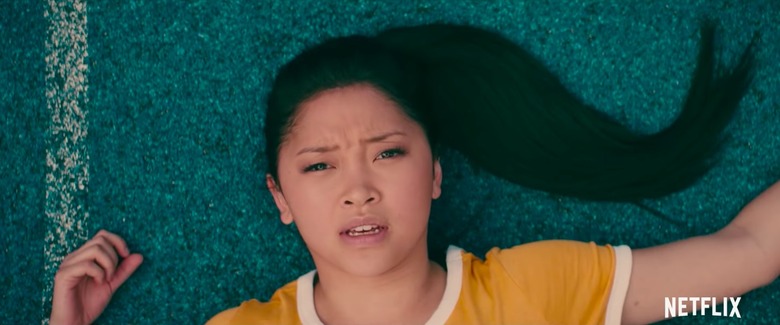 With its recent streak of charming and sweet romantic comedies, Netflix has almost singlehandedly revived the dying genre. And that streak shows no sign of ending soon, with a sugary-sweet trailer for the YA novel adaptation To All The Boys I've Ever Loved Before. X-Men: Apocalypse star Lana Condor stars in this film, which follows an Asian-American high schooler as her romantic daydreams turn into humiliating nightmares.
To All The Boys I've Loved Before Trailer
Lara Jean Song Covey is just an average teenage girl. She's virtually invisible at school (unless she's loudly eating carrots at the library), she has an annoying younger sister, and she spends her time writing fantastical love letters that she'll never send. Until one day, they get mysteriously mailed out. All of them.
To All The Boys I've Loved Before is a classic fluffy high school comedy with just the right degree of second-hand embarrassment, as Lara Jean finds out that Peter "with the beautiful eyes," Lucas "from homecoming," and Josh the "boy next door" have learned of her crushes on them all at once. It's based on a best-selling novel by Jenny Han of the same name, and seems like an appropriate follow-up to Netflix's surprise rom-com hits The Kissing Booth and Alex Strangelove. Of course, the novelty is that this movie stars an Asian-American teen, which Han said was her priority when she wrote the book.
"My priority is for Asian-American kids to see themselves in stories, to see a face like theirs," Han told Teen Vogue. "They need to know that their stories are universal too, that they too can fall in love in a teen movie."
Directed by Susan Johnson based on a screenplay by Sofia Alvarez, To All The Boys I've Loved Before also stars Janel Parrish, Anna Cathcart, Noah Centineo, Israel Broussard, and John Corbett. 
Here is the official synopsis for To All The Boys I've Loved Before:
What if all the crushes you ever had, found out how you felt about them...all at once? Lara Jean Song Covey's love life goes from imaginary to out of control when the love letters for every boy she's ever loved – five in all – are mysteriously mailed out. From New York Times Bestselling Author, Jenny Han, the film adaption of the popular YA novel stars actress Lana Condor (Alita: Battle Angel, X-Men: Apocalypse) and Noah Centineo (Sierra Burgess Is A Loser, The Fosters).
To All The Boys I've Loved Before premieres on Netflix on August 17, 2018.