'Daria' Reboot Coming From New MTV Studios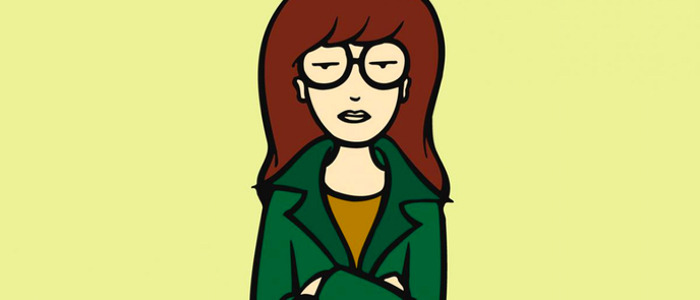 MTV is going back to the drawing board with a Daria reboot as part of their new MTV Studios. The Daria reboot is one of several revivals MTV has planned, alongside The Real World and Aeon Flux.
Everything old is new again! MTV previously announced an Aeon Flux reboot, and now they're adding a Daria reboot as well. As you may recall, Daria was a fantastic animated series spun-off from Beavis and Butthead. It focused on Daria Morgendorffer, an extremely droll, somewhat misanthropic teenage trying to navigate through the increasingly stupid world of young adulthood. Daria ran from 1997 through 2001, and was probably one of the best things MTV ever produced.
Now, Deadline reports a reboot is in the works. Tentatively titled Daria and Jodie, the show is described (by TV Line) as a reinvention of the original series "through the eyes of heroine Daria Morgendorffer and one of her closest friends Jodie Landon. These two smart young women take on the world, with their signature satirical voice while deconstructing popular culture, social classes, gender and race."
I'm slightly conflicted about this. For one thing: where's Jane, Daria's best friend? For another: the original Daria was so good that I have my doubts it could be improved upon. All that said, this sounds like a clever and timely way to update the series for the 21st century, and if the show can maintain the same wit and charm as the original Daria, I'm all for it. Deadline says the Daria reboot is coming from Grace Edwards, a writer on Inside Amy Schumer.
The Daria reboot is part of MTV's new production company MTV Studios. In addition to Daria and Jodie and Aeon Flux, MTV Studios is also planning a reboot of The Real World, MTV's classic reality series where people stop being polite...and start getting real. Here's the interesting part: none of these shows will air on MTV. Instead, MTV Studios is shopping them around to streaming services like Hulu, Netflix and Apple.
"It's better served for us to bring that out and look to partner with a SVOD (platform) because it's where the audience is looking for that type of scripted," said MTV president Chris McCarthy.
MTV Studios is also planning some new, non-reboots as well. One project is currently called The Valley and is described as "a timely coming-of-age docuseries in the spirit of The Hills and Siesta Key which follows a group of young friends growing up in the Valley town of Nogales, Arizona, a city split in half, with one side in the United States and the other in Mexico." The other is MTV's Straight Up Ghosted, "which follows young people trying to reconnect with lost friends, lovers and family members and confront them about why they have been ghosted." I promise you I will watch neither of these shows.
McCarthy says that new shows aside, MTV Studios will start off focusing on "iconic IP," because "that's where the demand is;. re-inventions and re-imaginations are fueling so many different peoples growth. I think it'll eventually shift to a more of a 50-50 and hopefully to a 40-60. But, I think in the beginning, just based on demand, we'll be a little bit more in the iconic."