'The Meg' International Trailer Sinks Its Jaws Into New Footage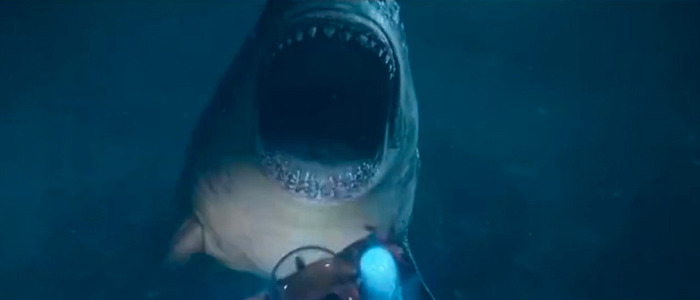 The only thing that can save the summer at this point is Jason Statham fighting a big-ass prehistoric shark. Thankfully, a new The Meg international trailer just swam online, bringing with it a ton of new footage.
The Meg International Trailer
Ah, summer. A time of sandy beaches, sunlight glinting off the sea, and of course, giant, prehistoric sharks. Jason Statham is going to close out the summer movie season with The Meg, a big, dumb monster movie about a bunch of people trying to stop a a 75-foot-long Megalodon. Will The Meg be high-art? No. Will it be anywhere near as good as Steven Spielberg's immortal classic Jaws? Absolutely not! But I'm not going to lie: I'm excited to see this. No matter how dumb the trailers look, no matter how cartoony the shark comes across, I'm all-in on The Meg.
This new international trailer might be the best look at the film so far. Other trailers have been a bit so-so; this one amps up the shark footage, and the snappy editing helps as well. There are scenes here where Jason Statham fires underwater missiles at the shark, and it doesn't even flinch. Sign me up. Sometimes, you need a film to be a life-changing, emotional experience. And other times, you just want to watch Jason Statham fight a big CGI shark.
National Treasure filmmaker Jon Turteltaub helms The Meg, but bringing the film to the big screen wasn't smooth sailing. The Meg is based on Steve Alten's 1997 novel Meg, a bestseller that taped-into the public's thirst for big prehistoric monsters following Jurassic Park. Film rights to Meg were purchased almost instantly, but the adaptation swam its way right into development hell. Over the years, both Jan de Bont and Guillermo Del Toro were attached to direct. Then in 2015, Cabin Fever filmmaker Eli Roth was officially announced. Roth ended up leaving the project as well. That's when Turtletaub hooked the film. And here we are!
In addition to Statham, The Meg stars Li Bingbing, Rainn Wilson, Ruby Rose, Winston Chao, and Cliff Curtis.
The Meg opens on August 10, 2018. In addition to the trailer above, please enjoy the wonderful new poster below.
A massive creature attacks a deep-sea submersible, leaving it disabled and trapping the crew at the bottom of the Pacific Ocean. With time running out, rescue diver Jonas Taylor must save the crew and the ocean itself from an unimaginable threat — a 75-foot-long prehistoric shark known as the Megal

odon.