'Dear White People' Creator Provides Details About New Horror Satire 'Bad Hair'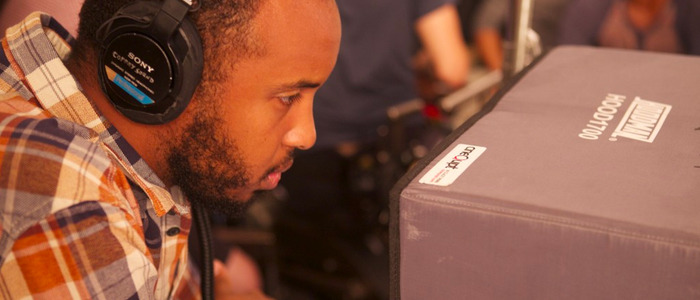 After turning his indie hit Dear White People into a Netflix TV series, director Justin Simien is ready to return to movies. Simien is gearing up to helm the horror satire Bad Hair, which sounds like it could be the spiritual successor to Get Out.
The horror genre can always use more smart, savvy storytelling focused on modern issues, and director Justin Simien's next project sounds like it could deliver that, and more. Speaking with IndieWire, Simien offered some info on his new film, Bad Hair, which he describes as being in the tradition of films like Rosemary's Baby, The Stepford Wives, Invasion of the Body Snatchers, and Get Out. Simien also says the film will be a tribute to "his mother, aunts and the other black women in his life."
"It's my way of taking my frustration of what I feel like black woman are going through, who we rely on for so much – politically, culturally, just in terms of the family dynamic – and we put them through hell," the director says, adding: "We make them suffer quiet little deaths just to be seen in our culture and I wanted to translate that, in my own way, into a very weird horror-satire love letter to that experience."
Here's how Simien describes the film's plot:
"['Bad Hair'] follows a girl from Compton who doesn't have the right look...She doesn't have the right hair, she doesn't have the right face, she doesn't have the right skin color. She wants to be a VJ in the late '80s, early '90s and she makes a bit of a Faustian bargain with this woman who takes over the network where she's at and she ends up with this hair, this weave in her head, that may or may not have a mind of its own."
This sounds like something ripped from the pages of an old Tales From the Crypt comic book, and I'm here for it. The horror genre needs more diverse voices straying away from the standard horror tropes that are so prevalent, and Simien is a filmmaker with a lot to say. "The cinema I grew up with didn't have black people in it, and with very few exceptions," Simien says in the IndieWire interview. "Spike [Lee] and Ernest Dickerson, in particular with 'Do The Right Thing' brought a lot of the French New Wave, brought stuff from silent movies, just brought to bare a lot of cinematic techniques that before them no person of color would ever find themself in. You have to go back to Oscar Micheaux before you can see anything that looks like cinema with black people in it, or that's about central black characters."
Simien plans to start shooting Bad Hair this summer. Dear White People seasons 1 and 2 are currently streaming on Netflix.