There's Something Shady About The 'Gotti' Rotten Tomatoes User Reviews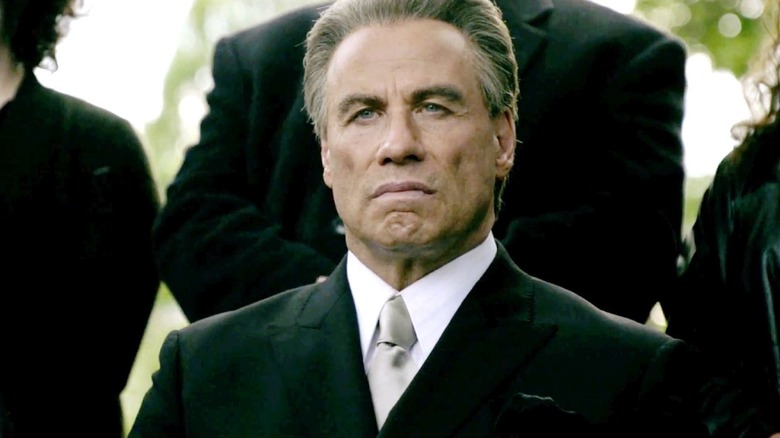 Following a dismal critical reception and an even more dismal box office performance, Gotti has released a new ad getting to the alleged heart of the problem: the critics. The bizarre ad for John Travolta's mob movie attacks the critics that tore down Gotti while boasting about the rave "user" reviews on Rotten Tomatoes. But there's something fishy about those Gotti Rotten Tomatoes user reviews that the marketing is so proud of.
Reports of audience score manipulation on Rotten Tomatoes is nothing new. There have been toxic internet campaigns raised against Star Wars: The Last Jedi and Black Panther, with fans mobilizing to bring down the movies audience scores. Those campaigns got so bad that Rotten Tomatoes itself intervened against the thousands of fake accounts downvoting the movies — but would it intervene if fake accounts were trying to artificially inflate the movie's score?
Because that seems to be the case with Gotti. The John Travolta mob biopic has been making headlines recently for its historically bad Rotten Tomatoes score and ticket-buying service MoviePass's questionable role in the movie's box office. But it's making headlines again for a likely case of audience score manipulation.
It came to the attention of the internet when the Gotti Twitter account posted the odd ad targeting critics and claiming that "audiences love it."
Audiences loved Gotti but critics don't want you to see it... The question is why??? Trust the people and see it for yourself! pic.twitter.com/K6a9jAO4UH

— Gotti Film (@Gotti_Film) June 19, 2018
Now if you simply glance at the Gotti Rotten Tomatoes page, this seems to be accurate. While Gotti boasts the rare "perfect 0%" Rotten Tomatoes score, its audience score is a respectable 74%. But, as ScreenJunkies' Dan Murrell pointed out, there's a shifty disparity between the 7,600 user reviews and the mere 500 screens the film opened at this weekend (raking in only $1.7 million at the box office at that).
An eagle-eyed Reddit user breaks down where the numbers don't match. The Tuesday post states the following (via Paste Magazine):
I went to take a look at the written reviews on RT and of the first 58 reviewers with an available profile, 45 had created their account in June 2018. Out of these 45, 32 have only reviewed Gotti, 10 reviewed Gotti and another movie (7 times it was American Animals for some reason) and 3 had more than 3 reviews.
Of the remaining 13 accounts, 8 looked normal and 5 had created their account in December (The Last Jedi?) so those were probably legit.
The American Animals connection is interesting, since both Gotti and American Animals were co-acquired by MoviePass Ventures in the company's first foray into movie distribution. Some suspicion arose that MoviePass may have inflated the box office sales for Gotti by buying a large portion of the tickets, so it wouldn't be surprising that the ticket-buying service inflated the audience scores as well. Then there's also John Travolta's affiliation with Scientology, which has had more than a few shady dealings in the past.
But if it were all part of some grand conspiracy, it's not a very good one. After browsing through some of the reviews myself, it's hilariously clear that many of these fake accounts didn't even bother hiding that they're bots (one user writes, "Best movie. Ever being born into the mob I have to agree"). Which is why it's troubling that Rotten Tomatoes doesn't have better safeguards against this.
But who looks at the audience scores, right? Apparently Gotti's marketing team does — which is perhaps a sign that Rotten Tomatoes better start cracking down on score manipulation like this.