A Tale Of Two Singers: Sammy Davis Jr., Marvin Gaye Are Each Getting Biopics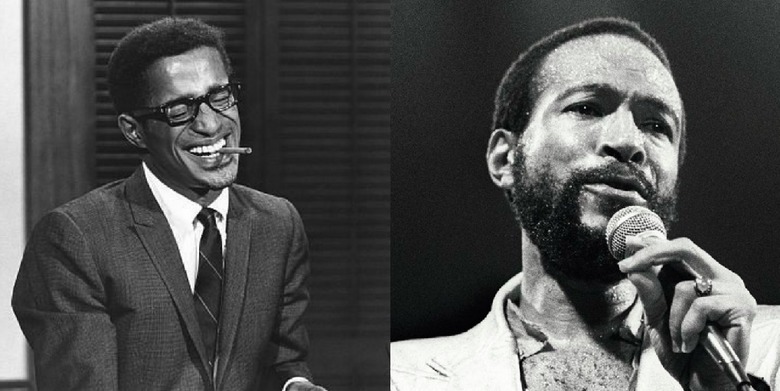 Hollywood is about to get a whole lot more musical. Two biopics about legendary musicians/entertainers Sammy Davis Jr. and Marvin Gaye are currently in development. The Sammy Davis Jr. biopic is being developed under Paramount, while Dr. Dre is working on the Marvin Gaye biopic.
Sammy Davis Jr Biopic
Paramount has set up a Sammy Davis Jr. biopic with producer Lorenzo di Bonaventura (Transformers) set to oversee the film about the famed Rat Pack member, according to Deadline. Lionel Richie, who reportedly played a large part in getting the rights to Davis' story, will be joining Bonaventura, Mike Menchel, and Davis' heirs on the producing team.
I cannot tell you how excited I am about the signing of the Sammy Davis Jr. project with Paramount," Richie said. "I knew and loved Sammy dearly."
The project is currently being fast-tracked through development, with a director and writer set to be hired soon, Deadline reports.
The movie will be based in large part on the 1965 memoir Yes I Can: The Story of Sammy Davis, Jr. that the multi-hyphenate entertainer penned with Jane and Burt Boyar. Davis was a hugely influential icon in Hollywood and the music industry, notably becoming one of the first black entertainers to cross over into mainstream pop culture amidst a racially divided America.
One of Davis' biggest major pop hits was "The Candy Man," which was written for the film Willy Wonka and the Chocolate Factory. The song (which you can see above) held onto the No. 1 spot on the charts for three weeks. As a part of the 1960s Rat Pack, Davis had famed musicians and actors Frank Sinatra, Dean Martin, Peter Lawford, and Joey Bishop by his side, which helped him rise from a Harlem-born musician to one of the biggest celebrities of the day.
Marvin Gaye Biopic
Meanwhile, over in Motown, a Marvin Gaye biopic is in the works. Variety reports that Dr. Dre, who recently made his mark on the film industry as a producer and inspiration for 2015's Oscar-nominated Straight Outta Compton, is working on a biopic about the legendary soul singer.
Dr. Dre, whose real name is Andre Young, is reportedly in the early stages of developing this project. Sources told Variety that the rights to use Gaye's music have been secured. Sony/ATV Music Publishing currently holds the rights to Gaye's songwriting credits.
This wouldn't be the first time an attempt has been made to give Marvin Gaye the biopic treatment. Directors from F. Gary Gray, Cameron Crowe, James Gandolfini, Scott Rudin, and actors including Jesse L. Martin and Lenny Kravitz have tried to bring Gaye's story to the screen, but none had been authorized by Gaye's family. The Gaye estate did sign off on a limited series from Jamie Foxx in 2016, but there hasn't been a peep out of that project since.
It's yet to be seen whether Dre can secure the rights from the Gaye estate. One thing that could throw a wrench in the works is the ironic twist that Dre is represented by King, Holmes, Paterno & Soriano, the same legal firm which defended Robin Thicke and Pharrell Williams in the plagiarism case against the Gaye-infringing "Blurred Lines."