'Sicario: Day Of The Soldado' Early Buzz: A Surprisingly Superb Sequel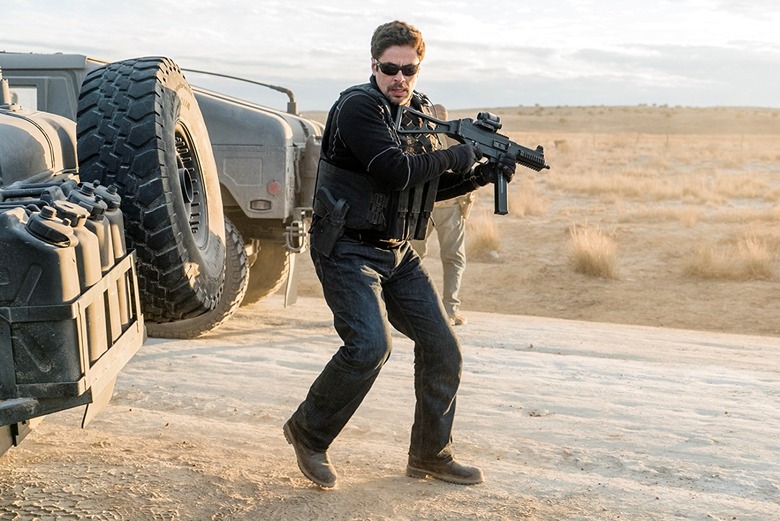 The announcement of a Sicario sequel was met with some raised eyebrows. How do you follow up Denis Villeneuve's powerful, gripping drama about the escalating war on drugs – and do so without the return of Villeneuve, cinematographer Roger Deakins, or star Emily Blunt? Early marketing for Sicario: Day of the Soldado was a bit confused as well, with some trailers suggesting that it was a morally gray prestige thriller in the vein of the first film while others showcased a bombastic action movie.
Fans were understandably skeptical about the sequel directed by Stefano Sollima, but the Sicario Day of the Soldado early buzz proves that their worries were unfounded. Here are what critics have to say about the new movie.
The early social media reviews for Sicario: Day of the Soldado were overwhelmingly positive. While critics admitted that the sequel didn't quite have the same visual panache as the first film, returning screenwriter Taylor Sheridan delivered a taut, fantastic screenplay that more than makes up for the absence of dream duo of Villeneuve and Deakins.
Critics gave effusive praise to stars Josh Brolin and Benicio del Toro (who was so rudely snubbed by awards for his performance in the 2015 Sicario), and series newcomer Isabela Moner (Transformers: The Last Knight). And while no one had really asked for this sequel, Day of the Soldado had all the critics clamoring for a third Sicario film.
"Sollima gave me the sequel I thought I didn't want," Variety's Kristopher Tapley said. "Wonderful storytelling economy. Wicked sense of tension throughout. Brolin/Del Toro step it up. [Taylor] Sheridan is a beast on the page, man. Love. It."
Taylor Sheridan's sequel Sicario: Day of the Soldado deepens the characters played by Josh Brolin and Benicio del Toro in unexpected ways. Director Stefano Sollimo delivers. June 29.

— Anne Thompson (@akstanwyck) June 15, 2018
SICARIO: DAY OF THE SOLDADO is, surprisingly, pretty awesome. Tense, gritty, and ends on a note where I want more. Benicio del Toro is amazing.

— Mike Ryan (@mikeryan) June 15, 2018
Moreover, Soldado is VERY timely. There is little black and white on the border between Mexico and the US. It's a grey zone and Sheridan's script isn't afraid to go there. It's a dramatic thriller with something to say. Go see it, because I can't wait to see a third chapter.

— Gregory Ellwood – TIFF – The Playlist 🎬 (@TheGregoryE) June 15, 2018
Moreover, SOLDADO should have been at CANNES either in or out of competition. I heard the festival wanted it, but the decision was made note to go even though Del Toro was Un Certain Regard jury prez. Would have been a strong critical kick off for them and much needed buzz.

— Gregory Ellwood – The Playlist 🎬 (@TheGregoryE) June 15, 2018
Happy to report 'Sicario: Day of the Soldado' is *extremely* well made and features fantastic performances from Josh Brolin and Benecio del Toro. As you might expect, Taylor Sheridan's screenplay is excellent. Really hope the film does well so they can complete the trilogy. pic.twitter.com/hLkly137jA

— Steven Weintraub (@colliderfrosty) June 15, 2018
Dark doesn't begin to describe SICARIO: DAY OF THE SOLDADO. It's fucked up and I kinda loved it. Maybe not quite as much as the first film, but Brolin & Benicio are FIRE & Taylor Sheridan proves again why he's one of the best writers in town. Not a perfect sequel but VERY badass

— Jeff Sneider (@TheInSneider) June 15, 2018
Sicario 2 or Soldado or whatever we're calling it is really amazing. Tense, thrilling, and surprising with solidly orchestrated set pieces and real emotion. It's like "Clear and Present Danger" for a new generation (I mean that in a good way). And bring on part 3 (please). pic.twitter.com/wfMMlSfmEd

— Drew Taylor (@DrewTailored) June 15, 2018


Stefano Sollima directs Sicario: Day of the Soldado, which stars Benicio del Toro, Josh Brolin, Isabela Moner, Catherine Keener, and Jeffrey Donovan.Sicario: Day of the Soldado opens in theaters on June 29, 2018.
FBI agent Matt Graver calls on mysterious operative Alejandro Gillick when Mexican drug cartels start to smuggle terrorists across the U.S. border. The war escalates even further when Alejandro kidnaps a top kingpin's daughter to deliberately increase the tensions. When the young girl is seen as col

lateral damage, the two men will determine her fate as they question everything that they are fighting for.